Aptos is already down by a steep 50% just three weeks after the coin went live.
The Aptos ICO raised $200 million in March and a further $150 million in a series A round in July. Investors quickly piled into the phoenix project that rose from the ashes of the now defunct Meta-based research project – Diem.
Prominent investors touted the ICO in the space, but the severe price drop could be a signal that investing in presales might be a safer option than investing in ICOs
Aptos is down 50% after a dire ICO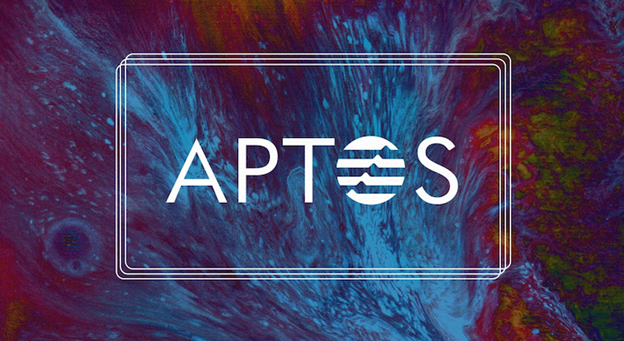 Aptos was a project stealing all the headlines in early October as the crypto sector was interested to see what could come out of the layer-1 project initially birthed by Meta.
The project is what remained from the failed Diem project. Most of the Aptos developers are former Meta employees who were working on Diem. As a result, the team worked with some of the most experienced developers in the world, making investors pretty excited to see what they learned from working at Meta.
Unfortunately, things haven't turned out quite as everybody hoped. The price for the token dropped by a steep 50% since launching on top-tier exchanges, such as Binance OKX and Coinbase.
Furthermore, Aptos came out of the gates with controversy after the crypto community learned that almost half of the 1 billion tokens issued were in the hands of core contributors, investors, and the Aptos Foundation.
The skewed tokenomic model is likely causing the massive sell-off, with early investors dumping their holdings in light of the overwhelming fear in the market. However, it is essential to note that investors have a solid lock-up period, so they won't be able to crash the market much further.
Nevertheless, Aptos is a vital lesson for those who invested in its ICO.
Are presales safer than ICOs?
With investors losing out on the Aptos ICO, many are starting to question if they should begin to invest at the presale stages instead of the ICO stages.
The presale stage is the earliest time to invest in a project and often provides the lowest prices possible for a token with the highest potential profits.
Presales often sell tokens at discounted prices on tokens when compared to ICOs as they're the earliest possible stages – and therefore riskiest – to invest.
They also usually have the lowest fundraising goals when compared with ICO stages. Therefore, investors tend to bet heavily on promising presales to profit from the margin between presale and ICO prices.
What usually happens is a project will announce a presale before moving to its ICO. As a result, those invested in the presale stage often profit as soon as the ICO stage begins.
The presale stage is often a precursor to the ICO, allowing projects to raise capital to bring their vision to life. The funds are usually used for development, marketing, and building partnerships.
Following are some benefits of investing in a presale over an ICO
Invest at the earliest time possible
Become a very early adopter of a project you believe in
Purchase tokens at the lowest prices available
Receive additional bonuses for investing more significant amounts
Gain early-stage access to the product in the beta stages
If it's a tiered presale with various stages, you should come out of the presale already in profits
Investing before the token is announced on major exchanges
The trouble with Presales is that they aren't typically available to small-scale investors such as you and me. Instead, large projects like Aptos tend to gravitate toward private presales, where they sell a large chunk of their tokens to venture capitalists, institutional investors, and private investors.
On the flip side, anybody can participate in an ICO, often leading to presale investors selling to the retail crowd.
However, some exciting projects have opened their presale stages to the general public, providing us with the opportunity to get in incredibly early.
One good ongoing presale is IMPT – a platform designed to help individuals and businesses positively contribute to the environment.
IMPT – A strong example of a promising presale
IMPT is a very strong example of a promising presale, and it's already managed to raise over $12.5 million in the short time it's been active.
The project intends to create a blockchain-based carbon credit market to allow individuals and businesses to make a positive contribution to the environment by reducing their carbon footprint.
A carbon credit is a permit representing one ton of carbon dioxide being removed from the atmosphere. Large-scale enterprises typically have to purchase carbon credits to offset their carbon emissions resulting from industrial production.
On the other hand l, Small businesses and individuals aren't required to offset carbon emissions – even though lots are increasingly becoming environmentally aware and would like to. However, due to obscure pricing data and complex scams, individuals are hesitant to enter the convoluted carbon credit market.
This is what Impt is trying to fix.
A presale making genuine carbon credits accessible
The team believes that everybody should have the opportunity to make a positive environmental contribution, regardless if they are capable of purchasing carbon credits.
The Carbon marketplace allows users to buy, sell, and retire carbon credits easily.
Furthermore, users can be sure that the carbon credits purchased are genuine as they are hosted as NFTs on the blockchain – making them entirely traceable.
When a user retires a carbon credit, it's sent to a burn address and removed from circulation.
A shopping platform to earn carbon credits.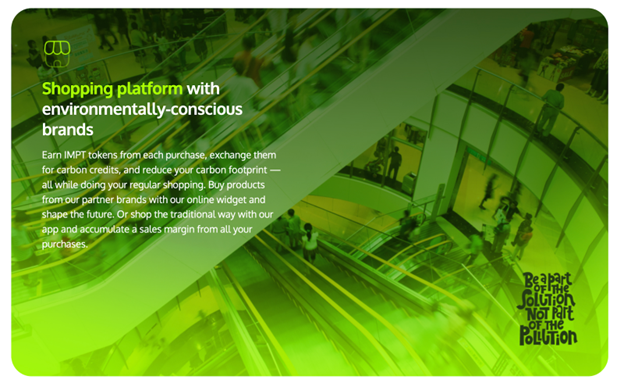 Furthermore, IMPT will also release a shopping platform that will allow users to earn carbon credits when doing regular online shopping at world-famous brands.
Thousands of global brands have affiliated with IMPT to make this possible. In addition, these brands have assigned a specific percentage of sales margin to environmental projects such as IMPT.
When a user makes a purchase on the shopping platform, the sales margin is held as IMPT tokens until they have enough to acquire a carbon credit.
This feature is entirely unique to the crypto industry and allows users to reduce their carbon footprint and make a positive contribution to the environment without spending out of pocket.
Some of the world-famous brands affiliated with the shipping platform include
Hugo Boss
Puma
The North Face
Microsoft
Samsung
Netflix
Shop Disney
GameStop
Champion
com
River Island
Macy's
Lego
As you can see, the list is already fairly extensive, and IMPT announces additional affiliates every week.
A social platform to promote environmental awareness
In addition to the Carbon Marketplace and the Shopping Platform, IMPT will also release a Social Platform designed to promote environmental awareness amongst individuals, businesses, and crypto projects.
The Social Platform will be the first to provide a global score to allow individuals and businesses to measure their impact on the environment regarding their own carbon footprint. The scoring system will also rank users based on their Impact Points, allowing users to see where they stand relative to other platform users.
Users who interact with the platform – such as buying a carbon credit or purchasing products on the Shopping Platform – receive Impact Points for their overall score. In addition, users that retire carbon credits on the platform receive higher scores as they remove the permit from circulation – signifying it has been used.
Eventually, businesses and crypto projects will use the ranking system to display their environmentally-friendly practices to the world.
Presale Currently Underway

Despite the ongoing bear market, the IMPT presale is continuing to gain traction within the industry. Since launching in early October, IMPT has managed to raise a total of over $12.5 million during its presale.
The IMPT presale will take place over three separate stages, and it's currently inside stage 2. The following breaks down the stages of each stage of the presale:
1st Stage: 600,000,000 tokens – $0.0180
2nd Stage: 660,000,000 tokens – $0.0230
3rd Stage: 540,000,000 tokens – $0.0280
Those that buy in the early stages of the presale are likely to come out with the highest profit as each stage sees an incremental price increase along the way.