Bank of America and JP Morgan are suffering from a lack of volatility in the markets… guess what could have remedied this?
---
If the cryptocurrency space was asked to name a list of its top five most disliked individuals from 2017, one name would invariably make the list – Jamie Dimon.
The Boss At JP Morgan
Most reading will likely already be familiar with Dimon. For those that are not, he is the guy behind the now infamous comments regarding bitcoin being a fraudulent asset and – subsequently – that the price rise we have seen this year is a bubble that's, inevitably, going to pop near term. He's also the chairman, president, and chief executive officer of JPMorgan Chase, the largest of the big four American banks.
He made these comments back in September and then doubled down on the anti-Bitcoin sentiment, declaring that people who buy bitcoin are stupid.
The Bottom Line
Fast forward to today, where at an investor conference in New York, Both JP Morgan and Bank of America have just reported quarterly numbers and it looks as though both entities could have done with a bit of bitcoin in their lives after all.
Bank of America CEO Brian Moynihan and JP Morgan CFO Marianne Lake are both reporting a 15% drop in trading revenues so far this quarter compared to the same period in 2016.   Trading revenues are the revenues that these companies generate as they buy and sell various assets in the financial markets – stocks, bonds, currencies, that sort of thing.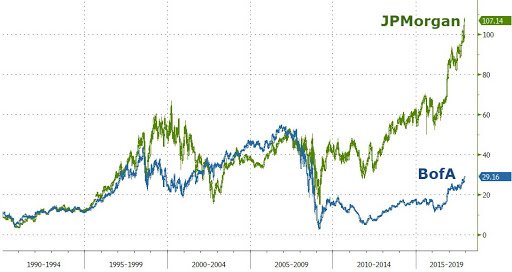 Revenues increase when more trades take place and for more trades to take place you need volatility. During the third quarter of this year, volatility across the more traditional financial assets was low (based on the lack of major geopolitical events, economic data surprises, etc.) and this resulted in the subdued revenues that executives at Morgan and BoA are reporting.
The Obvious Remedy
Of course, one thing could have dramatically increased the degree of volatility to which the trading floors of these companies were able to expose themselves to during the third quarter of 2017 – cryptocurrency.
As we reported recently JP Morgan is now reversing its opinion and is comparing Bitcoin to gold. The latest reports suggesting that a lack of volatility has translated to weakened trading revenues (which these banks rely on heavily for bottom line expansion), when combined with the idea that bitcoin might actually be a reasonable store of value (especially in a risk-off environment), are likely to hurt Dimon and his peers at the top of traditional American finance.
What do you think about volatility in the space? Is it enough to put you off an exposure? Should US banks be trading bitcoin and other coins? Let us know below!
---
Image courtesy Wikimedia Commons, ZeroHedge