On-chain data shows that the second half of 2021 saw relatively low spending despite Bitcoin hitting a new all-time high during the period.
Second Half Of 2021 Observed Relatively Low Bitcoin Spending
As per the latest weekly report from Glassnode, the Value Days Destroyed Multiple has shown relatively low values during the 2nd half of 2021, suggesting that the spending has been lesser.
The "Value Days Destroyed Multiple" (VDD in short) is an indicator that measures the ratio of the Bitcoin monthly coin destruction to the yearly average.
"Coin destruction" here refers to the act of selling. When 1 BTC is held by a wallet for some days, it accumulates "coin days" equal to the same number of days. However, when the coin is sold, these coin days are said to be "destroyed."
When the value of the indicator is high, it means more coins are now being destroyed compared to the last year. Such a trend is usually seen during rising prices as investors then become more probable to move their Bitcoin.
On the other hand, low values of the metric suggest not many holders are selling at the moment. This kind of situation is usually seen during cyclical lows.
Related Reading | Bitcoin Supply In Profit Drops To July Lows – Is The Bottom In?
Now, here is a chart that shows the trend in the Bitcoin VDD indicator over the last 10 years: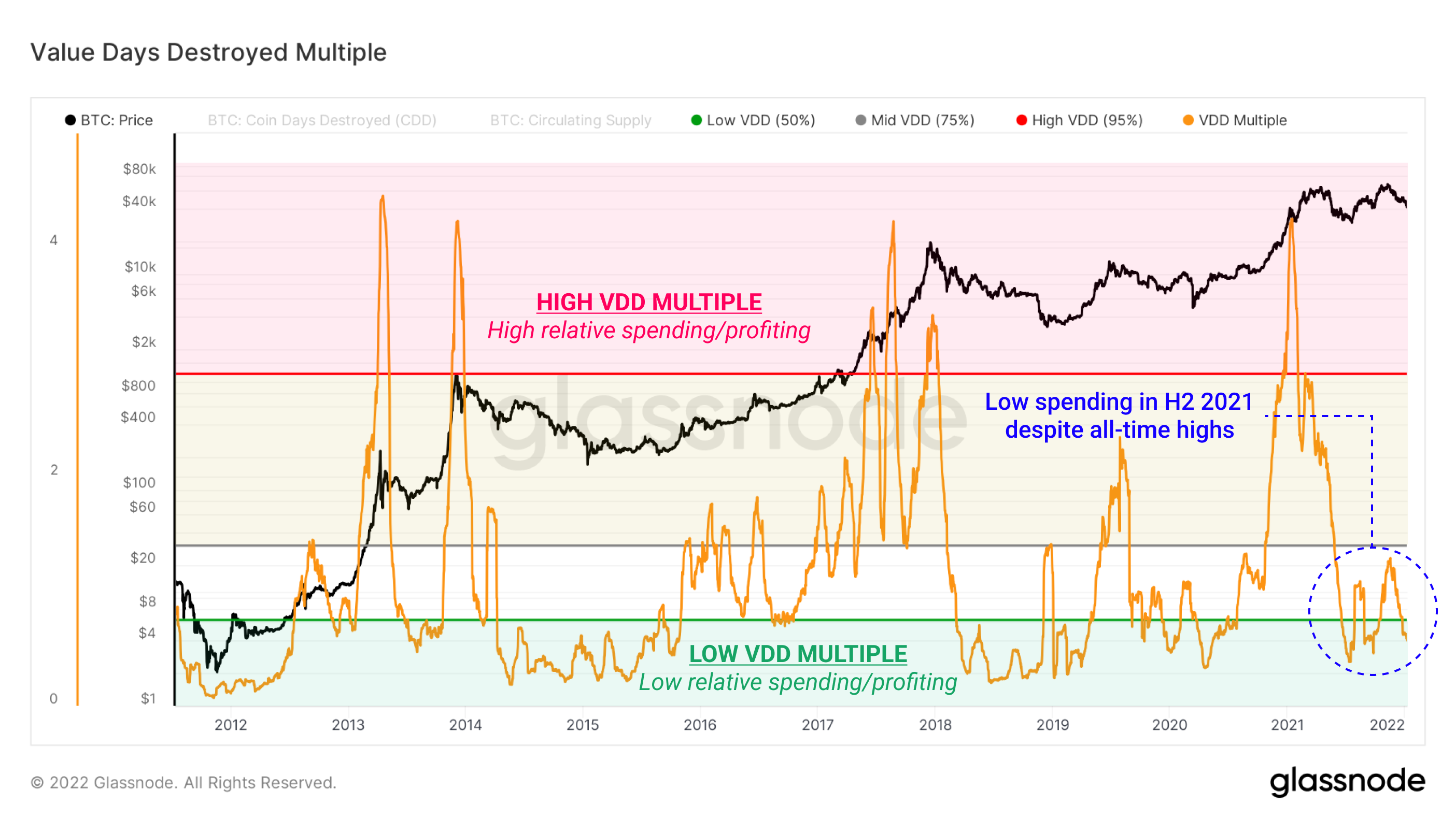 The value of the indicator seems to be low at the moment | Source: The Glassnode Week Onchain - Week 2, 2022
As you can see in the above graph, the Bitcoin VDD metric has assumed low values during the second half of 2021. This means that this period has seen relatively lesser spending.
Historically, the metric has shown high values whenever a new top has been attained. However, it was different this time as VDD had low values despite the crypto making an ATH during the period.
One reason behind these low values is that the first half of 2021 saw exceptionally high values, and since VDD measures relative values, the selling during the second half appears lesser than it was.
Related Reading | Bitcoin Crashes To $42k, $900M In Crypto Futures Liquidates
Nonetheless, the spending was still lower than expected, which shows this period has been largely dominated by hodlers.
BTC Price
At the time of writing, Bitcoin's price floats around $41.9k, down 10% in the last seven days. Over the past month, the crypto has lost 13% in value.
Yesterday, the coin's price dipped below $40k, but it has recovered since. The below chart shows the trend in the price of BTC over the last five days.
BTC's price has continued to move sideways above the $40k mark in the last few days | Source: BTCUSD on TradingView
Featured image from Unsplash.com, charts from TradingView.com, Glassnode.com