Bitcoin (BTC) and Ethereum are two of the most popular zero-to-hero stories in crypto. Together, they made hundreds and thousands of overnight millionaires, which makes us wish we had invested. At the same time, their price is not worth more than a penny. 
We don't have a time machine. Instead of regret, scouting for new projects with similar potential is the best way to move forward. 
In this article, we will give you some insights about the presale token The Hideaways (HDWY), which we forecast to become among the successful crypto projects this year.
Don't Regret Not Investing In Bitcoin (BTC) Early
When Bitcoin (BTC) hit an all-time high at $68,721.93 in November 2021, we all wished we had known and invested in it when its price was worth almost zero during its launch year in 2009.
Millions of traders rushed to get the coin during its good days. But whales started pocketing their gains soon enough, leaving others, mostly beginner and retail investors, to suffer significant losses.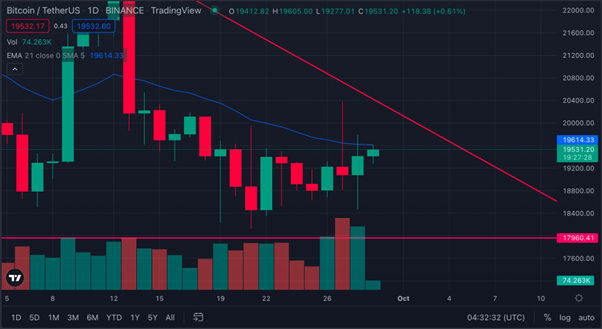 Until today, Bitcoin (BTC) is failing to recover. As of the latest charts, the crypto gold was down 55% from its price a year ago, and traders are at $19,062.00 currently. It is failing to consolidate the right momentum to move above the $20,000 resistance level, keeping its price below this level for most of this year.
If you have invested in Bitcoin (BTC) during an all-time high, your portfolio is now down by almost 80%. Unlike the new crypto project, The Hideaways (HDWY) recently awarded its earliest investors with a 100% gain.
Ethereum Price Analysis Since The Merge
Ethereum (ETH) launched in 2015 and is undoubtedly one, if not the best, crypto project that has ever entered the market.
The network changed how the world transacts after introducing decentralized smart contracts that eliminate the need for third parties to conduct agreements between two or more people.
But then the Merge happens – Ethereum (ETH) has transferred into a Proof-of-Stake consensus mechanism to lessen its footprint. This is an important initiative and undoubtedly an ethical one.
However, experts claim that using validators to validate transactions does not guarantee the same security as using miners. 
This is an instant hit on Ethereum (ETH) price, which has surpassed nearly 80% from an all-time high of $4,847.57 in late 2021. From the latest charts, ETH is struggling at the $1,338.00 zone – down 9% in the last 7 days.
The Hideaways (HDWY) – High Potential and Secure
Unlike Bitcoin (BTC) and Ethereum (ETH), The Hideaways (HDWY) still has considerable room left to grow. The token started selling at $0.01 during the start of its presale event and has now doubled to $0.02. We've just found out today that it's going to more than 100% increase by Sunday 2nd October. 
Why is everyone so interested in The Hideaways (HDWY)?
It allows you to buy into worldwide luxury property starting from $100 per slice 

It opens up a $230tn a year property market to the blockchain 

They generate over 20% minimum yields 

They handle all rental management and event hosting 

They stream income in $ETH, $USDC and $USDT – not hyperinflationary. 
This impressive rise came as it oversubscribed, especially after its audit by solidproof.io on September 08, which solidified the investment's security. 
Stability should be the least of your concerns with The Hideaways (HDWY). It operates in one of the most stable industries available today – real estate.
HDWY is a high-potential investment. It is forecasted to hit a 9,000% growth this year and become one of the most successful tokens in 2022.
Website: https://www.thehideaways.io 
Presale: https://ticket.thehideaways.io/register 
Telegram: https://t.me/thehideawayscrypto 
Twitter: https://twitter.com/hdwycrypto 
Disclaimer: This is a paid release. The statements, views and opinions expressed in this column are solely those of the content provider and do not necessarily represent those of Bitcoinist. Bitcoinist does not guarantee the accuracy or timeliness of information available in such content. Do your research and invest at your own risk.