Bitcoin is trading at $11,800 as of this article's writing after a strong rejection at $12,000.
The leading cryptocurrency is poised to move even higher in the months ahead according to a recent analysis.
The analysis suggests that BTC is at the point in its cycles where it sees a large leg higher.
The trader that shared this analysis suggests that Bitcoin will hit $20,000 in 2020.
This sentiment isn't unfounded, with many others in the industry arguing that Bitcoin will hit its previous all-time high in this year, or at least by early 2021.
With altcoins rallying, this is likely to take place.
This Market Cycle Analysis Predicts a $20,000 Bitcoin Price… Soon
A market cycle analysis by one crypto trader suggests that Bitcoin will hit $20,000 in the coming months, likely by the end of 2020.
The charts show that per historical market cycles, BTC is at the point of its ongoing bull market where it will begin its parabolic ascent towards its previous all-time high.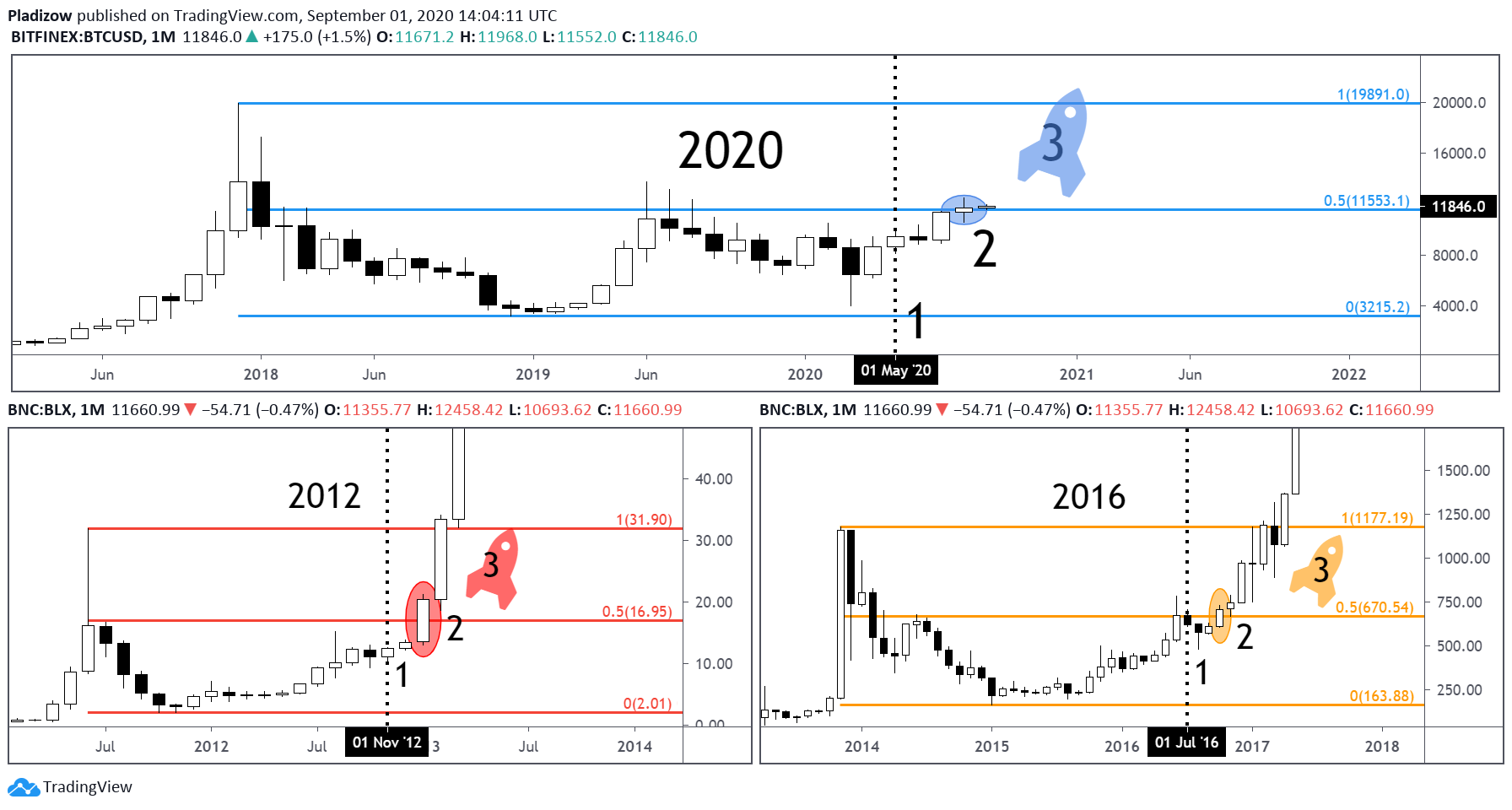 Chart of BTC's historical market cycles with analysis by Nunya Bizniz. Chart from TradingView.com
Not the Only One That Thinks So
This market cycle forecast isn't the only analysis showing that Bitcoin could hit $20,000 by the end of 2020. This strong sentiment has been echoed by a number of market participants.
Mike McGlone, the senior commodity analyst at Bloomberg Intelligence, commented in a research report on crypto:
"Bitcoin is mirroring the 2016 return to its previous peak. That was the last time supply was halved, and the third year after a significant peak. Our graphic depicts Bitcoin marking time for a third year following the parabolic 2017 rally… Fast forward four years and the second year after the almost 75% decline in 2018, Bitcoin will approach the record high of about $20,000 this year if it follows 2016's trend."
Arthur Hayes, CEO of BitMEX, has also mentioned this price target.
In an April blog post, he said that the Federal Reserve money printer and other macro trends will push the asset to its all-time high this year: "As violent as the Q1 collapse in asset values was, we have almost 100 years of imbalances to unwind the ancien régime. My end of 2020 price target remains $20,000."
He seemingly doubled down on this price target in a recent blog post.
"I, like many other pseudo intellectual keyboard warriors, have a massive upside price target for Bitcoin. I will get to that in the next digest. But Q4 is going to be a humdinger. The financial markets are going to whipsaw as politicians contort themselves to continue feeding at the trough. This unfortunately will have lasting effects on everyone's lives across the globe. Out of the chaos, more people will mistrust centralised authority and look for ways to protect their physical persons and capital from the wanton destruction waged upon them by their rulers."
Core to his sentiment is that the inflation of fiat monies will drive scarce assets higher.
Featured Image from Shutterstock
Price tags: xbtusd, btcusd, btcusdt
Charts from TradingView.com
Bitcoin Could Surge Towards $20,000 by End of 2021: Market Cycles