Bitcoin has begun to trend higher over the past few days after a drop towards $11,000.
As of this article's writing, BTC trades for $11,900, trading slightly below Friday's high of $12,000.
Bitcoin is up around 0.54% in the past 24 hours, outperforming a number of altcoins.
Despite the strength BTC is seeing, not everyone is convinced that the asset is in a bullish state.
One analyst cites the potential rising wedge forming. A rising wedge is a textbook market structure seen prior to price corrections.
Bitcoin Isn't As Bullish as Some Think It Is: Analyst
Bitcoin has pressed higher over the past few days after flirting with breaking below $11,000. The leading cryptocurrency trades at $11,900 as of this article's writing, up around 0.5% in the past 24 hours.
Despite the bounce from the weekly lows around $11,100, not all analysts are convinced of positive sentiment.
A trader shared the chart below on August 14th, noting that Bitcoin's previously-bullish "ascending triangle" pattern may be slowly converting into a "bearish rising wedge." A rising wedge is a chart formation that often precedes strong corrections to the downside.
The potential rising wedge forming, along with bearish divergences that have formed between Bitcoin's price action the RSI and MACD, suggests a reversal is possible:
"The bullish ascending triangle (preceded by a rising trend, which is good) started to look like a bearish rising wedge.  Together with extended bearish (potentially exaggerated) divergencies the situation becomes slightly dangerous for bulls."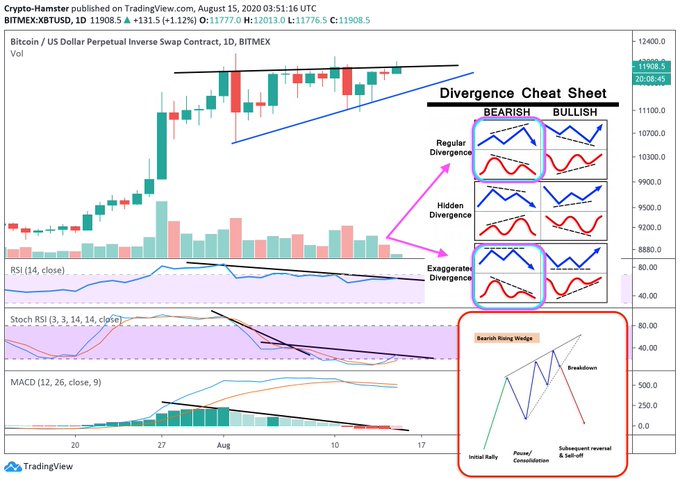 Chart of BTC's price action over the past few weeks with an analysis of the price action, RSI, and MACD by trader CryptoHamster (@CryptoHamsterIO on TWitter). 
Chart from TradingView.com
This analysis was published shortly after the same trader noted that Bitcoin's "Fear and Greed Index" is reaching levels of "Extreme Greed." The fear and greed index, which attempts to gauge investor sentiment, is calculated by volume, social media sentiment, price action, and other trends.
Macro Uptrend Still Intact Due to Fundamentals
Despite this short-term skepticism, many remain convinced that Bitcoin's macro uptrend is intact due to fundamental trends.
Raoul Pal, a former head of Goldman Sachs' hedge fund sales division and the CEO of Real Vision, recently remarked that Bitcoin is likely the best trade in the world right now:
"In fact, only one asset has offset the growth of the G4 balance sheet. Its not stocks, not bonds, not commodities, not credit, not precious metals, not miners. Only one asset massively outperformed over almost any time horizon: Yup, Bitcoin. My conviction levels in bitcoin rise every day. Im already irresponsibly long. I am now thinking it may not be even worth owning any other asset as a long-term asset allocation, but that's a story for another day (I'm still thinking through this)."
Echoing this line is the former CEO of Prudential, George Ball. The now-CEO of Sanders Morris Harris said in an interview with Reuters that he thinks Bitcoin and other cryptocurrencies will become a safe-haven asset in this market cycle.
Featured Image from Shutterstock
Price tags: xbtusd, btcusd, btcusdt
Charts from TradingView.com
Why Bitcoin Is Entering "Slightly Dangerous" Territory After Rally to $12k