Bitcoin is rallying once again, pushing to $11,700 as of this article's writing.
Analysts say that the cryptocurrency must hold above $11,500 by the time of the weekly close on Sunday evening to confirm more upside.
This is because $11,500 has been a technically important level to Bitcoin for the past two and a half years.
Bitcoin Is Facing Down This Critical Resistance: Analyst Explains
Bitcoin's explosive move past $10,500 last week was undoubtedly satisfying for many bulls. $10,500 has long been BTC's greatest enemy, rejecting three Bitcoin rallies and forcing bearish retracements.
BTC now has a new enemy, though, according to one cryptocurrency trader. That level is the upper band of the Ichimoku Cloud on BTC's weekly chart, currently trading at $11,500.
The trader shared the chart below on August 4th, noting how recent price action has been cleanly rejected by that level. The level held as resistance during February's rally and during numerous occasions in Bitcoin's history.
For Bitcoin to confirm the bull case, it will need to move above $11,500, then hold that level into the weekly close on Sunday evening.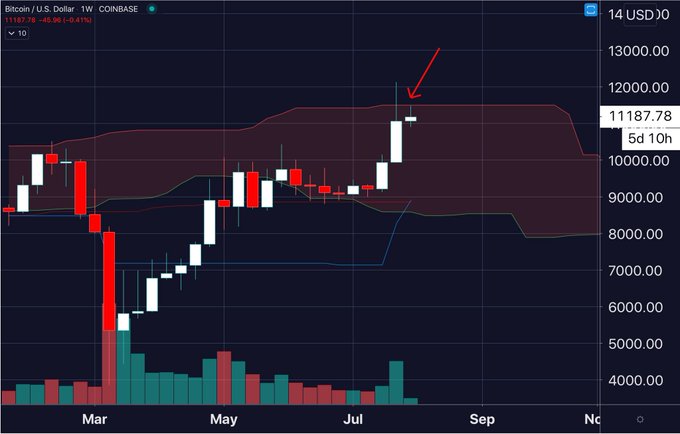 Chart of ETH's recent price action with the Ichimoku Cloud (weekly chart). Chart from TradingView.com; chart by trader "Big Chonis" (@BigChonis on Twitter).
The Ichimoku Cloud isn't the only reason why Bitcoin must break past and hold above $11,500 in the near future.
As reported by Bitcoinist previously, one analyst explained that in terms of technicals, $11,500 is literally the "most important level for Bitcoin" right now. He indicated that BTC breaking above that level on a weekly scale would leave little resistance to the all-time highs of $20,00.
The trader shared the chart seen below to convey this sentiment. As can be seen, Bitcoin has seen a number of critical rejections at $11,500 on a weekly scale, like in June 2019 and just last week. BTC managing to hold above this level, then, would mark a rejection of this bearish precedent.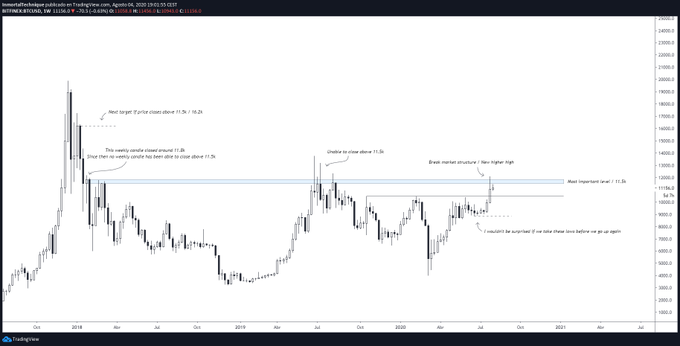 Chart of BTC's macro price action over the past three years with analysis by crypto trader Inmortal Technique (@inmortalcrypto on Twitter). Chart from TradingView.com
Only a Matter of Time
Analysts say it's only a matter of time before Bitcoin moves past $11,500, triggering the next phase of the ongoing bull cycle. Vinny Lingham, CEO of Civic, recently said that he thinks Bitcoin will consolidate around $12,000:
"It was a good call last time. This time it's likely that Bitcoin holds $12k and consolidates around that level while capital moves into alt coins to test those waters. If $12k holds for a 3-5 days, then we can expect the next phase to be a buildup for a much bigger run…"
There's also Rob Sluymer, who told Bloomberg in an interview last week that the breaking of $10,500 sets the stage for a move to $14,000.
Featured Image from Shutterstock
Price tags: xbtusd, btcusd, btcusdt
Charts from TradingView.com
Bitcoin Is Still Facing Down a Critical Resistance After Exploding 20% Higher