A confluence of technical and fundamental signs are showing that Bitcoin is on the verge of entering into another parabolic bull run, despite recent weakness.
Bitcoin Flashes Positive Momentum Signals
According to prominent cryptocurrency chartist Nunya Bizniz, Bitcoin in May printed the exact same signal that marked the start of all prior bull runs: "three consecutive higher monthly [candle] closes."
Bizniz shared the chart below, showing that the signal was seen at the start of BTC's major market cycles over the past decade.
The signal appeared in 2011 when the asset was trading for literal cents and dollars.
Bitcoin printed three higher monthly closes in a row during 2012 just before rallying to $1,000 for the first time ever.
In mid-2015, the signal flashed before the cryptocurrency rallied from the $200-$300s to $20,000.
And the macro indicator appeared at the start of 2019 to mark the start of an explosive rally to $14,000.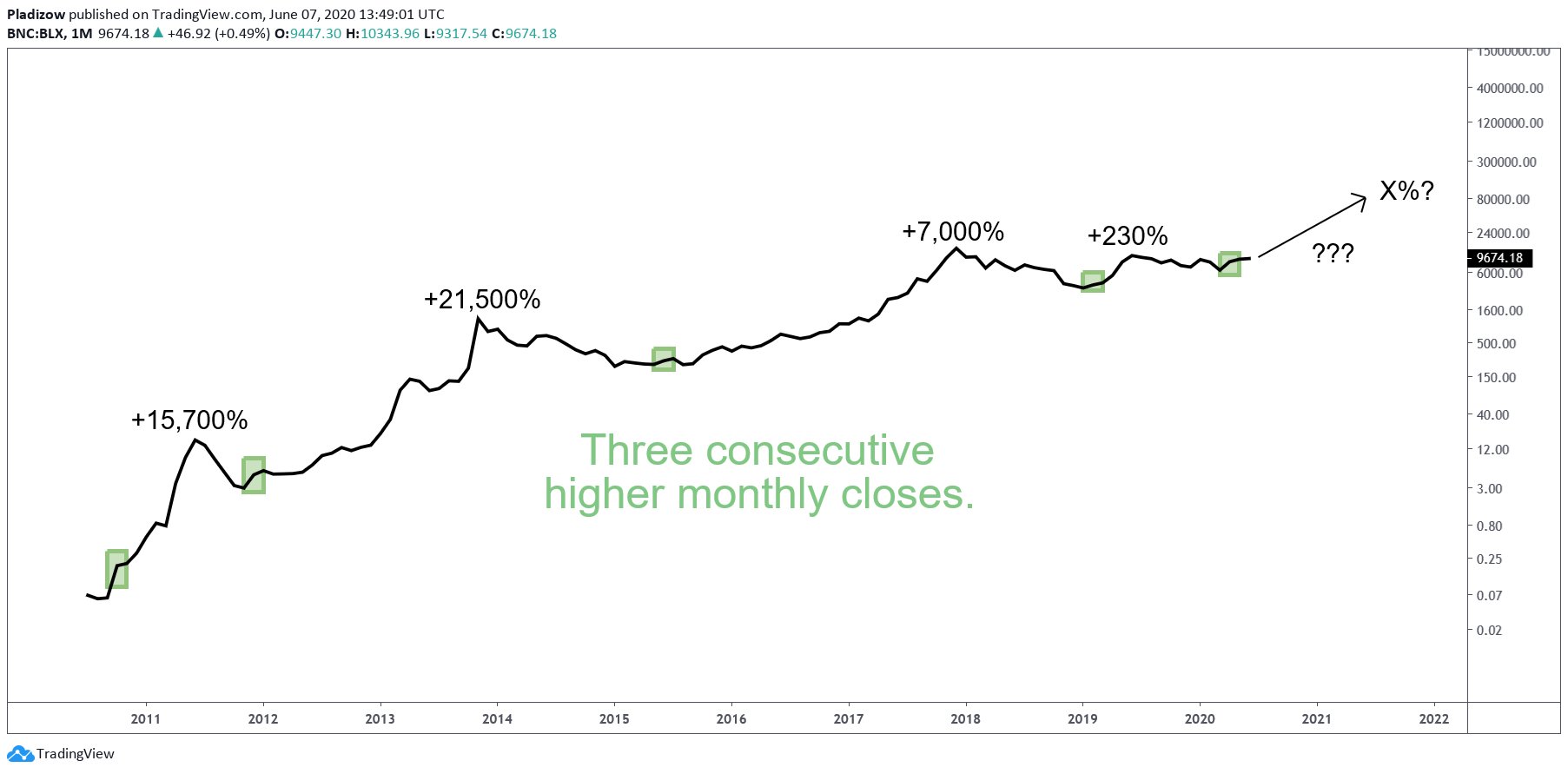 In closing three months in a row higher than the last, Bitcoin has indicated that the bear trend it was caught in has ended. Other signals corroborate this.
A prominent trader shared that according to a custom momentum indicator he made alongside other analysts, BTC just saw a positive monthly momentum cross in response to the recent rally to the $9,000s.
The last time this was seen was in January or February of 2019, which preceded a 300% rally. And the time before that was in February of 2015, which was when the cryptocurrency bottomed around $200 before rallying to $20,000 in the two and a half years that followed.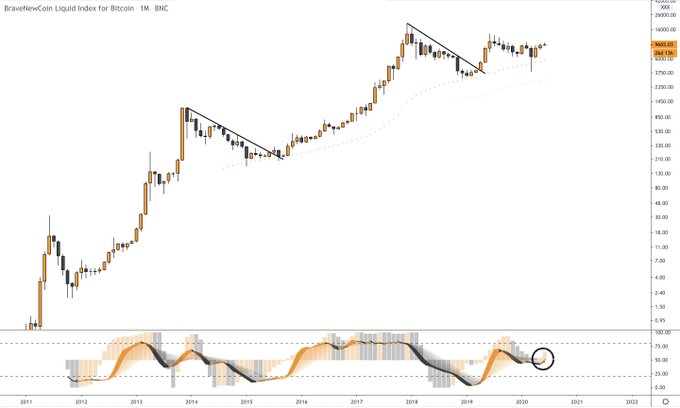 A Parabolic Bull Run Is In the Works
The fundamentals corroborate the expectations of another parabolic rally, a number of long-time Bitcoin investors and analysts have said.
Tuur Demeester said in a May interview with Messari that along with him thinking Bitcoin will never fall below $6,000 again, he thinks BTC will hit $50,000 to $100,000 in the coming years.
"While retail isn't flooding back in just yet, he does believe that institutions, family offices and billionaires are and that the next cycle could take us to $50k-$100K BTC," Morgan Creek's co-founding partner, Jason Williams quoted him as saying.
Demeester's early-Bitcoin adopter contemporary in Adam Back, chief executive of Blockstream, echoed the optimism. Back told Bloomberg in a phone interview that he expects Bitcoin to hit $300,000 in the next five years due to the vast amounts of money printing taking place, enabled by monetary institutions.
Featured Image from Shutterstock
Price tags: xbtusd, btcusd, btcusdt
Bitcoin Just Flashed the Signal That Marked the Start of a 7,000% Rally in 2015