Amid various scams and scandals, Bitcoin Gold has finally been listed on CoinMarketCap. It is already ahead of major altcoins such as Dash, Litecoin, and Monero and has risen hundreds of dollars in price since its initial listings and is currently sitting at around $360.
---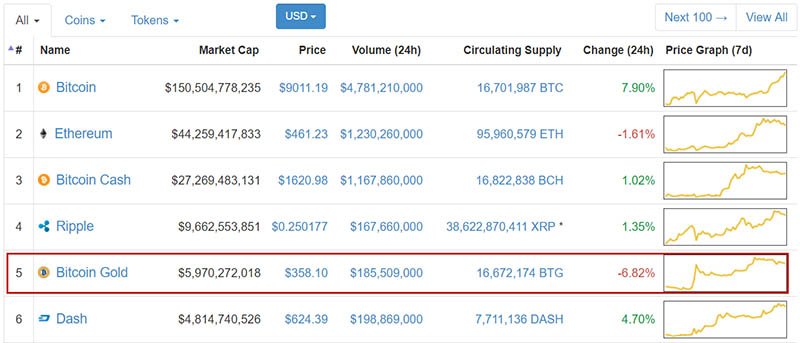 The Second Continuing Fork of the BTC Network
Bitcoin Gold forked off the main network earlier this month, with the weeks leading up to the fork being rife with confusion. No one knew anything about this coin, it had no viable replay protection, very little support from the industry, and a developer pre-mine that nobody was comfortable with. But despite the rocky start, the coin is finally gaining traction within the crypto community.
Likely one of the primary reasons behind Bitcoin Gold's price surge over the past 48 hours is the announcement that cryptocurrency exchanges Bithumb and Bitfinex have both added BTG trading pairs to their crypto offerings. Specifically, Bitfinex has added BTG/BTC and BTG/USD, while Bithumb has added BTG/KRW. Bitcoin Gold has already been trading on major exchanges like Bittrex, HitBTC, and Binance.
Bitcoin Gold is a fork of the main Bitcoin blockchain that happened at the end of October. BTG forked after the activation of Segwit, so it is also active on the forked chain. The key difference between Bitcoin and Bitcoin Gold is the change in the hash algorithm used to mine Bitcoin. This renders Bitcoin ASICs, the specialized machines specifically made to mine the digital currency, obsolete on the new network. The new hash algorithm gives miners the ability to mine using consumer grade graphics cards. Some say ASIC mining centralization is a big problem in Bitcoin, and they're looking to change it with Bitcoin Gold.
$BTG breaking down barriers #1CPU1VOTE @bitcoingold @lightningasic @Hashtags_Trends pic.twitter.com/jynO30Hrur

— Joseph (Community) (@btg_Joseph) November 26, 2017
Recent News About the Currency
Bitcoin Gold has made in headlines in recent days due in part to two hacking incidents affecting the Bitcoin Gold community. The first incident was the MyBTGWallet scam, a web-based wallet previously listed on the Bitcoin Gold website. Malicious tampering with the wallet's source code resulted in millions of dollars' worth of cryptocurrency being stolen. Earlier today, the BTG team released a statement that a "suspicious file of unknown origin" had been detected on both their website and Github repository. Although the file did not trigger antivirus or anti-malware software, BTG decided to err on the side of caution, deleting the file and warning the community.
What is your stance on Bitcoin Gold? Are you selling it or holding? Let us know in the comments below!
---
Images Courtesy of Coinmarketcap