Bitcoin is seemingly stuck in no man's land.
As this outlet has covered extensively, the cryptocurrency has been caught between a crucial support and a crucial resistance; every time BTC attempts to break past $8,500 or $10,000, it is rejected.
There is a growing sentiment that down will be the direction that Bitcoin eventually breaks, though, with new analyses.
There Are Multiple Similarities Between Bitcoin in March and Now
According to one trader, there's a growing chance Bitcoin corrects rather than rallies in the months ahead.
He shared the chart below on July 2nd, showing that per the one-day Ichimoku Cloud, Bitcoin has a "bearish future" ahead of itself. While he didn't explicitly state it, the chart indicates that per the Ichimoku Cloud, Bitcoin is looking rather similar to how it looked prior to March's crash from the $9,000-10,000s to $3,700.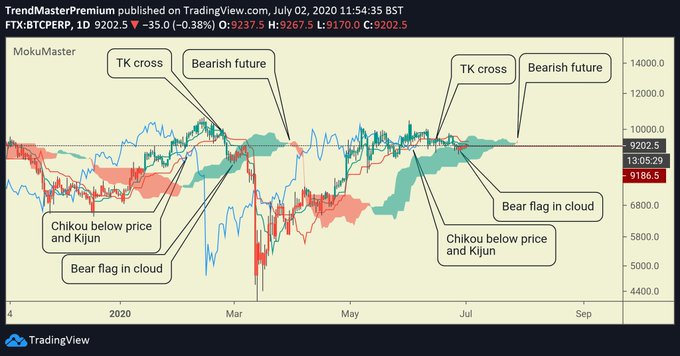 The bearish state of the Ichimoku Cloud isn't the only similarity analysts have observed between March's highs and now.
A cryptocurrency technician shared the image below two weeks ago. It shows Bitcoin's price action over the past 18 months along with the width of the Bollinger Bands. The Bollinger Bands is a technical analysis tool often used to show volatility in markets.
The last time the width of the bands were this low, according to the chart, was prior to March's crash.
Also, just like in February and March, institutional traders are building a net short position on Bitcoin via the CME's futures.
The same trader recently shared data from the CME's Commitment of Traders report. The report is released weekly and shows the cumulative sentiment of a futures market.
The data shows that institutional traders now hold more than 2,000 CME futures contracts short on Bitcoin. Such a negative sentiment from this group of investors was last seen prior to the March capitulation to $3,700.
A Different Macro Setup
What these technicals and trends ignore, however, is the dramatically different macro context now and back then. Fundamentally speaking, analysts say that Bitcoin is more bullish than ever before.
BlockTower Capital released a May report indicating that the "macro case for Bitcoin has never been more obvious." Core to their sentiment is the existence of flaring geopolitical tensions, the pandemic causing the world to go digital, and small emerging markets collapsing.
As reported by Bitcoinist previously, Nexo's Antoni Trenchev said that due to the convergence of fiat money printing and Bitcoin's halvings, BTC is set to hit $50,000.
"So yes, I'm sticking to my prediction of 50K until the end of the year. I appreciate that it is a bold statement, but the fundamentals are there and the momentum is shifting there as well," Trenchev concluded to the Bloomberg journalist.
Featured Image from Shutterstock
Price tags: xbtusd, btcusd, btcusdt
Charts from TradingView.com
Bitcoin Indicator That Predicted March's 60% Drop Is Bearish Again