Despite the surge over the past few weeks, not all analysts are convinced Bitcoin is in a full-blown bull market.
There remain commentators who argue that this move may just be a range deviation before a move back to the $9,000s, then lower.
Stepping back, an analyst has found that Bitcoin's chart looks structurally similar to how it did prior to 2017's $20,000 rally.
This boosts the bull case, though it's important to note that history may not rhyme.
There are also fundamental factors that suggest that BTC will rally in the months and years ahead. Some, in fact, have argued that the "macro case for BTC has never been more obvious."
Bitcoin Chart Is Structurally Similar to Rally to $20,000, Says Analyst
Disregarding the rally over the past seven days, Bitcoin has effectively flatlined for the past three months around the $9,000s. Yet according to a trader, the one-month Heikin-Ashi candles suggest BTC is in the early stages of another uptrend.
Heikin-Ashi candlesticks are often used by trend traders to more easily identify "market trends" to more easily "predict future prices."
The same trader noted that structurally speaking, the recent Heikin-Ashi candles have been extremely similar to the start of macro price rallies in 2012 and in 2015. The rally that followed 2012 brought Bitcoin from under $10 to $1,000. And the rally that followed 2015 brought BTC from around $300 to $20,000.
"Bitcoin monthly Heikin-Ashi candles. A very similar structure of the three regions, including the current sideways price action: red ("major bear") –> weak green ("fake rally") –> red ("#BTC goes to 0$") –> strong green, candles do not have lower shadows ("disbelief")."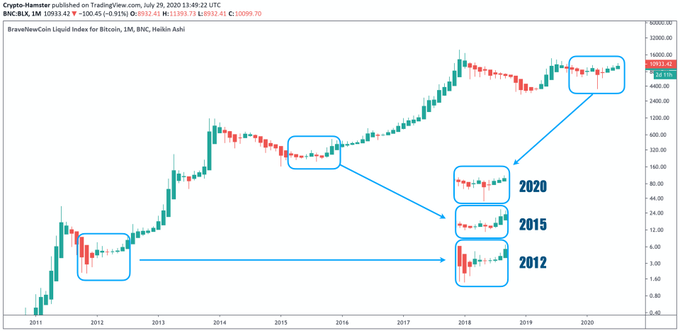 Chart of BTC's macro price action with Heikin-Ashi candles by trader CryptoHamster (@CryptohamsterIO on Twitter). Chart from TradingView.com
That's to say, should history rhyme, Bitcoin is on the verge of a macro uptrend that will take it to new all-time highs.
Fundamental Case for BTC Is Stronger Than Ever
It isn't only the charts that suggest Bitcoin has a strong bull case, it's the fundamentals, too.
In a research note titled "Demand is Coming," Blocktower Capital analysts explained that the "macro case for Bitcoin has never been more obvious." The note was published in the middle of May, prior to the ongoing Bitcoin rally and prior to it even breaching the $9,000s.
Analysts at the firm cited the following factors as to why the demand for Bitcoin will increase:
Geopolitical tensions may begin to flare between the U.S. and China once again as the pandemic has ripple effects.
Lockdowns are making the world more digital, increasing the value potential of Bitcoin.
Some emerging market economies are suffering from hyperinflation and economic collapse, boosting the case to own Bitcoin.
Featured Image from Shutterstock
Price tags: xbtusd, btcusd, btcusdt
Charts from TradingView.com
Bitcoin Looks Structurally Similar to Start of Rally to $20,000: Analyst