Dan Morehead, CEO of Pantera Capital, shared his thoughts on the tumultuous cryptocurrency market conditions, outlining that Bitcoin has managed to outperform the company's Digital Asset Fund in May. He also took the opportunity to criticize Warren Buffet's overly negative position towards digital currencies. 
---
Bitcoin Beats Diversified Cryptocurrency Basket
Pantera Capital is an investment firm focused on blockchain technologies based in San Francisco. Earlier this week, Dan Morehead, the company's CEO, told Bloomberg that Bitcoin managed to outperform the firm's Digital Asset Fund.
In May,  the first and foremost cryptocurrency was down about 15 percent, compared to the fund's decline of 26 percent.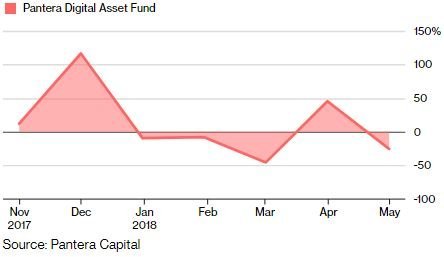 Morehead also shared that the fund's worst performers were Waves, Dash, OmiseGo, and Bitshares.
'Buckle in'
Pantera Capital's CEO also took the chance to comment on Buffet's serious aversion towards the cryptocurrency field in general. Morehead stated:
Buffett avoided the dot coms, but he also missed Amazon, Facebook, Google Netflix, et al, […] If Berkshire buys Bitcoin as quickly as Apple — it will be in 2045. Buckle in.
Earlier this year, the chairman and CEO of Berkshire Hathaway expressed his negative overview on Bitcoin, comparing it to "rat poison squared." He also went on to declare his bearish sentiment towards the entire cryptocurrency market, infamously stating:
In terms of cryptocurrencies, generally, I can say with almost certainty that they will come to a bad ending. If I could buy a five-year put on every one of the cryptocurrencies, I'd be glad to do it but I would never short a dime's worth.
At the time of writing this, Bitcoin is trading flat at $6,737.42. This marks a slight increase of just over 1 percent for the day.
What do you think of Bitcoin's performance throughout 2018? Do you remain bullish on its year-end price? Let us know in the comments below! 
---
Images courtesy of Shutterstock, Pantera Capital.