5 March 2016 – You can now donate your Bitcoin to charity by playing Pokemon. Strange as it sounds, it's been made possible by Jordan Hall, Rapid Web developer,  using popular streaming site Twitch.tv. The stream emulates the wildly successful Twitch Plays Pokemon, with a key difference. You need bitcoin to control the character's in-game actions. This is achieved by linking incoming transactions of an address to a Game Boy input –  you donate any amount to the address corresponding to the input, and the character acts according to each donation. QR codes are provided to make the process easier for those on mobile devices.
Also Read: Valve is Bringing Bitcoin to Over 125 Million Steam Users Worldwide
Bitcoin Plays Pokemon is First to Integrate Donations into Gameplay
Each donation is integrated into gameplay via the bitcoin transaction hook, and the first of it's kind on twitch.tv, as well as being the first bitcoin charity event on twitch to my knowledge. This is a creative use of bitcoin in the first place, and the fact the proceeds are going to charity is icing on the cake. For those shouting nay because of potential for fraud, or equally horrible, transaction spam coming from the stream, Jordan has you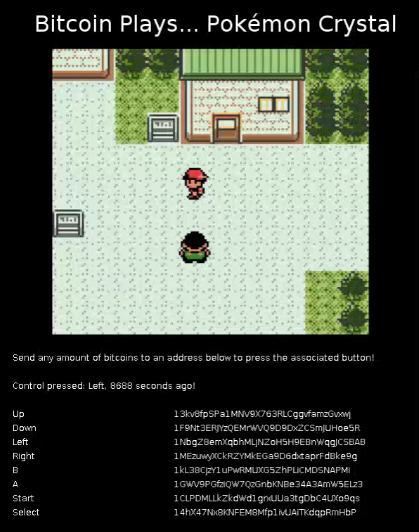 covered. The default amount on the QR codes is too large to make spam cost-effective, but small enough to make a move in the game trivial. Furthermore, the addresses are public on the blockchain, as are all bitcoin addresses, meaning We'll all know pretty fast if that money doesn't end up in the hands of charity. Worst case scenario it generates enough traffic to burden the network, but those transactions won't continue like spam attacks will, because the bitcoin isn't sent over and over. And maybe, just maybe, spam caused by charity donations is better than spam for malicious interests.
Funnily enough, the model used by Bitcoin Plays Pokemon fixes the biggest problem with Twitch Plays Pokemon – the overload of spam inputs. The barrier to making an input, albeit small, will likely make for a better playthrough. If you planned on donating Bitcoin to a charity anyway, this is certainly a much more fun way to do it. This is also the first major development for twitch.tv since their integration of ChangeTip more than a year ago, and hopefully, this stream is the first of many to make way for third-party Bitcoin adoption on their streams and services.
What would get you to donate your Bitcoin to charity? Let us know in the comments!
---
Images Courtesy of Bitcoin Plays Pokemon