The combined cryptocurrency market cap has passed $400 million again for the first time since March 8 as Bitcoin price soars to multi-week highs.
---
Bitcoin Price Bulls Are Back
Data from major exchanges and Coinmarketcap shows that as of press time April 24, the implied value of all tracked assets has reached $421 million.
Building on its latest uptick which began Friday, Bitcoin reached further highs of $9280 Tuesday, managing to find support at the $9000 level.
At the same time, Bitcoin market dominance has slipped in recent days as altcoins make their comeback, dropping to 37.9% from above 42% last week.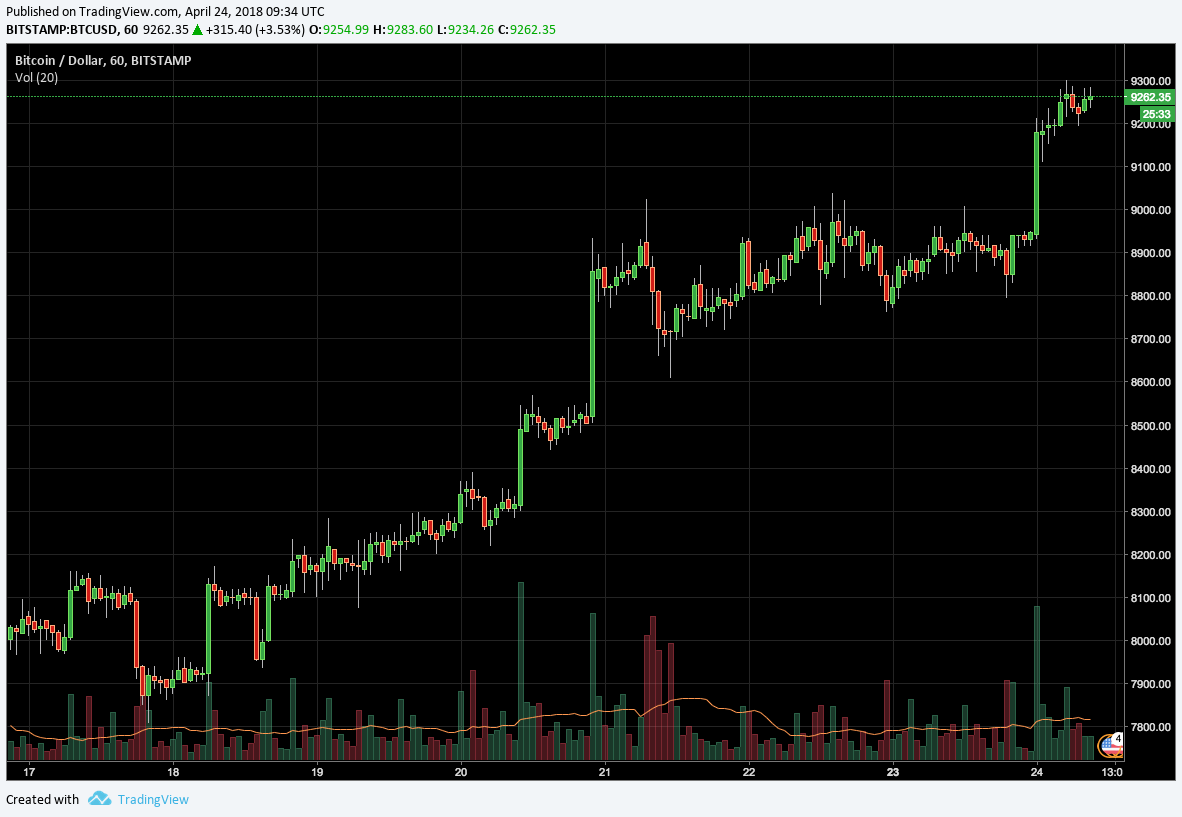 So Long, Sideways Growth?
The growth reflects growing optimism among traders, analysts and finance firms this month that the worst of crypto assets' Q1 rout is over and that new price highs could well come before the end of the year.
In addition to the at least ten famous figures giving minimum 2018 price targets of $20,000, investment mogul John Pfeffer added Monday that he foresees Bitcoin rising up to a minimum of $90,000 and potentially even $700,000.
"Decentralization and censorship resistance" drove his bullish outlook, Bitcoin being "vastly easier to store and transact with than gold," he told audience members while speaking at the Ira Sohn Investment Conference.
Beyond price, Bitcoin continues to post reassuring advances in its underlying technology. On Monday, Bitcoinist reported on how the Lightning Network, which allows users to send transactions instantly for less than a single satoshi, had doubled its funds capacity in just two weeks.
Despite remaining at an experimental stage, the Lightning mainnet implementation on the Bitcoin network now boast more nodes than Bitcoin Cash, adding to SegWit in succeeding in making Bitcoin effective as a micropayment currency once again.
What do you think about the increases in Bitcoin prices and the cryptocurrency market cap? Let us know in the comments section below!
---
Images courtesy of Shutterstock