Bitcoin price finally made it to $9,000. But the celebration was virtually over before anyone could celebrate. Investors are now curious how long they'll have to wait before another $9k retest.
---
Bitcoin Drops 12% After Bursting Through $9k
After making a strong move above $9,000 and topping out at $9,090, Bitcoin price [coin_price] was rejected strongly and tumbled as far as $7,980 before beginning what appears to be a slow recovery.
Bitcoin's triumph over achieving a new 2019 high was short lived and as one would expect the crash reverberated throughout the market and led to other top coins like Ethereum, Litecoin, and Ripple declining sharply.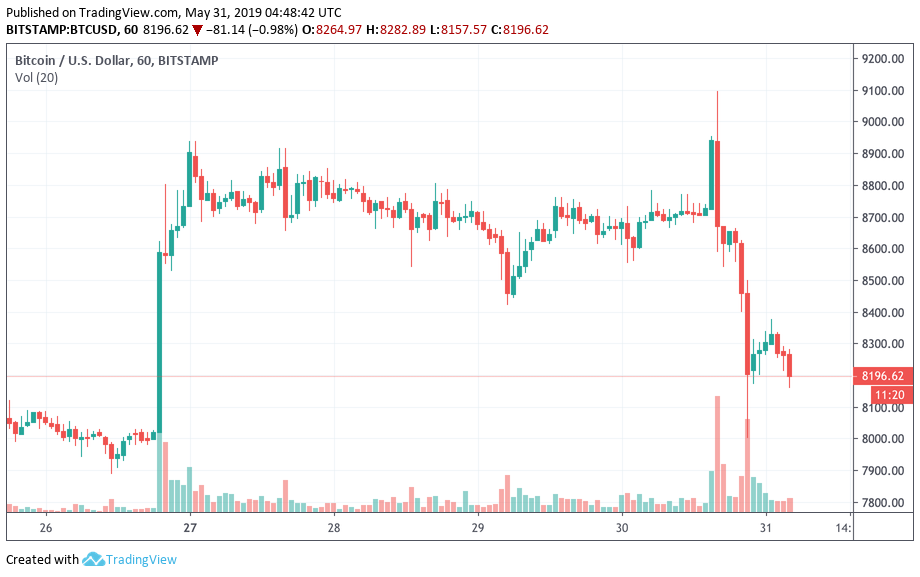 Overall the cryptocurrency market dropped $25 billion over the course of a few hours and at the time of writing the total market cap stands at $264 billion. While the correction came as a shock, many investors and analysts expected it as Bitcoin's recent parabolic run meant that a pullback would need to occur at some point.
Veteran trader Peter Brandt appeared to be right on the money, given that late last week he tweeted a chart forecasting that Bitcoin would revisit $7,900 and today he playfully inquired whether the surprise correction shook FOMO investors out of their trees.
Given the recent bullishness throughout the market, it's also not surprising that a handful of these same analysts are generally unmoved by today's pullback and are calling for Bitcoin to blast through the $10k mark over the next week.
Rhythmtrader was among those feeling less than bothered by Bitcoin's current state and he pointed out that Bitcoin's path to 10K differs in 2019 as its fundamentals are significantly improved and multiple institutional players are deeply involved with the cryptocurrency market now.

$10K by Next Week?
To date, BTC/USD has gained more than 140% and on Thursday Galaxy Digital CEO Mike Novogratz told Bloomberg that Bitcoin is likely to consolidate between $7,000 and $10,000 and he explained that "trees don't grow to the sky." Novogratz also admitted that a surge in euphoria could quickly take Bitcoin higher and in early May he forecast it to reach $20,000 within 18 months.
Currently, BTC/USD has clawed back some territory and is attempting to overcome resistance at $8,500. The RSI shows that the top cryptocurrency is in oversold territory and a move above $8,500 is likely to increase buying volume and help Bitcoin rise to $8,600.
As Bitcoinist reported, blasting through the psychological $10,000 mark would spark 'real FOMO' according to Fundstrat's research analyst, Tom Lee.
Do you think Bitcoin will retake $9k before the weekend? Share your thoughts in the comments below! 
---
Images via Twitter, Shutterstock, Tradingview.com