Bitcoin price has gained in value for 8 consecutive weeks, reaching all-time highs around the world as it nears the $3,000 mark. Moreover, BTC price has already broken the  20,000 CNY milestone. 
---
Vertigo Inducing Rise
It has been an amazing ascent for Bitcoin as it continues to defy critics, reaching its 8th consecutive rise in so many weeks. This latest bull run shows little sign of stopping and many fear it is a bubble waiting to pop, not without good reason, as such rises are very rarely sustainable.
"Is this just a speculative mania, or is it evidence that bitcoin is taking on a more substantial role as a medium of exchange or a store of value?" asks The Economist.
The BTC/USD trading pair has gained for 8 straight weeks. Note that the weekly green candles do not even register the pullback from $2,700 to about $1,850 that occurred on May 25th.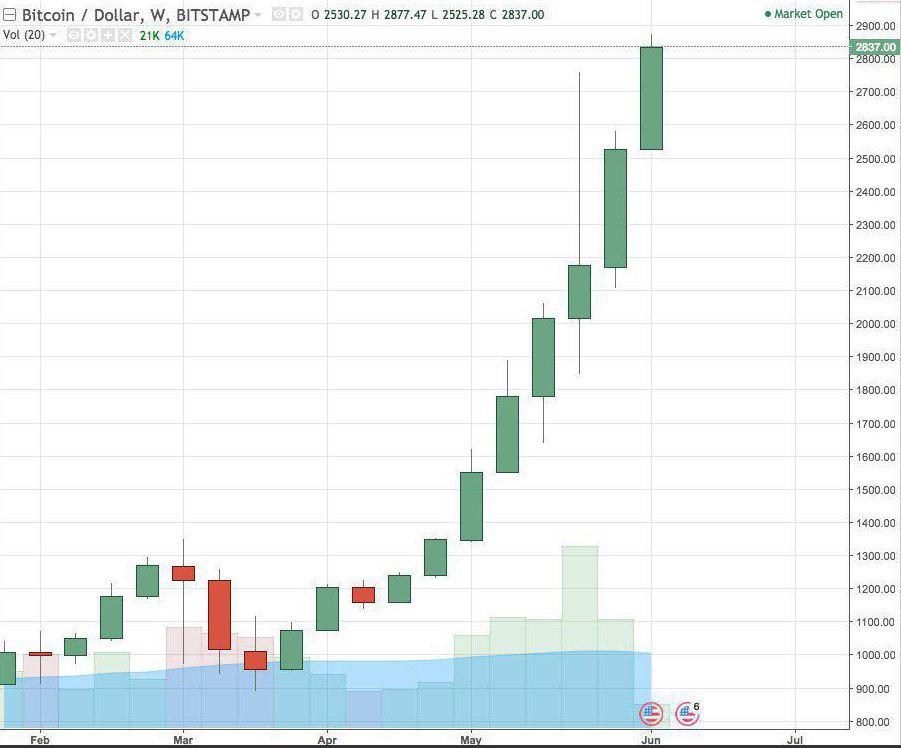 Counter to the bubble theory, people see reasons for this meteoric rise as actual recognition for Bitcoin's true value.  A value based on its technology, usage potential and also that many have yet to even enter the market to purchase it.
Further to this is that buyers generally know what they are purchasing when it comes to, at least, the primary cryptocurrencies. These are not packages containing toxic assets and they are not actively scams. In fact, when one holds their bitcoin and secures their private keys, they are in full control of their funds.
"Both the buyer and seller know all there is to know about the exchange," Charles Hugh Smith, blogger, OfTwoMinds.com explains. "That's not true of rackets like offloading a package of toxic mortgages as a mortgage-backed security."
Growing Trade Volumes in Asia
Market trade, as well as prices, for Bitcoin in Asia are growing too, with exchanges in China, Korea and Japan attaining growing trade volumes demonstrating what appears to be real faith in the coins potential.
Japan's largest market,  bitflyerFX, had trade volume recently hitting almost 25k of Bitcoins a day with a peak of almost 84k in May.
Korea's largest exchange, Bithumb, also hit recent record volumes of almost 20k of Bitcoins traded on June 6th. With Bitcoin also officially recognized in Japan now it has been busy causing a stir on their small markets as many listed companies, including Bitpoint, are embracing the technology along with the volatility that comes with it.
A Rollercoaster Analysis
While there have been dips along the way, they have so far acted as healthy price corrections. Though these drops have been fairly extreme, shedding hundreds of dollars in minutes, they are not as extreme as the recovery or the steady growth leading to them. Simply put, people are buying the dips.
Even a radical correction, bringing the price in line with average growth, would see bitcoin's price hitting around the $1,500 mark. This price is something many would see as the coin being undervalued, especially considering its current ATH, which at the time of writing is $2,888.19 on Coinbase.
How do you stand on debate? Is this a bubble waiting to pop? Is it just the beginning? Let us know in the comments below.
---
Images courtesy of cryptocompare.com, shutterstock