Just minutes ago, Bitcoin pierced the crucial $10,500 level for the first time since rallies earlier this year. The level is of utmost importance for BTC bulls as previous bull trends ended at $10,500.
Bitcoin's strength comes as altcoins have crashed across the board, potentially giving validity to the ongoing uptrend.
Analysts, from those on Wall Street to those in the crypto space, say that BTC must hold above $10,500 in the days ahead to confirm a macro uptrend.
Bitcoin Must Hold $10,500
The importance of $10,500 to Bitcoin should not be understated. This level marked highs for BTC's rallies on three distinct occasions over the past 12 months: October's "President Xi Pump," the February rally from 2019 lows, and the top of the rally from March's capitulation lows.
With such a storied history, all analysts are eyeing $10,500 as a level Bitcoin must hold above to confirm the ongoing bullish breakout.
The trader who predicted BTC would fall to the $3,000s a few months before it did shared this chart below just hours ago.
Referencing how the asset failing to  break $10,500 could confirm a bearish distribution, he wrote:
"While CT is euphoric with the 10k break, thinking that we are going straight to the ath, I remain cautious until the price consolidates above 10.5k. This level is very important (potential UTAD for distribution)."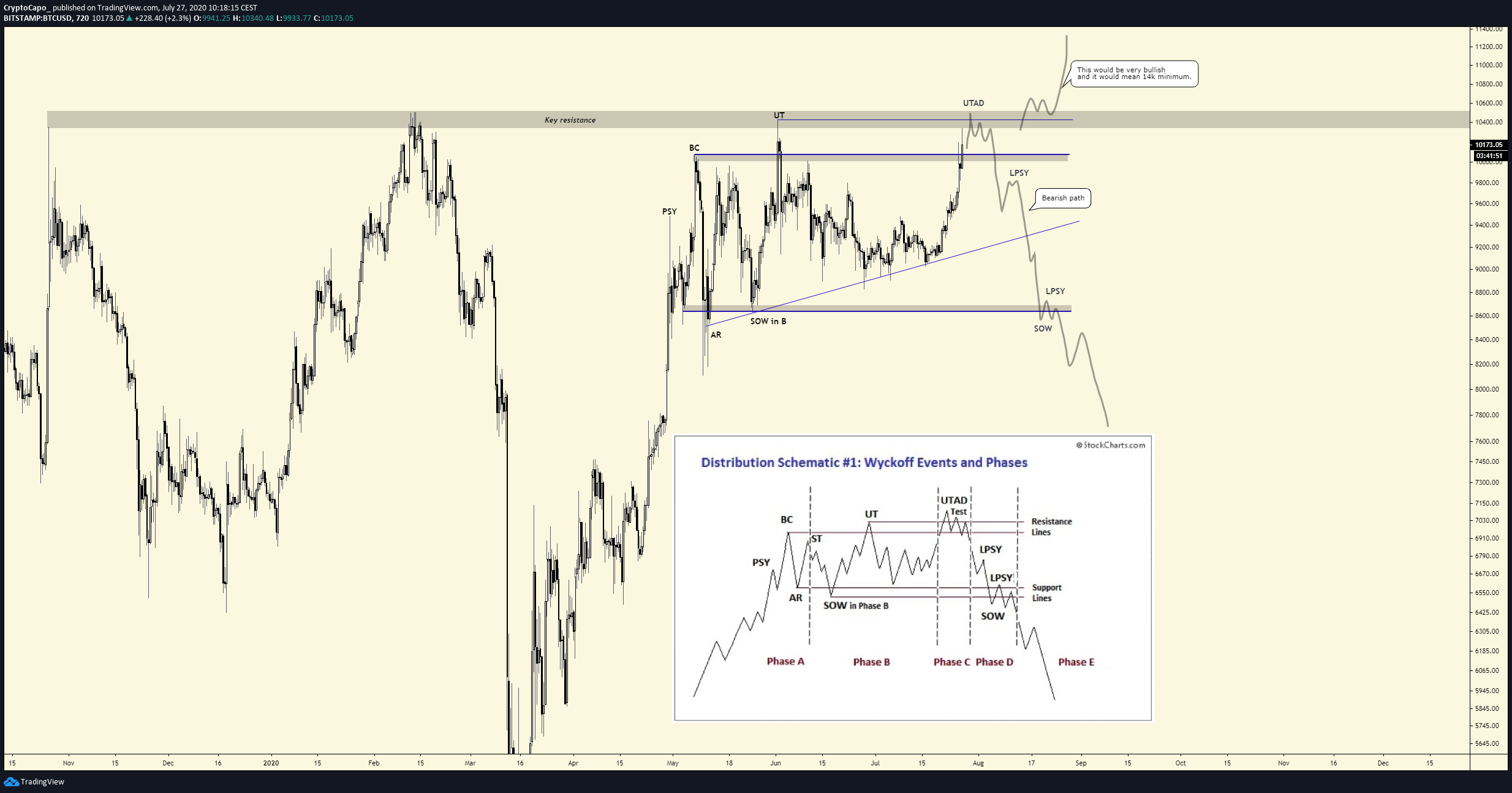 Bitcoin does seem to be decisively taking that level for now. As of this article's writing, the asset is trading at $10,725, and is surging higher as bulls continue to flood in.
Certain Technicals Predict a Retracement
Despite the strong surge higher, there remain signs that Bitcoin may soon undergo a slight retracement after rallying over 15% in a week.
The Tom Demark Sequential (TD Sequential) was revealed by analysts to have s formed a textbook sell signal on the Bitcoin chart. The indicator is known for printing "9" and "13" candles at the inflection points in the trend of an asset.
Featured Image from Shutterstock
Price tags: xbtusd, btcusd, btcusdt
Charts from TradingView.com
Bitcoin Price Pierces the Ultimate $10,500 Level: Will Bulls Manage to Hold?