Bitcoin has recovered after a strong decline earlier this week.
After dropping under $10,200 just over a day ago, the cryptocurrency has sprung back above $10,500.
The coin now trades at $10,800, having undergone a strong rally just a few hours ago.
The coin is up around 5% in the past 24 hours, rising as the U.S. dollar's rally begins to taper off.
Some pin the rally on an ongoing expiry in the futures and options markets, which are likely causing traders to open and close positions.
Whatever the case, analysts are attempting to determine what comes next for Bitcoin.
Move Liquidates Millions in Bitcoin Positions
Bitcoin's recent move to the upside has resulted in millions of dollars worth of liquidations in the futures market for BTC.
According to Skew.com, around $12-15 million has been liquidated in the past 24 hours due to the move higher. Those are statistics for BitMEX's Bitcoin futures market only. This suggests that there were likely dozens of millions more liquidated on other futures platforms and with other cryptocurrencies like Ethereum.
Data from ByBt suggests that the pump has not resulted in overleveraging on either side of the futures markets.
All leading Bitcoin futures markets, including BitMEX, OKEx, Huobi, and ByBit, all have neutral funding rates at the moment. This suggests that the price of the future is trading around the spot price, further cementing the idea that neither side is overleveraged.
This means that Bitcoin could continue to move higher sustainably, as long as the move is largely spot driven.
Bullish as BTC Retakes Key Levels
Analysts say the recent move higher was a bullish breakout as opposed to a bearish retest of resistance.
One analyst shared the chart below, pointing to how the recent rally may take Bitcoin above a crucial trend level around $10,550. Bitcoin retaking this level on a daily basis may suggest that the prevailing trend is bullish.
The chart shows that the cryptocurrency topped at that exact level on two occasions over the past year, suggesting it is a point to watch out for.
Bitcoin is primed to retake that level because as of the time of this article's writing, one hour before the daily close, the cryptocurrency is sitting nearly $300 above that support.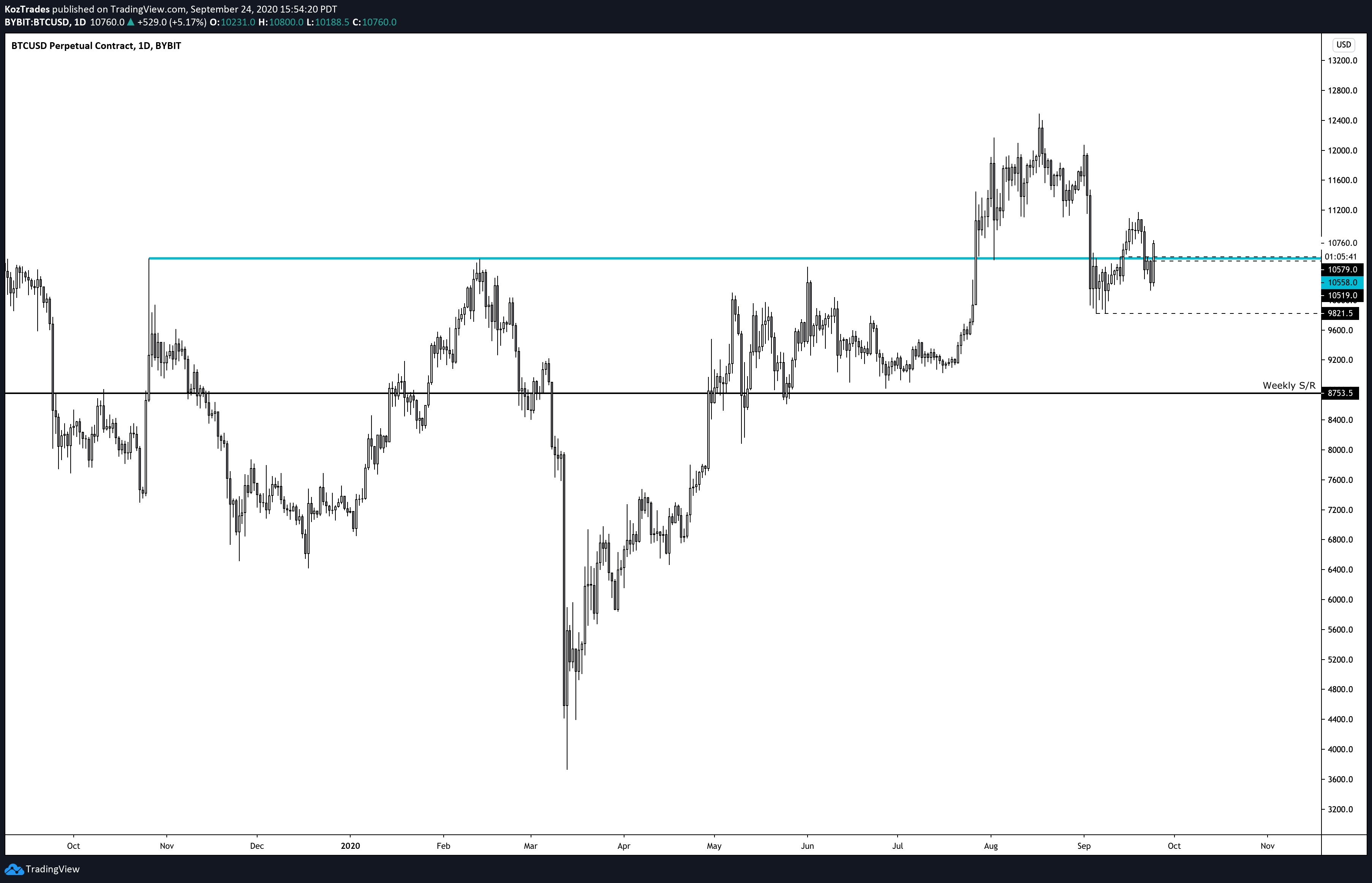 Chart of BTC's price action over the past few months with analysis by crypto trader TraderKoz (@TraderKoz on Twitter). Chart from TradingView.com
Featured Image from Shutterstock
Price tags: xbtusd, btcusd, btcusdt
Charts from TradingView.com
Bitcoin Shoots To $10,800: Here's What Analysts Think Comes Next