Apr. 11 – 19, 2016 — Over the week of Apr. 11 – 19, the bitcoin price showed early signs of a bullish renewal. The price moved up steadily, +3.6%, on an Apr. 16 high of $435.67 registered at bitcoinaverage.com.
This article was provided by the Vanbex Group on behalf of BitcoinAverage.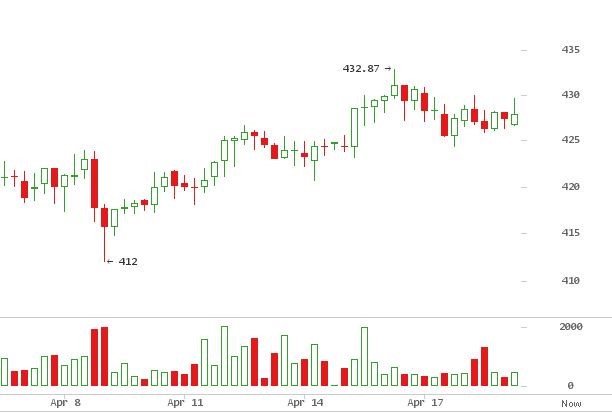 This is the highest mark since Mar. 1, which must have excited traders with the prospect of a continuation bull trend that began on September 7.
But, there remains a sense of caution with market analysts awaiting a retest of levels to confirm support for an uptrend.
A user on Reddit said:
"The only thing that gives me any pause in my bullishness is the utterly irrational exuberance I feel right now given the shape of the chart on a wide variety of timescales."
The last time the price was at these levels, which was on Mar. 1, it was preceded by a sell-off to $382, but the price quickly retraced to trade within a range.
As seen on this chart, the upper and lower limits touched $423 and $427, breaking strongly above $423 on Apr. 14 (encircled), a clear sign of intent.
This time, it was markedly different from a similar attempt on Mar. 26 that faltered just below $428, making this week's breakout not one to be easily brushed away.
On the 3d chart on bitcoinaverage.com, the marginal price changes on lower time frames are difficult to pick out.
Price is still largely in a sideways trend, evidenced by the lowest 30-day volatility in history and currently tied for second on the 60-day chart, 0.74% and 1.31% estimates, respectively.
$440, marked by a bold line, is the most significant level now, as a support/resistance level going back to December 2015.
It is no coincidence that price stalled right below this level, and continues to correct lower. As of writing this, the price sits at $429.
Speculators point to the pattern above from the three-day charge, a pennant symmetrical triangle.
Bulls say it is a continuation pattern within the overall trend from the Aug. 24 $198-low. The apex point, where a breakout is expected, is yet to converge as the price lingered between the lower sloping trendline and upper sloping support line.
There has been no confirmation break out, just more sideways action, albeit on a wider range, and this may persist till May.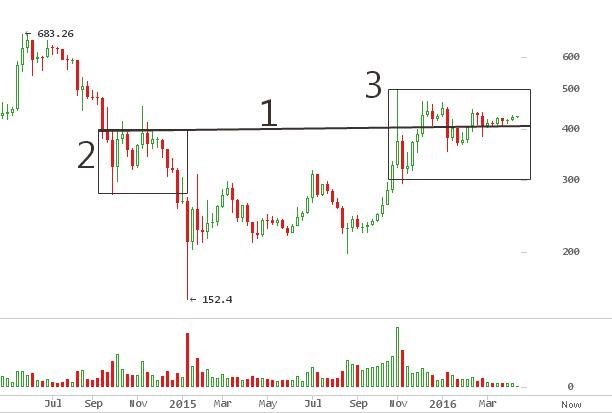 The market is at a critical point, sitting on top of a 20-month resistance level at $400 (1).
Back in August to November 2014 (2), the price was unable to break back above it after an accelerated sell off to $275. A double top rejection preceded a continued bear trend.
At (3) this level is being retested, this time from the bottom. Since November 2015, the price has oscillated around this mark, fueling current uncertainty.
If this level holds, an upward run would follow with a magnitude as large as the sell-off in November 2014. Pricing targets for this scenario sit around, at very least, $650.
Bitcoin Price Forecast
This week, the price will continue on its retracement from $435 top, down to a support, as low as $420.
This price is low enough to respect the higher lows on the rising trendline, while still respecting the critical $423 as support for a continued uptrend.
The best case scenario is a $425 hold with a renewed uptrend taking over.
Nevertheless, Bitcoin looks bullish over the coming months.
The triangle pattern highlighted is a high probability continuation pattern, and it is now a matter of waiting it out.
The question is how long it will take to pop and when. Price has been stable on the price range since January and volatility is down. It is at a good level for a launch pad to higher marks.
The fundamentals around the bitcoin protocol are better than they were three months ago.
Core is making progress on Segregated Witness, an alternative soft fork approach to increase block capacity. News from China suggests miners are backing Core as well, while Bitcoin Classic, a hardfork capacity increase, has all but faltered.
With the block reward halving around the corner, everything looks ripe for another leg-up.