BitcoinAverage (May 9, 2016) — The unraveling of the supposed mysterious inventor of Bitcoin, Satoshi Nakamoto, made headlines this week across mainstream media outlets. Yet, despite the potential implications of the identity of Satoshi, who owns 7% holdings of the total BTC supply, the price held steady, only selling off a measly 4.6%.
This article was provided by the Vanbex Group. Bitcoinist is not affiliated with the firms represented by the Vanbex Group and is not responsible for their products and/or services.

Satoshi Hoax can't Break Bitcoin!
The market dismissed this news as a hoax, and traders who are long and bullish remained unfazed so this week's price action remained bullish.
This week's close is the highest since August 2014.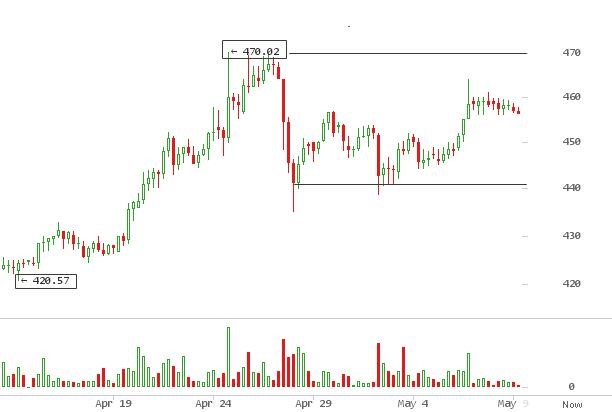 After a run up to the peak at $471, a resistance level dating back to Nov. 4, 2015, a retracement was only natural, with a sell-off to a low $436 where the price found support. As with most bottoms, a confirmation of support is often necessary.
The price moved up to $460 and then sold off again to $440, simultaneously with the Satoshi Nakamoto hoax.
The resilience of the price during this chaos suggests support at $440 is solid. As of writing this, the price is trading slightly below $460, at $456 as per bitcoinaverage.com.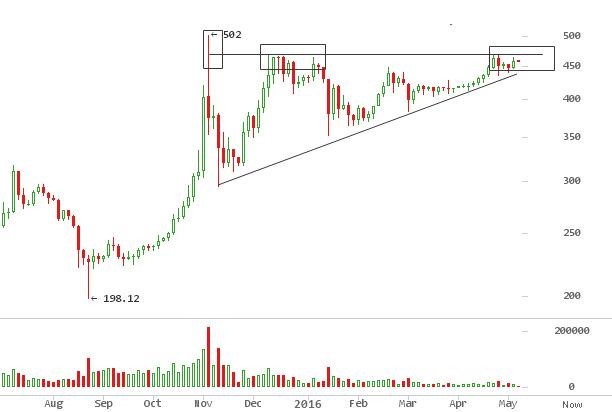 The weekly chart above shows a bullish continuation pattern, an ascending triangle that has been forming over the past six months.
The $465 resistance line has held up against any price advances back in November 2015, late December to early January 2016, and, most recently, a late April to May 2016 attempt at breaking up.
Western and eastern exchanges differ marginally on price levels.
So, the top for this ascending triangle could be $470, $504 or 3100 CNY or 3350 CNY, depending on the exchange.
If this line finally breaks, FOMO and panic may ensue as the next level after is up to $650. The nature of this pattern is bullish and a lot of traders will have their eye on trading when this break out.
Reddit user, Greencheckmark, commented in r/BitcoinMarkets, "Bitfinex longs were at $20,000,000 on Feb. 20 when it was $451 and since then the price has held above $400 nearly the entire time with $31,000,000 long now at $460."
The weekly close was the highest since August 2014. This level is crucial.
On breaking up above this level, $680 is a reasonable target. In September 2015 (marked above), the price edged sideways for a while, trading within a narrow range before continuing with the trend.
The same price actions are unfolding now, hugging a $470 resistance level.
BitcoinAverage Weekly Bitcoin Price Forecast
The forecast for the next two-to-three months is bullish, with targets of $650, $680, $800 and possibly $1,000 on the horizon. Patience is key going forward as the set up plays out.
With the expected price-halving just nine weeks away, coupled with the bullish price-level of bitcoin, a run-up could fuel another halving bubble, and send the price as high as the previous all-time high of $1,163.
Zerohedge this week ran an article titled, "Mother Of All Short Squeezes" Looms For Bitcoin where serial entrepreneur, Vinny Lingham, said:
I don't know if the price is going to $1000 or $10,000? – ?but I do know that it is going up. If I was forced to predict, I would say that it would hit $1000+ in 2016 and $3000+ in 2017. Looking forward to seeing how this all plays out!
However, the price will not shoot up overnight, so, the price action over the next two-to-three weeks is equally important if a trade position is yet to be taken.
The price should trade within a narrow range this coming week, even if gradually moving up to $465. This level is not yet ready to break, and a possible dip downward, to as low as $430 is on the table, without invalidating the bullish case scenario.
Bitcoin Community Reacts Sharply to Satoshi Nakamoto Identity Hoax
This week, cryptographer Craig Wright outed himself as the mysterious Satoshi Nakamoto, causing a stir in the Bitcoin community. In a secret meeting in London, Jon Matonis, Gavin Andresen and three media organizations, the BBC, GQ and the Economist, confirmed Craig possessed control over keys to addresses in Block 9, linked to the earliest block. Subsequently, both Jon and Gavin blogged that indeed, Craig was Satoshi.
The Bitcoin community lashed out at the claim, declaring the only proof that mattered was moving the coins contained in the genesis Block 0. Craig agreed to perform this ask to the BBC, but, pulled out at the last minute. He went on to post a public apology letter, declaring he would retire quietly.
The price was rather unfazed by the potential implications of access to 7% of the Bitcoin supply.
State of New York Approves Gemini to Trade Ether
Together with the Governor of New York, the Winklevoss twins, founders and investors of Gemini Trust Company, announced their exchange was approved for the trading of Ether.
It is the first consent by the NY Department of Financial Services for digital currency trading besides bitcoin. Gemini currently only conducts bitcoin trading, and Ether trading began on Monday, May. 9.
Speaking on the need for compliance, Tyler and Cameron said:
"It's pretty clear that in the U.S. if you're an exchange, you are required at the minimum a money transmission license in each state. Anybody who's operating an ether exchange [and] doesn't have a license and [sic] is on borrowed time."
Coinbase and Ripple Edge Closer to securing New York Licenses
Reuters ran an exclusive on bitcoin company, Coinbase, and payment firm, Ripple.
According to unnamed sources, the two companies based out of San Francisco are close to securing a BitLicense from the NY Department of Financial Services after their applications were received on Apr. 28.
The coveted BitLicense, rolled out in 2015 in response to a growing number of digital currency businesses, is aimed at consumer protection and anti-money laundering checks.
A spokesman from Ripple said, "We are committed to being fully compliant with all state and federal laws and applied for the license to ensure we remain so."
---
Images courtesy of BitcoinAverage, Ward Aguilar Financial, Inc.