Bitcoin has surged decisively higher over the past 72 hours, moving from the $10,600 range to as high as $11,500 on Friday evening. As of this article's writing, the leading cryptocurrency trades for $11,350, just around 9% above the weekly lows.
Despite this decisive surge higher, not everyone is convinced that Bitcoin will continue its ascent.
Not Everyone Is Convinced of Bitcoin's Move Higher
One crypto-asset trader noted that the ongoing move higher is still not decisively bullish on a medium-term time frame.
He shared a chart indicating that BTC is still running up against some resistance to the upside that may result in a reversion lower, potentially under the early September lows:
"$BTC – This is still a fadeable move imo. Still Range Bound and currently retesting the Range highs. I will be interested in entering into short positions on a break below $10,950s. Staying patient. Compounding those below $345 on Ethereum & $10.8k on Bitcoin."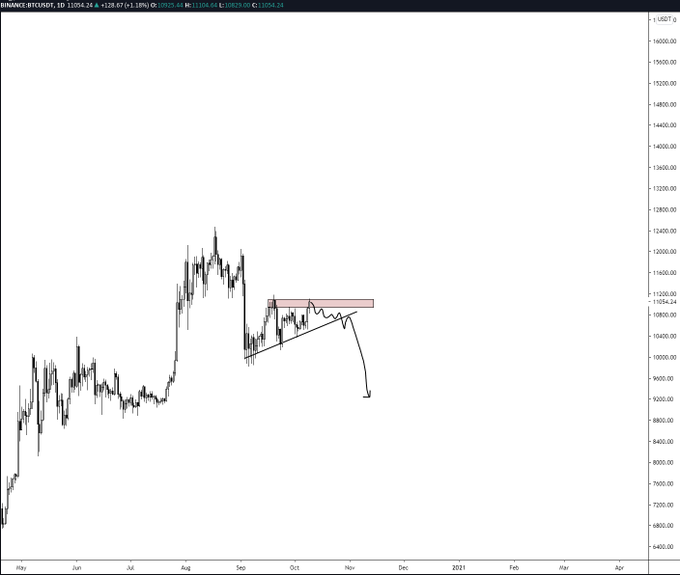 Chart of BTC's price action over the past few months with analysis by crypto trader UB (@CryptoUB on Twitter). Chart from TradingView.com
Another cryptocurrency trader echoed this assertion.
The analyst, a leading trader on ByBit, said shortly after Bitcoin moved as high as $11,500 on Friday evening: "Got a bad feeling this $BTC pump will be retraced… Give it a decent likelihood."
It's worth noting that Bitcoin's surge to $11,400 on Friday evening means that the coin is likely to form a CME futures gap on the Sunday evening open. The CME's BTC futures do not trade on weekends, meaning that if there is volatility on the weekend, it doesn't properly translate to the CME's chart. This forms a gap, 75% of which fill within the week they are formed.
Fundamentals Skewed Positively
The fundamentals are skewed positively for Bitcoin, corroborating expectations of upside.
Vinny Lingham, chief executive of Civic and a partner at Multicoin Capital, recently commented on Bitcoin's chances at moving higher from here: 
"I haven't been this bullish on #Bitcoin since 2016. Macro events are teeing us up for another bull run. BTC could go 3-5X in the next 12 months, but if it goes 5X+, we're back to bubble zone. Key indicator is BTC dominance – if it drops below 35% during the run, caveat emptor."
There are also news events like Square buying $50 million worth of BTC and stimulus talks continuing in the U.S. that are likely to boost the leading cryptocurrency even further.
Photo by Moritz Knöringer on Unsplash
Price tags: xbtusd, btcusd, btcusdt
Charts from TradingView.com
Bitcoin's Move Higher Is Still a "Fadable" Rally, Analyst Says