By definition, Bitcoin is still in a bear market. One analyst recently commented in reference to the chart below.
"Allow me to explain: BTC hasn't made a higher high in a full year, so per definition, it's not a bull market. BTC has made lower lows and lower highs consecutively for a full year, so per definition, it's a bear market," he wrote referencing the chart below that shows BTC's price action and macro phases.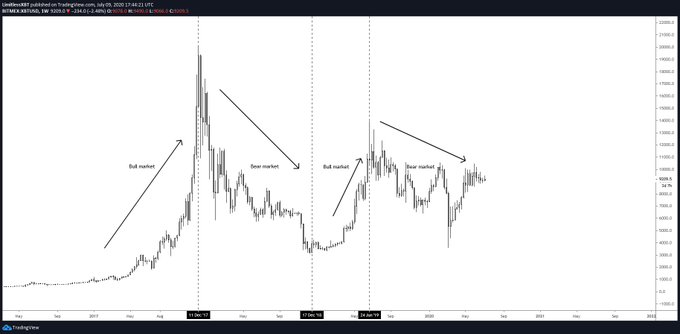 This has been echoed by Peter Schiff, the prominent gold proponent and investor.
Yet a crucial on-chain signal just appeared that has preceded some of Bitcoin's largest rallies over the past decade.
A Bitcoin Bull Signal Just Appeared
As first spotted by a prominent Bitcoin commentator, the Hash Ribbons have just crossed bullish and printed a "buy" for the first time in a number of months.
The Hash Ribbons are an indicator that uses a short-term moving average and a long-term moving average of the hash rate. When the short-term moving average crosses above the long-term moving average, it's seen as a bullish sign. And when the opposite takes happen, it's bearish.
The "buy" signal appearing per the Hash Ribbons is extremely notable for Bitcoin bulls.
As the chart below indicates, when the signal formed in 2016, Bitcoin proceeded to rally by over 4,000% in the year and a half that followed.
This has been further corroborated by digital asset investor and analyst Charles Edwards, who noted that each occurrence of the signal has preceded strong rallies in Bitcoin.
A Strong Mining Ecosystem
The bullish crossover and "buy" signal comes as the crypto mining industry has signaled that it is more healthy than ever.
Cryptocurrency data provider TradeBlock reported last week that the Bitcoin hash rate (seven-day moving average) has hit a new all-time high above 124 exahashes per second.

Bitcoin's network difficulty will follow suit, according to analyst "PlanB":
"Despite death spiral FUD, miner capitulation FUD, future manipulation FUD, corona, PlusToken FUD, Tether FUD, whales selling FUD etc… BTC just had its third-best quarterly close ever ($9.1K) and is heading for difficulty ATH Monday (17E12)."
This is bullish for the Bitcoin price, according to Edwards.
Edwards published a price model in December 2019 revealing that the energy consumption levels of the Bitcoin network correspond with price action.
His latest so-called "energy value" analysis implies a rally to $12,800 will take place in the months ahead.
Featured Image from Shutterstock
Price tags: xbtusd, btcusd, btcusdt
Charts from TradingView.com
Bitcoin's Rallied 4,000% After This Signal Flashed in 2016. It's Back Again