Bitmain is taking a new approach to getting more people involved in bitcoin mining. Bitmain is introducing the AntMiner R4, and their new PSU: the APW5. According to the company, both products are made with a broader range of users in mind, both utilizing new cooling systems to improve heat dissipation and noise output.
Also read: Is the Bitcoin Price Slump Finally Coming to an End?
The New Bitmain AntMiner R4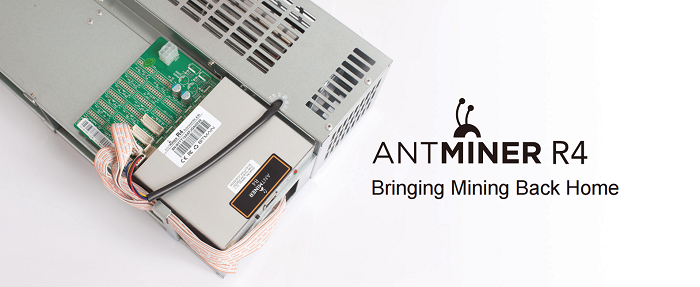 The AntMiner R4 is a new line of bitcoin ASIC miners aimed at the average consumer. This miner uses the new 16 nm ASIC, with a 8 th/s to 8.6 th/s hash rate. A new cooling and styling design keeps the R4's noise levels low, reportedly peaking around the 50 to 52 dB range. Bitmain says the R4's new fan system is inspired by silent air conditioning systems.
Bitmain has this to say about the fan design:
"Fans have long been the single biggest source of noise in any bitcoin miner. The R4's design team found a simple but unique solution to this problem: to do away with the traditional noisy fan! Inspired by the "fan" of a silent split air conditioner, we designed a fan that can make less than half the noise of the standard miner fan. What's more is that its speed is automatically controlled to ensure it never creates more noise than is absolutely necessary."
Bitmain, not missing the big picture, has also designed a new more powerful controller aimed at reducing latency:
"The R4's control board uses a dual-core ARM® Cortex™-A9 based Application Processor Unit (APU) Bitmain's in-house engineered control board for the Antminer R4 employs the Xilinx's ZYNQ-7000 family system-on-a-chip (SoC) that integrates a feature-rich dual-core ARM® Cortex™-A9 based processing system (PS) as well as a 28 nm Xilinx programmable logic (PL) in a single device and supports Gigabit Ethernet to ensure that mined blocks are submitted instantly"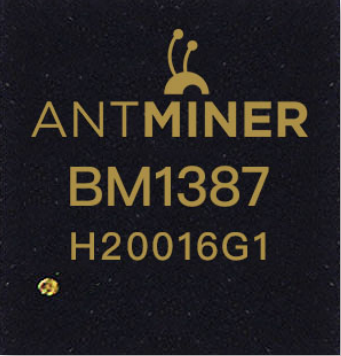 The design of the case is also more compact, coming with a space that may hold a PSU. We will check this out during our review.   This change in design is supposed to simplify deployment for both home users and larger data centers.
Here's the full spec list for the AntMiner R4:
-Hash Rate Power Efficiency 8.6TH/s (Variation of ±5% is expected) 0.1 J/GH +9% at the wall (with Bitmain's  APW3 PSU, 93% efficiency, 25°C ambient temp)
-Power Consumption Noise level 845W +9% at the wall (with Bitmain's  APW5 PSU, 93% efficiency, 25°C ambient temp) 52dB (at an ambient temperature of 35°C)
-Chip quantity per unit Product size 126 x BM1387 515mm (L) x 100mm (W) x 222mm (H) Rated Voltage 11.60 ~13.00V Package size Operating Temperature Default
-Frequency 0°C to 40°C 600MHz Network Connection 610mm (L) x 215mm (W) x 340mm (H)
-Connection Type: Ethernet
BitMain Announces the APW5 PSU
In addition to the new mining rig, Bitmain has announced the APW5 PSU.  The company is proud of the unit's design and output qualities, saying they make the PSU fit for home, garage and data center use.
According to Bitmain, the APW5 is able to run at both 2600 watts on 220v power or 1300 watts on a 110v power. The ability to run on a smaller power configuration means that home users without access to 220v beakers can use the APW5.
Here is a list of the APW5's full specs:
-DC Voltage Rated Current / Power (220V input): 2600W
-Rated Current / Power  (110V input): 12.25V; 1300W
-Ripple & Noise Voltage Regulation: <1% <2% Source
– Regulation Output Load Regulation: <1% <1% Setup
-Rise Time Power off Protection Trip Time: <5S >10mS
-Interface Type Input Voltage Range 7pairs of 6pin PCIe connectors: 380mm length for each PCI-E cable. 90-265V
-AC Current Range Starting Voltage: 10.5-16.5A 100-240V
-AC Frequency Range Power Factor: 47-63Hz >0.95(full load)
-Leakage Current Low-voltage Input: <1.5mA  (220V 50Hz) 90-100V
AC Output Short Circuit Protection Output Overcurrent (220V input) Yes
216-255A Output Overcurrent (110V input) Overheat Protection 108-135A Yes
-Environment Conditions Operating Temperature: 20-60℃
-Operating Humidity: 20%-90% RH (non-condensing)
-Dimensions: Structure Weight 266mm*125mm*86mm 2.5Kg Cooling Forced-air Cooling When the temperature of the heat sink is higher than 80  ℃, the fan runs at full speed.
The AntMiner R4, along with the APW5, could be solid additions to Bitmain's catalog if they live up to the listed specs and performance numbers. By building a miner that can be used both in-home and in a data center environment, they have potentially made ASIC mining more accessible to a diverse set of customers.
We will be bringing an exclusive review of both products in the coming days — putting Bitmain's claims to the test by subjecting the R4 and APW5 to real-world benchmarks.
Do you think the new Bitmain products will live up to expectations? Let us know in the comments below!
---
Images courtesy of Bitmain.