Bitcoin bulls have been under pressure over recent days after a strong rejection at $12,000.
BTC bears are seemingly in control of the short-term price action, having dropped the asset as low as $11,150.
BitMEX's Arthur Hayes remains optimistic about Bitcoin, explaining his thought process in a recent blog post.
He previously claimed that the asset will likely revisit $20,000, BTC's all-time high, in 2020.
It is unclear if he is sticking to this prediction, but noted he will discuss a Bitcoin price target in the near future.
BitMEX CEO Remains Bullish on Bitcoin
In a blog post published August 27th, Arthur Hayes, chief executive of BitMEX, asserted that Bitcoin remains on a positive track.
He did not comment on the asset's technical case, but noted that the fundamentals suggest appreciation in hard assets is likely:
"The financial markets are going to whipsaw as politicians contort themselves to continue feeding at the trough. This unfortunately will have lasting effects on everyone's lives across the globe. Out of the chaos, more people will mistrust centralised authority and look for ways to protect their physical persons and capital from the wanton destruction waged upon them by their rulers."
He added that with this political and economic turmoil coming, gold and Bitcoin could perform well. He used the Chinese term "加油," often used when cheering on a cause or entity.
Hayes previously said that Bitcoin will revisit $20,000 in 2020, citing the monetary stimulus as a reason for this target.
Dollar Strength Could Crush BTC
Although Bitcoin has these fundamental drivers in the longer run, a short-term correction could be had as the U.S. dollar may bottom.
The U.S. dollar has seen a strong collapse since the March highs due to an influx of central bank stimulus. The Dollar Index has collapsed by approximately 10%, which is massive for a currency market worth trillions. Gold has followed suit, rallying higher, pushing Bitcoin to the upside as well.
The reserve currency may soon find a bottom, though, in a move that would simultaneously crush gold and BTC.
One cryptocurrency and foreign currency trader shared the chart below last week, which shows a potential bottom in the Dollar Index:
"$DXY finally finding support? Keep an eye on this chart, if we regain that top level expect $BTC, $ETH, $Gold and $Silver to fall further."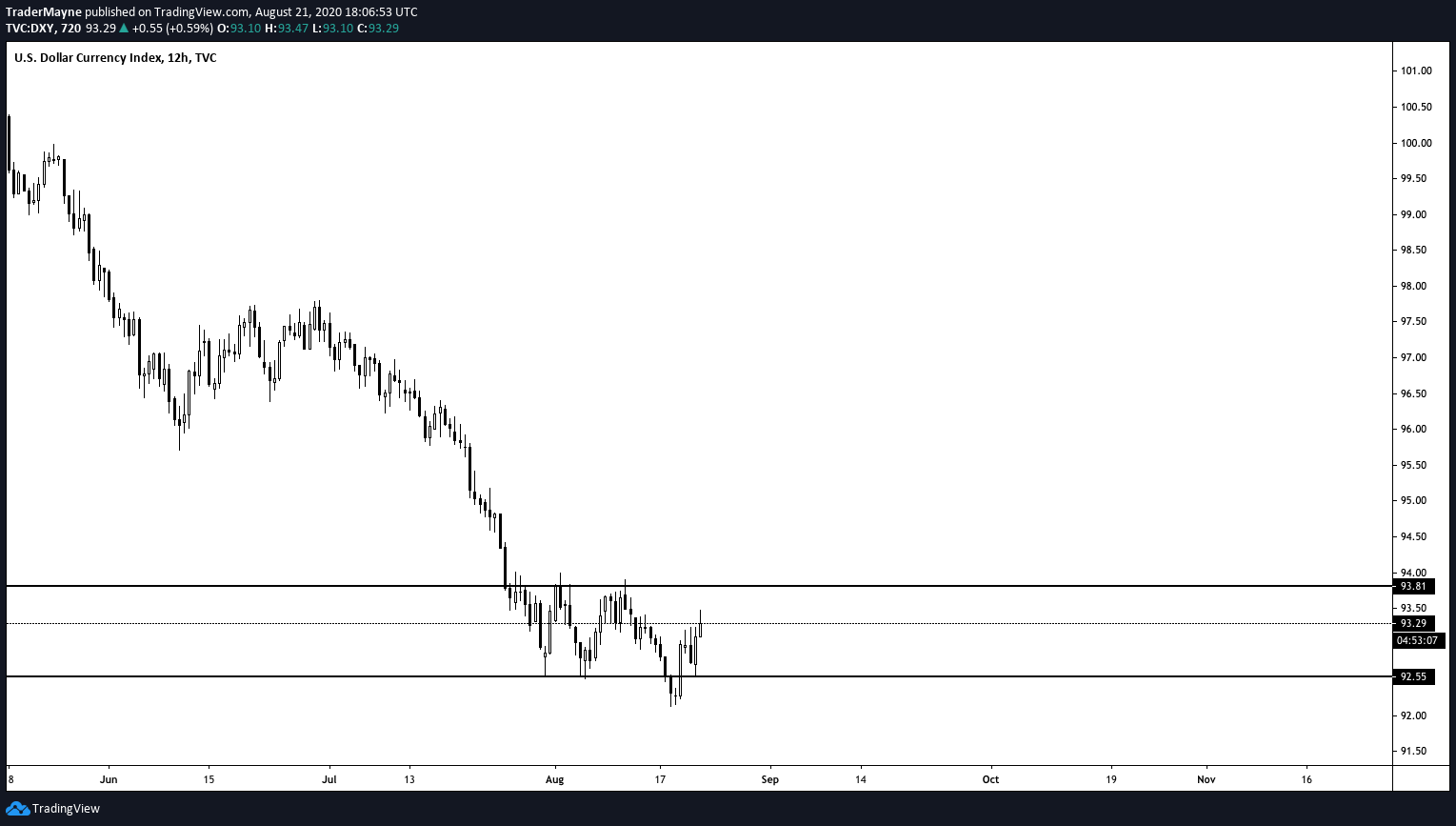 Chart of the DXY over the past few months with a range analysis by crypto trader "Mayne" (@Tradermayne on Twitter). Chart from TradingView.com
Others expect the U.S. dollar to take an upper hand over other currencies as well due to second wave infections and subsequent economic effects in Europe and Asia.
Featured Image from Shutterstock
Price tags: btcusd, btcusdt, xbtusd
Charts from TradingView.com
BitMEX CEO Still Has a "Massive Upside" Target for the Bitcoin Price