777.BINGO Pan Entertainment Platform is Revolutionizing the Way Video Games are Played

---
777.BINGO wants to bring a $120 billion industry with 2.21 billion potential customers worldwide to the blockchain. The industry is video games, and it is one of the fastest growing businesses on earth.
There were 1.815 billion video game players in 2014, Statista estimated. That number grew to 2.210 billion in 2017; and is expected to grow to 2.341 billion in 2018, and 2.725 billion in 2021.
All those players spend a lot of money on games, 777.Bingo's research revealed. The global video and mobile games industry generated $120 billion in revenues in 2017, and those revenues are projected to grow to $200 billion in 2020. The 777.Bingo team calculated that the global game industry's revenues are growing at a rate of 10% a year.
The Online Games Industry is in Trouble
The 777.BINGO team has identified major problems with the present games business model that are not being fixed by present-day systems. Those problems threaten the industry's ability to make money because they can drive away players.
The greatest danger is that the "fairness of the game cannot be guaranteed," the 777.BINGO concluded. "There is no easy way for the users to recognize whether the process or the result is fair."
"Thus, it is impossible to create a game that is real, open, transparent and just,'" the company notes. "Such issues not only affect the users' gaming experiences, but also cause serious user loss."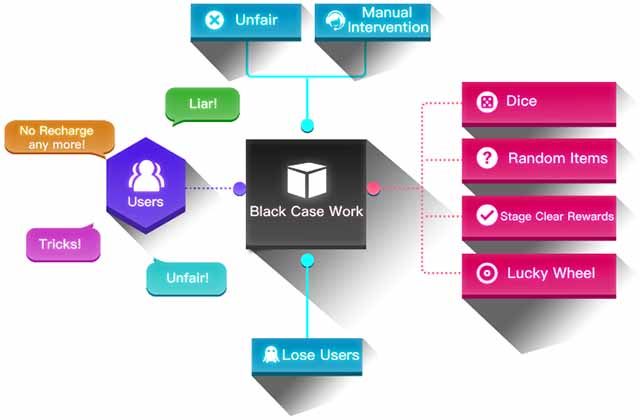 Flaws in the architecture, software, and business practices of present-day gaming platforms convince many players that the games are fixed or rigged against them. These players quit in frustration because they think they will never win.
Such losses force gaming companies to engage in costly marketing to attract new customers. The high turnover of gamers eats up profits because the platform has a constant expense of signing-up new players and building new games.
Building a Fair, Open and Just Gaming Platform
The business plan for 777.BINGO is to implement a fair, open, transparent, and just gaming platform that will generate a high level of customer retention. This would reduce expenses and generate revenues by building a community of satisfied gamers who will keep coming back and pay their subscriptions.
The theory behind 777.BINGO is that blockchain-based gaming platform would be far more transparent and fair than present-day multiplayer ecosystems. The team is building a blockchain with a number of solutions designed to guarantee fairness including:
An independent data analysis system that will enable any user to view all the data about the game. This should satisfy most users and disprove conspiracy theories about rigged games. Data will be presented in such a way that everybody will be able to see it.
An integrated Smart Contract Translator, which provides a uniform system of guarantees for players. The translator will make it possible for users or manages to research issues and complaints and solve them. Another benefit of Smart Contracts might be to reduce development and maintenance costs by reducing the learning curve for developers, programmers, and engineers. The hope is to make the process of developing and deploying new games faster and cheaper.
An Asynchronous Fairness Verifying Module designed to make detecting and solving problems such as allegations of cheating and rigging quickly and fairly. The 777.BINGO team believes such a module can greatly increase players trust in the game and ensure customer retention.
The hope is that the platform will form the basis for a community of gamers willing to pay for the privilege of playing and participating. Fairness would be ensured by the Smart Contract Translator and transparency by the Asynchronous Fairness Verifying Module.
A Blockchain Designed for the Monetization of Games
The 777.BINGO Blockchain Pan Entertainment Platform is also designed for the monetization of games. It contains built-in features designed to make generating revenue from games simple.
Revenue-generating features in 777.BINGO's platform include:
The BINGO Wallet, which will make it possible to pay for games with a wide variety of currencies, including cryptocurrencies. The BINGO Wallet is the first integrated wallet designed specifically for gaming by gamers.
A user management system that provides an integrated solution for payment, in-game purchase, leveling, rewards, tips, and community maintenance. This will consist of the BINGO Wallet and an asset maintenance module.
A traffic exchange system. The system would allow BINGO management to track all purchases on the platform and eventually deploy an Ad system targeted at gamers to generate additional revenue.
Other plans on the system include a community of gamers and a market for advertising. More importantly, the 777.BINGO has managed to attract support and investments from major corporations.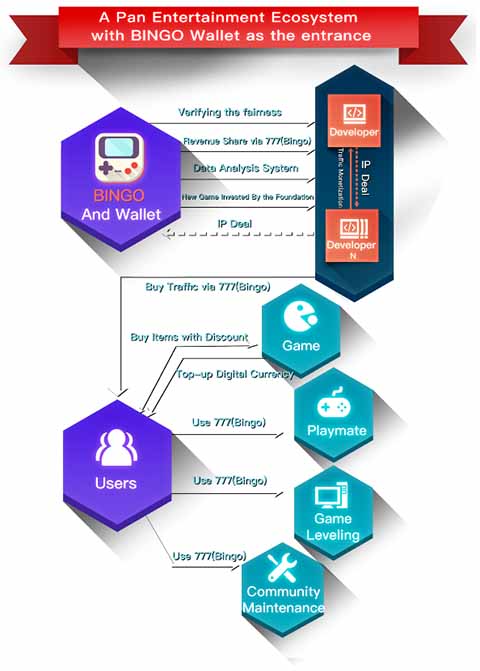 Working with Aliens Franchise
The first commercial multiplayer 3D strategy game for 777.Bingo Doom of Aliens is scheduled for launch in May 2018 and the Android version was featured by Google Play globally in Feb 2018.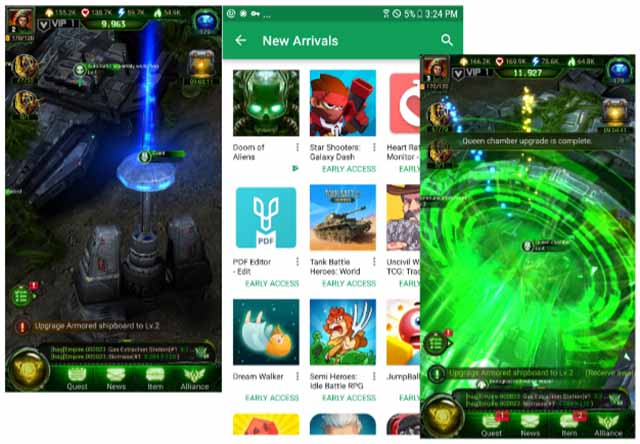 Doom of Aliens will be used to test in-game cryptocurrency payments with integrated SDK support. The hope is to be able to take payments for playing in several different cryptocurrencies.
777.BINGO hopes to begin taking cryptocurrency payments for Doom of Aliens in May 2018. More games from the BINGO Foundation group for creating games are planned for launch starting in January 2019. The basic BINGO platform is planned to go live in November 2018, two months before the new games start appearing.
Testing and Demonstrating a Game
777.BINGO plans to start testing and demonstrating the first game on its platform, QTUM Heroes, this month already.
QTUM Heroes is designed to be the world's first blockchain game that offers specific gameplay. It was created and published jointly by 777.BINGO and Mob Arts. QTUM Heroes is supposed to provide players with such capabilities as collection and simulation. Users will be able to create heroes and pit them against each other in a multiplayer arena.
Impressive Collaboration
The tech teams from Mob Arts and 777.BINGO are collaborating with global internet giants including a leading provider of Internet value-added services and a gaming industry pioneer.
Cooperation involves one of the largest social media companies in the world – Tencent Holdings Limited. Tencent is a publicly-traded company, which owns two of the world's largest social media platforms: QQ and WeChat.
WeChat had 980 million users and QQ had 843 million users in January 2018, Statista calculated. Tencent Holdings (HKG: 0700) reported revenues of $62.51 billion and a net income of $18.01 billion in September 2017, Google Finance reported.
Also, Mob Arts collaborated with NEXON Group, a Korean company that has been in the online game business since 1995. NEXON was one of the pioneers of online multiplayer games and claims to have developed the first massive multiplayer online game (MMOG) Kingdom of the Winds.
NEXON publishes such MMOGs as Vindictus, Hyper Universe, Riders of Icarus, Maple Story, and Mabinogi. It is a subsidiary of NEXON Co. LTD (3659.TO). NEXON's past successes include KartRider, the most successful online game in South Korea, played by an estimated 30% of that nation's population and QPlay. QPlay is the world's first internet quiz game which attracted 7000,000 users in China. Mob Arts have collaborated with NEXON since 2011.
Mob Arts is also working with Garena, the largest internet company in Southeast Asia. Garena has been able to attract $500 million in funding. Garena currently operates the most popular internet messaging and social media platforms for games in Hong Kong, Macao, and Taiwan.
Garena has accumulated PC and mobile gaming experience through its Garena+. Its offerings include League of Legends, and FIFA Online 3 (World Cup Soccer). Garena is also developing its own eSports League.
Highly-experienced online game creator and marketer Mob Arts serves as BINGO's technical consultant and research and development partner. Mob Arts has over seven years of gaming industry experience. Founded in December 2010, the company was invested into by Tencent.
Past Mob Arts successes include Space Tanks Online; which became the bestselling item in the Korean App Store during the week of its' launch in 2013. Another Mob Arts game, House of Heroes, was the first third-party developed game released on all Tencent platforms in China.
Mob Arts' Wrath of War was released on Google Play and in the App Store in July 2017. It was featured globally by Google Play at the time of the release. Mob Arts developed Qtum Heroes – the first blockchain game that features exact gameplay, simulation, and PK. Other Mob Arts games include Hall of Fame Slots and The War: Endless Dark Age.
The blockchain technology is only beginning to impact the traditional and Internet video game industry, and BINGO Pan Entertainment Platform is the pioneer of this transformation of ideology and technology.
To learn more about 777.Bingo, please visit: https://777.bingo/
Or read its whitepaper: https://777.bingo/paper/Whitepaper.EN.pdf
---
Images courtesy of 777.Bingo