While the Cardano price has experienced a somewhat dark 2022, there are good reasons to be bullish on ADA at the moment, according to Santiment's on-chain data. Also, while the all-time high of $3.09 from September 2, 2021 is still -88.28% away, the year-to-date rally of over 45% has fueled new hopes.
Cardano's technical development by IOG continues to be actively driven. Today, Valentine's Day, February 14, Cardano will implement a new software upgrade.
"Valentine" is intended to enable secure on-chain interactions and advance blockchain interoperability through cross-chain dApp development on the Plutus platform. These fundamentally strong reasons are also reflected in on-chain data, as Santiment's latest research shows.
Big Investors Put Their Money In Cardano (ADA)
According to the on-chain analytics firm, transactions by large investors on the Cardano network are a good sign. The number of ADA whale transactions has increased massively since the beginning of February.
"There is suddenly an average of approximately 1,700 transactions per day valued at $100k or more. This is an enormous uptick from the approximate 300 $100k+ transactions per day that were happening throughout January," Santiment explains, referring to the chart below.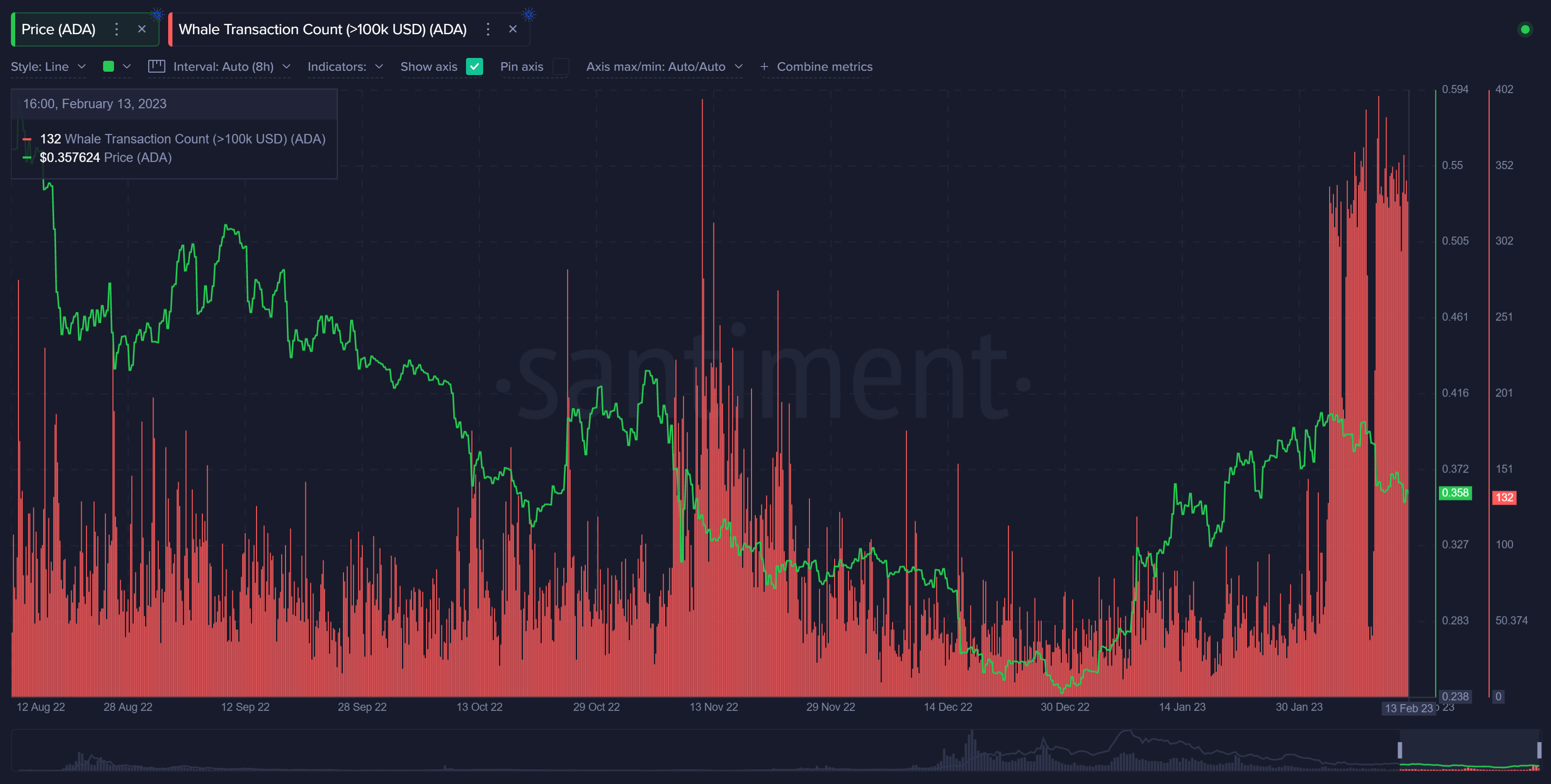 But smaller addresses are also accumulating ADA heavily at the moment. Since the FTX collapse on November 9, whale and shark addresses holding 10,000 to 10 million ADA have accumulated 659.53 million ADA, or about $235.5 million. As Santiment notes, this turnaround in Cardano's major players is a very good sign.
Also bullish is that average trader returns are in negative territory. As the analysis firm outlines, investors should enter positions when there is "blood in the streets." As Santiment discusses, now may be a good time to enter a long position:
And based on both the two-week price correction, as well as the 2022 drop that ADA still hasn't come close to being made up for, there is a lower risk in buying in now vs. an average time in Cardano's history.
Bearish On-Chain Indicators for ADA
However, there are also bearish metrics that ADA investors should pay attention to. Thus, activity in the network is comparatively low at the moment.
According to Santiment's Mean Dollar Invested Age metric, large investments in coins on the Cardano network continue to sit without much movement. Six months ago, the average time coins stayed in an address was 267 days. This figure has ballooned to 407 days.
This trend is also confirmed by the metric of daily active addresses. "We saw some very encouraging rises in the amount of unique daily addresses interacting on the ADA network. But after seeing 85,000 addresses moving Cardano on a daily basis back in November, the number has sunk to about 62,000 addresses per day now."
In summary, Santiment states that there is more reason to be "excited" than worried at the moment. The fact that sentiment among traders towards ADA is slightly negative at the moment is also another good sign that a price increase may surprise the ADA community.
At press time, the ADA price stood at $0.3609 and was rejected at the 200 EMA on the 4-hour chart, which is currently acting as resistance.
Featured image from Kanchanara / Unsplash, Chart from TradingView.com