The year 2022 was unfortunate for the blockchain Avalanche (AVAX). It lost 80% of its value, and the chain's native token, AVAX, tumbled out of the top 10 list of the most valuable cryptos by market capitalization.
We all remember the disaster surrounding Terra Luna and the meltdown, which caused apocalyptic losses of over $60B. Due to the close association of Avalanche's team with Terraform labs and their $200M AVAX reserve, the token saw a sharp decline following a mass sell-off in May.
However, let's look at some core features of the Avalanche blockchain.
AVAX claims to be the fastest blockchain in the industry, measured by time-to-finality, including low latency and scalability via the native Snow Protocol.
Unique of the Snow protocol is that it achieves consensus by randomly choosing a neighboring node instead of a node within the whole network. As a result, higher throughput and lower latencies are achieved, according to Avalanche's whitepaper.
At the time of writing, AVAX is the 18th biggest cryptocurrency by market capitalization and trading well above $15.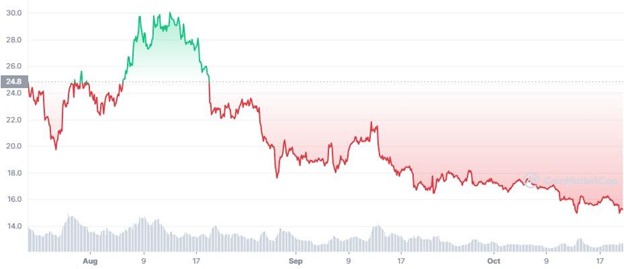 Price Prediction
Despite Avalanche's technological advances, the burdensome decline since 2021 seems to have no end. Its price declined by more than 80%, and its TVL (Total Value Locked) dropped from its peak of $12B to merely $1.38B.
However, analysts' short-term forecasts for AVAX are primarily bearish, while long-term predictions till 2025 see the token climbing up to $70.49, with an average price of $48.8.
Overall, the sentiment surrounding the Layer-one blockchain is positive on a three-year timescale, and investors should plan accordingly.
Are there alternative investments?
Besides the top 100 list of the biggest cryptocurrencies, there is an abundance of alternative investments that would do well in many portfolios. For example, in the past, investors have made life-changing returns by investing in so-called 'Presales' or 'ICO' (Initial Coin Offering).
In the decentralized finance space, one name often pops up together with chains like Avalanche, which is Oryen Network.
The native currency of the auto-staking platform is ORY, which aims to enable holders to earn a guaranteed annual percentage yield (APY) of 90% or more. While earning passive income is nothing unique to Oryen, in this case, the holder has nothing else to do other than buy and hold the token. Oryen's Autostaking Technic (OAT) will provide a headache-free experience for investors earning yield from staking.
In addition, the DeFi Platform is raising development funds via a presale and offering early backers a 15% bonus on their investment.
>>> Buy the Oryen Presale <<<
Final thoughts
With current economic developments, AVAX remains a long-term investment that should be paired with newcomers like Oryen Network (ORY) to balance portfolios and increase medium- and long-term returns.
Disclaimer: This is a paid release. The statements, views and opinions expressed in this column are solely those of the content provider and do not necessarily represent those of Bitcoinist. Bitcoinist does not guarantee the accuracy or timeliness of information available in such content. Do your research and invest at your own risk.