There's no doubt that blockchain technology is changing the world as we know it. Already, there have been a number of impressive projects that have achieved incredible success. In this blog post, we're going to ask the question: will Pac-man Frog (PAC) achieve over 1000x profits like Decentraland (MANA) and Solana (SOL)? Keep reading to find out.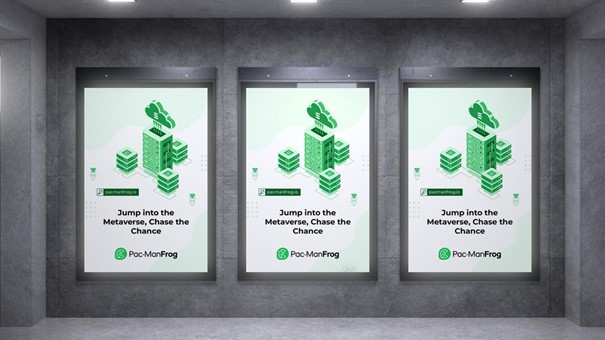 Pac-man Frog: Looks Like an Attractive Option for Investors
The pre-sale for Pac-man Frog (PAC) has just begun, so now may be the greatest time to buy in. Other presales' track records show that the project has a high chance of quick growth, with many crypto experts predicting that it could rise by more than ten times its initial value.
It appears that this currency is attempting to set up a community-owned firm dedicated to NFTs and gaming finance. The Decentralized Autonomous Organization (DAO) concept will be fully adopted by the Pac-man Frog (PAC), which implies that no event on the platform will be centralized, but rather distributed across the platform.
They want to set up a distinct teaching arm inside the ecosystem to educate people all around the world about the basics, intermediate, and advanced topics addressed by blockchain technology and cryptocurrencies. In addition, a separate "incubator" and gaming space will provide funding, community growth, and collaboration opportunities for game developers so they may influence the future of blockchain gaming.
BoostX is another place to buy Pac-man Frog (PAC) and other presale coins. It's a blockchain-powered investment platform that allows early-stage private presale investors to access a fair, open, and transparent distribution channel.
Decentraland (MANA): A Millionaire Maker in the Crypto World
Decentraland (MANA) is a virtual reality platform powered by the Ethereum (ETH) blockchain that allows users to create, experience, and monetize content and apps. Users may buy plots of land in this virtual world, which they can then explore, develop on, and profit from.
The $24 million initial coin offering (ICO) that launched Decentraland (MANA) was completed in 2017. The virtual world's closed beta began in 2019 and opened to the public in February 2020. Users have since built a variety of experiences on their parcels of LAND, including interactive games, huge 3D scenarios, and a variety of other interactive activities.
MANA and LAND are two tokens that may be used in Decentraland. MANA is an ERC-20 token that must be burned to acquire non-fungible ERC-721 LAND tokens, whereas LAND is a fungible ERC-20 token. The MANA token can be used to purchase a variety of avatars, wearables, names, and more from the Decentraland (MANA) marketplace.
Decentraland's governance model is also one of the newer ones to include a decentralized autonomous organization (DAO) structure. As a result, MANA token holders have the ultimate say in how the Decentraland world behaves by proposing and voting on policy changes, as well as the specifics of upcoming LAND sales and content that is allowed.
Users are also able to make money on Decentraland through leasing, advertising, and paid experiences, in addition to providing a creative outlet. Other users can also earn money by creating and selling items on the Decentraland marketplace with MANA tokens.
Solana (SOL): One of the Fastest Cryptocurrencies
Solana (SOL) is a highly capable open-source project that makes use of blockchain's permissionless nature to provide decentralized finance (DeFi) solutions. While the concept and development on Solana (SOL) began in 2017, it was formally launched in March 2020 by the Solana Foundation with offices in Geneva, Switzerland.
The Solana Foundation has revealed that 489 million SOL tokens will be issued in circulation. At the moment, about 260 million of these have already entered the market.
Solana is renowned in the cryptocurrency world for having some of the fastest processing times among all blockchain projects. Solana's hybrid protocol lowers the time it takes to verify transactions and smart contracts by a significant amount. Because of its lightning-fast transaction processing, Solana has attracted a lot of institutional interest as well.
Since mid-July 2021, Solana's price has increased by approximately 700%. The introduction of the Degenerate Ape NFT collection pushed SOL prices to an all-time high (ATH) of over $60, and it has been slowly climbing since. All of these factors have played a role in boosting Solana (SOL)'s price. Solana has earned a reputation for being quick and efficient, and it's even been compared to Ethereum and suggested as a potential challenger to the current smart contract platform.
For More Information:
Presale: https://presale.pacmanfrog.io/register
Website: https://pacmanfrog.io/
Telegram: https://t.me/PACMANFROGOFFICIAL
Twitter: https://twitter.com/PacmanfrogToken
Instagram: https://www.instagram.com/pacmanfrogsocial/