Similar to Dogecoin (DOGE) and Fantom (FTM), a new cryptocurrency, Rocketize Token (JATO), aims to shake up the cryptocurrency market by promoting decentralization, especially through Web3.
Rocketize Token (JATO) intends to follow these two established cryptocurrencies to attract more beneficial use cases. But can it outperform them both?
Let's explore these two established cryptocurrencies and how Rocketize Token (JATO) might outperform them while helping holders and traders make millions in the upcoming year.
Dogecoin — Maintaining The Lead  In the Meme Coin Industry
Dogecoin (DOGE) continues to dominate the meme cryptocurrency market. One of the top 10 largest cryptocurrencies by market cap, Dogecoin (DOGE), could hold onto a considerable portion of its value despite the 2022 crypto crash.
Important personalities, like billionaires Elon Musk and Mark Cuban, support the meme coin. As whale transactions increase, Dogecoin (DOGE) continues to be bullish even amid the current market adversity.
Recently, large holders increased their Dogecoin (DOGE) holdings by $70 million, offsetting the fresh mints of Dogecoin (DOGE) pumped into the cryptocurrency market and potentially lowering the price. The significant investment of large Dogecoin (DOGE) holders is evidence that the cryptocurrency remains a viable buy.
Furthermore, IntoTheBlock, a crypto analytics agency, claims that 62% of investors have earned enormous profits with Dogecoin (DOGE), a substantially higher percentage than with Shiba Inu (SHIB), Bitcoin (BTC), and Ethereum (ETH).
Fantom's Uniqueness
Fantom (FTM) was launched in the cryptocurrency market as a rival to the Ethereum blockchain.
The next-gen Layer-1 crypto platform supports an exciting ecosystem where decentralized applications can run faster and at lower transaction costs. Fantom (FTM) utilizes a blockchain that leverages directed acyclic graph technology to facilitate quick transactions.
FTM, the native token of the Fantom (FTM) ecosystem, offers cross-chain functionality. The cryptocurrency is compatible with several blockchains, including Ethereum (ETH), Avalanche (AVAX), Binance Smart Chain (BSC), and Polygon (MATIC).
Rocketize Token — Trending DeFi Meme Coin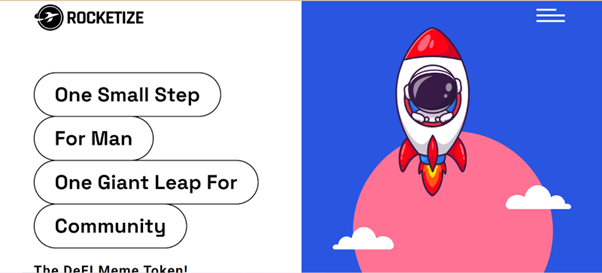 The new meme cryptocurrency, Rocketize Token (JATO), offers an intergalactic meme and long-term gains and the platform wants to dominate other dog-themed cryptocurrencies with its DeFi functionality.
Based on the Binance Smart Chain (BSC), Rocketize Token (JATO) has unique functionalities. In contrast to most meme tokens, the new cryptocurrency is a deflationary cryptocurrency asset.
Interested users who wish to invest in a promising community token can buy into the crypto platform's ongoing pre-sale. It is gradually becoming the hottest token among all new crypto assets, and crypto experts are already tagging it as the next big cryptocurrency.
Rocketize Token (JATO) will go live soon, enabling lightning-fast transactions. This new cryptocurrency will aid in the development of NFTs and could act as a link between various blockchain networks.
Furthermore, each transaction on the Rocketize Token (JATO) platform will incur a 2% fee. This charge will be split in two, with one half distributed among token holders. As a result, token holders will continue to earn from holding the JATO token.
The Rocketize Token (JATO) pre-sale is selling out rapidly. The new cryptocurrency might eventually surpass the most established altcoins and take the top spot on cryptocurrency charts.
Although Dogecoin (DOGE) and Fantom (FTM) have performed admirably, many analysts believe that Rocketize Token (JATO) can outperform Dogecoin (DOGE) and Fantom (FTM) in 2023 and that a long-term investment in Rocketize Token (JATO) could result in greater potential gains.
Are you interested in Rocketize Token (JATO)? Get more information about the cryptocurrency with the links below.
Presale: rocketize.io/buy
Website: http://rocketize.io
Telegram: https://t.me/RocketizeTokenOfficial
Disclaimer: This is a paid release. The statements, views and opinions expressed in this column are solely those of the content provider and do not necessarily represent those of Bitcoinist. Bitcoinist does not guarantee the accuracy or timeliness of information available in such content. Do your research and invest at your own risk.