Not all of the companies at CES exhibit on the show floor. All around the city are luxury hotel suites, hired to show off one's latest product to the select few. On my last day at CES, I had an invite to see an eco-friendly mining rig, or so I thought.
---
A Trip To The Other Side
My time on the show floor had not been spectacularly productive. Whilst I had eventually found a smattering of crypto and blockchain related products and services, it wasn't much. And it was so well-hidden that I'm sure there was probably a lot more I didn't find. Although the conference track was great, there was no real link back to the show. It was almost like a stand-alone event.
But a lot of the business of CES goes on around the show. With the biggest names in tech in town, why distract yourself giving out lollipops to the great unwashed?
A company called Azultec had invited Bitcoinist to a private viewing of an environmentally sound mining rig. I washed.
The $61,000 Question
Founder and CMO, Aaron Licht, gave me a warm welcome and dropped his first bombshell. The Azultec Cube 300, which was what I had come to see, had been held in customs… so I couldn't see it. Bombshell two swiftly followed as I was told that the device wasn't just a cryptocurrency miner any more either.
In developing the most energy efficient cryptocurrency miner, Azultec shifted focus to a far more lucrative application. The machine can still be used to mine a number of GPU-friendly alt-coins, but processing power can be divided between this and cloud rendering. Licht told me that rendering alone could bring in $61,000 per month.
I repeated the figure to confirm it. He confirmed. Sadly, after checking the product documentation it seems I was being told six (hundred) to one-thousand dollars per month. The documentation says $600-2000, but this must have been where the confusion arose. That's still a great passive income on a $7000 device, and that's without any gains from mining.
Environmental Credentials
The Cube 300 boasts a liquid cooling system servicing both the 8 GeForce GTX graphics cards and the 4GB DDR RAM. Power consumption averages 1450 watts and the device achieves an OctaneBench score of 768 points, and an Ethereum hash rate of 310 MHash/s.
It is designed to connect directly into a home heating system, enabling capture and reuse of 72% of the energy consumed. This can reduce heating bills, and hence gross operating costs. It can also connect to a fuel cell, which converts natural gas into electrical energy. This type of fuel cell is heavily subsidized in Azultec's native Germany, so it's a great way to further reduced carbon footprint.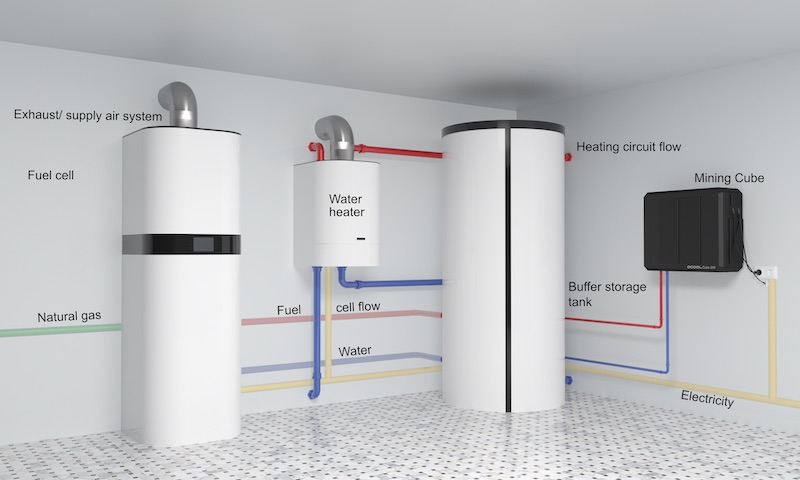 A Race Against Time
Whilst I was talking with Mr. Licht, a message came through that the device had finally cleared customs and was being delivered imminently. We grabbed some breakfast to kill time, but no further news. I went back across to the show floor to kill some more time, but at the end of the day, the Cube 300 had still not arrived.
Obviously, I was given pictures, but it would have been great to see (and hear) it running, as I had been told it was almost whisper-quiet.
Still, we've been promised a review model, so there should be time to give you the full low-down before the ICO starts in March. Pre-registration is open now, and there is even an on-ramp for fiat investors, which is a bit of a novelty.
Oh, and if by any slim chance the device does bring in $61,000 per month in render fees, I totally promise to write the review for you all before I disappear to Bali.
As for CES… I'll be going back. A little older and wiser though, and better prepared to sift through the mass of exhibitors in search of the crypto-stories being told within.
---
Images courtesy of Bitcoinist, Shutterstock