Changelly, a prominent instant exchange, has announced its partnership with Ledger, one of the leading security and infrastructure providers in the crypto industry, to bring a new user experience.
---
New Ledger App and Changelly
Ledger has released Ledger Live, a multi-asset complimentary wallet application that allows storing and managing cryptocurrencies in one place. Ledger Live is used for all models of Ledger's hardware wallets, including the bestseller Ledger Nano S.
The app offers the list of exchanges where users can buy or sell the cryptocurrencies. Changelly is one of the first exchanges listed on Ledger that provides users with that option as a link that redirects to the Changelly website. Being integrated into Ledger Live, Changelly will enable Ledger users to switch their cryptocurrencies in an easy manner within the Ledger Live app.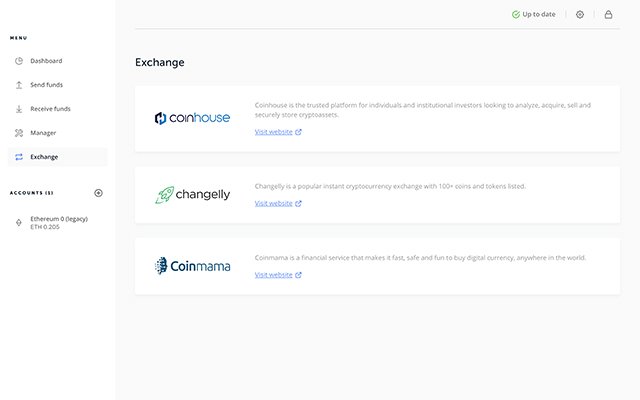 This is the only tool available on Ledger Live, so far. However, the service has ongoing negotiations about providing new exchange options for Ledger users, so more details of the collaboration are coming soon.
Benefits of Partnership
For Changelly, having such a popular and secure partner as Ledger will help build a strong relationship with users, and provide the users of the wallet with seamless exchange options. For Ledger, in turn, Changelly can help broaden the audience and attract new customers.
Konstantin Gladych, CEO at Changelly:
Ledger provides outstanding products that take security level in the crypto world to the whole new level and leverage the full potential of digital money. Changelly couldn't be more excited to collaborate and have an opportunity to empower Ledger's users with a frictionless exchange experience.
Mattia Sarfati, Business development & Partnerships @Ledger:
Featuring Changelly in our new wallet app allows our users to buy cryptocurrencies easily and securely. Changelly offers an outstanding user experience and our community was pushing to see our companies working together. Ledger hopes that a lot of its users will discover and enjoy the Changelly experience!
About Changelly
Changelly is a popular instant cryptocurrency exchange service with 100+ coins and tokens listed. The service acts as a mediator between a user and trading platforms. Changelly has trading algorithms integrated into leading exchange platforms, such as Binance, Bittrex, HitBTC and Poloniex that help to pick the most profitable rate. Operating since 2015, Changelly has attracted over 2M registered customers from around the world. The service offers its API and a customizable payment widget for any crypto service that wishes to implement exchange options. Key partners are Jaxx, Coinmarketcap, Coinomi, BRD, Coinpayments, and others.
About Ledger
Ledger is a fast-growing provider of security solutions designed for cryptocurrency storage and management. The company offers a wide range of hacking-resistant products for individuals and financial institutions as well.
In 2017, Ledger sold over 1 million units of their flagship product, the Ledger Nano S, placing Ledger as the number one provider of Hardware wallets in the World.
Since a secure hardware wallet is the best technical solution to hold and protect assets, Ledger plans to make those solutions as open as possible to enable new use cases directly from the end user.
---
Images courtesy of Changelly