Not to be confused with Civic, fledgeling startup Civil aims to curb fake news and innovate the journalistic process with the creation of an Ethereum based decentralised platform for citizens and journalists.
---
The Modern Problem
Nowadays, many news organisations are struggling to find a sustainable or profitable business model for their operations. Technologies like AdBlock and other similar ad-blockers have forced many news organisations to block content for ad-blocker users, effectively reducing traffic and potential revenue.
Civil, is trying to solve this major problem by utilising Ethereum blockchain technology in order to create a sustainable business model for news organisations and journalists.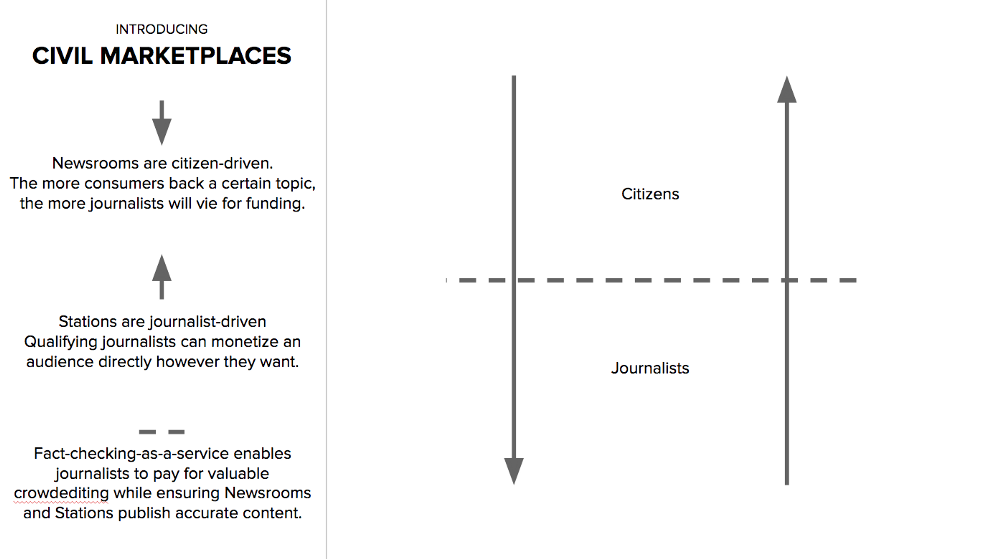 In an official post, Civil explained how they are trying to accomplish that goal:
We propose a solution called Civil, an Ethereum-based decentralized platform that can be used to create "newsrooms" and "stations" — blockchain-based marketplaces where citizens and journalists form communities around a shared purpose and set of standards, financially support factual reporting and investigative work, and substantially limit misinformation through effective collaborative-editing methods. The net result is a self-sustaining global marketplace for journalism that is free from ads, fake news, and outside influence.
The Civil Platform
The Civil platform will use a marketplace model where journalists and users can effectively share the same content and interests.
Newsrooms and Stations will allow users and journalists to collaborate in communities where the same interests are shared. These communities will also allow users to financially support their favourite journalists and news organisations.
Economy of the Platform
The economy of the platform will be based on a token called CVL. In order for users to enjoy quality journalism, the users will have to spend CVL tokens in order to gain access to newsrooms' and stations' content. The token will also allow users to participate, vote and contribute to news content.
Distribution of the CVL Tokens
The Civil team is aiming to reach certain points before they launch the official CVL token distribution.
Some of these points are:
10,000 community members across email and Slack,
100 First Fleet journalists committed to 12–24 inaugural newsrooms,
Completed prototype that everyone can use.
In the meantime, Civil is actively hiring new Ethereum developers and product designers to help build the Civil platform.
Will the Civil project reduce fake news? How will this collaborative platform affect news journalism? Let us know what you think in the comments below.
---
Images courtesy of  Civil, Shutterstock