By making the correct investment in the right project, many people have found success in the cryptocurrency market. It is no news that investing in cryptocurrencies is one of the best ways to earn loads of money. This fact has been known for the past few years, so many investors have used it to their advantage.
However, the major challenge is picking the ideal cryptocurrency project to invest in. There are many crypto projects on the crypto market, which hasn't made it any easier for investors to choose. The good news is that all cryptocurrencies, no matter how new or established they are, may profit. Some cryptocurrency projects that can help you achieve financial freedom more quickly than you might expect are Tamadoge (TAMA), Theta (THETA), and Big Eyes (BIG). To find out more about these projects, keep reading.
Tamadoge (TAMA)
Tamadoge (TAMA) is, without a doubt, one of the top meme coins to invest in 2022. The second part of the presale is in full gear, and the project has already surpassed a presale threshold of $2 million. On the play-to-earn platform Tamadoge (TAMA), users must train, battle, and breed Tamadoge, which are NFT creatures. The top-ranked player each month wins the money raffled off from the pool.
Tamadoge (TAMA) is unique from other meme coins because it gives holders several advantages. For instance, each NFT of Tamadoge (TAMA) has an amazing 3D animation. This symbolizes a character that can communicate with different metaverses and be used as an avatar. In this approach, users can explore suitable platforms in various metaverses using their 3D characters. The idea incorporates several benefits related to cryptocurrencies. It brings together P2E game systems, NFTs, metaverse, and cryptocurrency investments.
Theta Network (THETA)
Theta Network (THETA) is a blockchain that was created expressly for decentralized peer-to-peer video transmission. Traditional video streaming services, which rely on Content Delivery Networks, have to contend with the so-called "last mile" distribution problem. CDNs are required to build nearby data centers, but because there aren't many of them, most viewers can't access them. The outcome is a clogged streaming distribution pipeline, which could lead to choppy broadcasts and bad image quality.
Theta Network (THETA) places a focus on media and entertainment. Theta Network enables established video and media platforms to generate extra revenue and reduce content delivery costs while rewarding end users for sharing their storage and bandwidth on any PC, mobile, Smart TV, or IoT device. Theta allows Turing to fulfill smart contracts and is fully compatible with Ethereum. This enables the creation of numerous intriguing Web3 apps on the Theta Network.
Big Eyes (BIG)
A beautiful kitten serves as the symbol for the future meme coin known as Big Eyes Coin (BIG). The coin is well-known and highly hyped in the cryptocurrency community and is distinguished by distinctive qualities including a huge maximum supply and no gas costs. A Holders Before Anyone Else (HBAE) model is one of the additional elements that shows how committed the project is to its growth and community. Big Eyes Coin (BIG), in contrast to other tokens and cryptocurrency initiatives, makes a promise never to forget or give up on its community even after it succeeds because that is where the real value lies. NFT projects, events, and merchandise are also included in the Big Eyes Coin (BIG) project.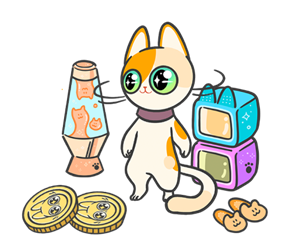 The project's fundraising component is part of the Big Eyes Coin (BIG) campaign that will spread the new cryptocurrency throughout the world. A platform for exchange will be part of the Big Eyes (BIG) ecosystem to offer DeFi services and encourage DeFi adoption globally. The back-end systems, Big Eyes (BIG) Swap, tutorials, and how-tos will all try to make the DeFi process as simple as possible. This is your chance to participate in the newest meme coin that has the potential to be very profitable in the future. Learn more here.
Big Eyes Coin (BIG)
Presale: https://buy.bigeyes.space/
Website: https://bigeyes.space/
Telegram: https://t.me/BIGEYESOFFICIAL
Disclaimer: This is a paid release. The statements, views and opinions expressed in this column are solely those of the content provider and do not necessarily represent those of Bitcoinist. Bitcoinist does not guarantee the accuracy or timeliness of information available in such content. Do your research and invest at your own risk.
Source: www.istockphotos.com