UK Headquartered global cosmetic brand Lush announced that as of July 11, 2017, they are accepting Bitcoin as a payment option on their online store.
---
Lush Announces Bitcoin Adoption
Cosmetic giant Lush, widely known for their ethical anti-animal testing stance, has announced that they will be accepting Bitcoin payments on their online store. Lush heralded the news, saying that Bitcoin is changing the way people, governments, and businesses approach trade.
Mike West, Lush's Finance Manager, explained:
Accepting Bitcoin is very exciting for Lush. With Bitcoin, customers from all around the world will pay the same for our products, free from volatile currency fluctuations and lofty bank charges. Cryptocurrencies are the future of global trade and we want to ensure that we are prepared to move into this new digital era.
The statements falls in line with the company's long-held forward looking, progressive outlook, helping to further explain the reasons as to why the high street brand has embraced Bitcoin. The announcement also espouses the benefits that Bitcoin brings to the world of independent finance and trade, focusing on its ability to allow transparent and secure transactions without huge exchange rates or fees. Lush further emphasizes that Bitcoin is not limited by borders or barriers to financial movement.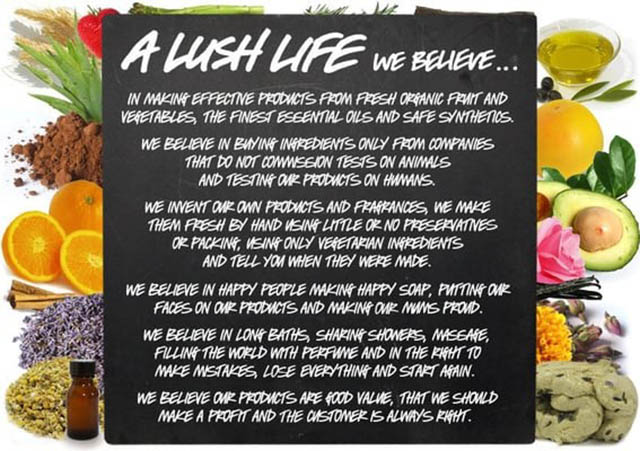 Renowned For Their Ethical Brand
The Lush brand is perhaps most famous for its ethical practices, charity work, and campaigning. None of their products are tested on animals and the company refuses to buy from suppliers that do test on animals. The company endorses direct political action on many environmental issues such as road building and aviation, and give widely to charity. In 2016 they raised $300,000 for Syrian refugees from the sale of one of the brand's soap products.
Lush explains its decision to accept Bitcoin:
It is hoped that by using the digital currency Lush will be able to develop new ways of working with customers, as well as global suppliers and charity groups who are often based in small local communities across the world. The decision is the first step in a wider strategy to delve into the Blockchain community and provide an ethical viewpoint on its possibilities.
Lush took their inspiration from Anita Roddicks, founder of the UK store The Body Shop, for whom Lush's CEO Mark Constantine worked as a main supplier. Body Shop was the first UK cosmetics company to focus on ethical trading practices back in 1976 where their focus was again specifically on ethical cosmetic and business practices with a focus on being opposed to animal testing. The two companies remain rivals.
The Announcement Reception
The news may come as a surprise to many in the Bitcoin community, as retailers that accept the cryptocurrency have traditionally been in the male dominated tech industry where familiarity with the coin is probably highest outside of the traditional financial industry. However, the wider recognition of Bitcoin in the financial world has brought increased interest from a female demographic, which, along with the ethical alternative culture of Lush, makes the introduction of Bitcoin payments appear to make more sense.
I very much enjoy when two of my interests collide…Lush to accept digital currency Bitcoin online https://t.co/wS7IJcafbr

— Sarah Kocianski (@SarahKocianski) July 20, 2017
The move falls in line with the company's focus on boundary breaking and in retaining a socially progressive outlook. Alternatives, whether that be in the realm of politics, ethics or, in the case of Lush's current move, finance, are the name of the game when it comes to the company, and these attributes also equally apply to Bitcoin.
Is this the start of more mainstream retailers recognizing Bitcoins potential? Should Lush really be allowing payments in store too? Let us know in the comments below.
---
Images courtesy of Yelp, Lush