Bitcoin has been subject to a healthy rally over the past day. After moving below $9,000 on the weekend in a move that scared bulls, BTC now trades at $9,300. This is a few basis points below the daily high of $9,400.
While the cryptocurrency remains below the $9,500 resistance, an analyst says that a crucial indicator just underwent a crucial breakout.
A Bitcoin Indicator Just Saw a Crucial Breakout
Bitcoin has benefited over the past 24 hours from a surge in global risk assets.
As reported by Bitcoinist previously, certain Chinese stocks hit a new all-time high during Monday's trading session. The FTSE China A50 index passed its 2015 "mania highs," gaining 5%.
U.S. stocks followed suit, with Amazon surmounting $3,000 for the first time ever as the S&P 500 ticked higher. Bitcoin, which has become a bit of a mirror of the stock market, responded in kind.
This latest leg higher has allowed BTC's 12-hour relative strength index (RSI) to break an eight-week downtrend.
An analyst depicted this technical occurrence in the chart below, writing that the "12h RSI is flirting with freedom."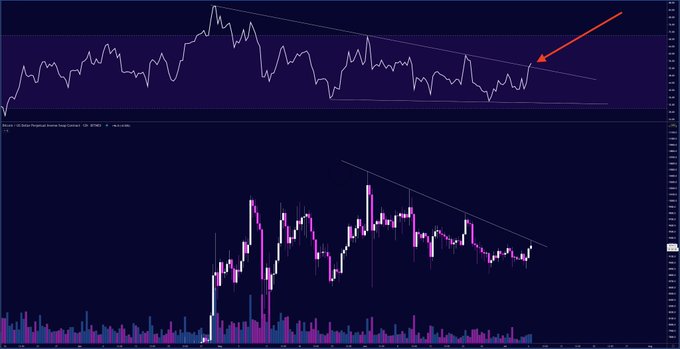 The relative strength index is a textbook indicator that Investopedia describes as follows:
"The relative strength index (RSI) is a momentum indicator used in technical analysis that measures the magnitude of recent price changes to evaluate overbought or oversold conditions in the price of a stock or other asset."
With the RSI breaking above the downtrend depicted above, it can be said that Bitcoin may be forming an uptrend.
Bitcoin's RSI is also looking good on a macro scale according to the same trader.
In June, he noted that BTC's two-week RSI just broke past a downtrend formed in the aftermath of the rally to $20,000.
The last time this macro indicator looked as it did now was back at the start of the 2015-2017 rally from around $500 to $20,000.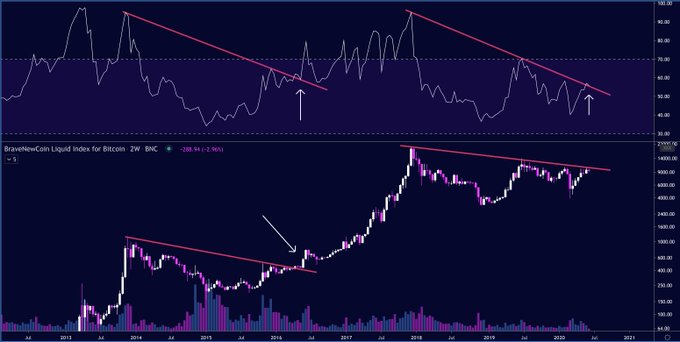 Still Below A Resistance
Although the technical case for Bitcoin to rally is building, it remains below a resistance level of importance: $9,500.
One trader shared last week that Bitcoin was on track to move lower, but that his opinion would change if $9,500 becomes support:
"This is the current path that PA could be looking to take, buyers defended the initial breakdown in high 8000's range which is a good start, next level to test is $9250… To flip to a bullish bias $9500 needs to be flipped into support on a daily timeframe."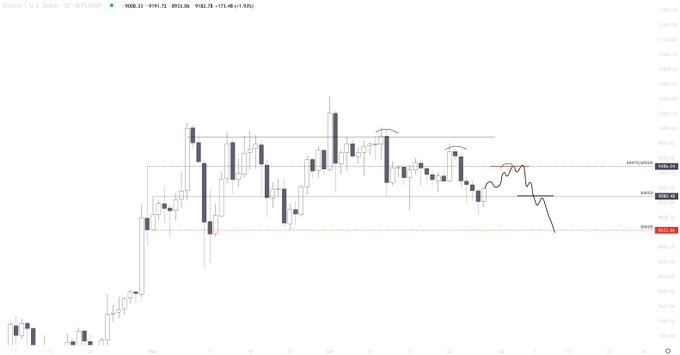 There is also a convergence of important technical levels at $9,500 that Bitcoin will need to confirm as support to boost the chances of upside.
Featured Image from Shutterstock
Price tags: xbtusd, btcusd, btcusdt
Charts from TradingView.com
A Crucial Bitcoin Indicator Just Broke Out After an 8-Week Correction