The cryptocurrency market took a nosedive in what was already seeming like a day in the red zone after Russian President Vladimir Putin declared a "special military operation" for the "demilitarization and de-Nazification of Ukraine." Bitcoin (BTC), which represents 41% of the total crypto market, plunged more than 12% to $34,700 while Ethereum (ETH) lost more than 15% to $2,332 and Cardano (ADA) dropped 22% to $0.74 in less than a day.
The global cryptocurrency market cap dipped to $1.57 trillion, the lowest since August, with the selloff yet to completely stabilize, as of press time.
Anxiety Sentiment Triggered by Tensions between Russia and Ukraine
One of the main factors dominating the global sentiment is the Russia-Ukraine crisis, which keeps investors on edge. Global crypto and stock markets plunged after Russian President Vladimir Putin announced on a national broadcast that his army would conduct a "special military operation" in Ukraine.
As the sun began to rise in Ukraine, the Russian army launched missiles around several areas of the country, including the capital of Kiev and the city of Kharkiv.
Affected by it, we've recently seen one of the biggest selloffs of Russian stock. The Russian stock index, RTSI, has lost 46% recently after one of the worst weeks in years. In just four months their stocks have lost 58%,  from October to Feb. 24. "There's a storm blowing in… volatility is unlikely to vanish anytime soon," said Danni Hewson, AJ Bell financial analyst.
FOMC Continue to Lead Gloomy Macro Week
Another factor dominating the global sentiment is the Fed rate hike. As a global asset, bitcoin is under the influence of global economic conditions and market sentiments. According to JPMorgan Chase, we could have nine interest rate hikes in 2022, doubling its previous projection of five rate hikes. The Fed is now expected to raise rates by 25 basis points at each of its next nine meetings. As for inflation, analysts did not see inflation starting to decelerate from near-record levels in the previous quarter. The projection of JPMorgan Chase came as a shock to the market that previously expected three to four interest rate hikes.
Subsequently, faith within market participants has also taken a hit due to these pressures. The Bitcoin Fear and Greed Index hopped over to the 'extremely fearful' side, after a brief stint of greed earlier this month. From Feb. 21 to 24, the Index measures stayed below 25/100, one that is over 50% lower than the "neutral" level seen just one week ago. (The lower the index, the more fear.)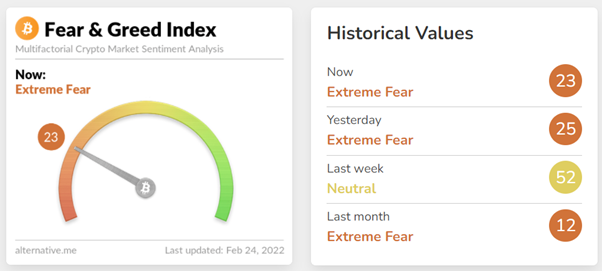 On-chain Activity Shows Bearish Signal
A lack of on-chain activity is one of the distinct signals of a bearish Bitcoin market. The number of active addresses or entities is currently at the lower bound of the bear market channel which depicts on-chain activity during periods of sideways or down trending markets, suggesting a decrease in demand and interest. Glassnode reported that around 219,000 addresses have been emptied over the past month suggesting that it could be the beginning of a period of outflows of users from the network. Bear may continue to occupy the crypto market for some time in the future.
How to Profit in the Bear Run?
A selloff could continue to worsen for tensions in eastern Europe and upcoming Fed rate hike. Although bitcoin risks further price plunges, you can still make huge profits from it. 100 times leverage futures trading is one of the most popular tools to grow your wealth. You can either buy up (go long) or sell down (go short), which means that you can take profits whether the market rises or falls. What's more, 100 times leverage can magnify your profits by 100 times. Traders can open a position with only a 1% margin required with this tool.
For example, if we used 1 BTC to open a short contract at the price of $39,000 and close it when Bitcoin was trading at $34,000, our profit will be ($39,000 – $34,000) * 1 BTC *100x / $34,000 = 14.7 BTC, making the ROI of 1470%.
Recommended 100x Leverage Future Trading Platform

Bexplus is a leading crypto derivatives trading platform offering 100x leverage futures trading on various trading pairs: BTC, ETH, ADA, DOGE, XRP, etc. Bexplus doesn't require KYC and is popular among over one million traders from over the world. In addition, it is safe for being accredited by MSB (Money Services Business). The following are other significant advantages of Bexplus:
Interest-bearing wallet: safe storage with up to 21% annualized interest; instant deposits and no deposit fees.
No KYC requirements. Register with an email in a few minutes.
Demo account with 10 BTC for traders to get familiar with leverage trading.
High liquidity: extra-fast order execution even during great market fluctuations, no spread, and with low latency.
24/7 one-to-one customer service to solve your problems at any time.
Intuitive and full-featured App on Apple App Store and Google Play.
All in all, 100x leverage futures trading is definitely a much better choice for great profits during the strong fluctuations and bearish market. No matter if you are a beginner or skilled trader in the crypto futures market, it's time for you to turn to BTC trading in Bexplus to make greater fortunes! Click here to register and get a 100% bonus.