Cryptocurrencies took center stage in the United States, this time for a good reason. Amid all the recent crackdown by the American authorities on digital assets, cryptocurrencies made themselves relevant to the 2024 US Presidential Campaign.
Vivek Ramaswamy, a United States presidential candidate for 2024, has become the second candidate to officially accept Bitcoin donations for his campaign. Meanwhile, things are heating up in crypto communities as Big Eyes Coin (BIG)'s presale draws nearer to its end, Monero investors criticize Mordinals, and Ripple battles SEC.
2024 US Presidential Candidate to Accept Crypto Donations
During the Bitcoin 2023 event in Miami, Ramaswamy displayed a QR code on stage, which, when scanned, redirected users to a payment gateway offering various payment options, including Bitcoin and other cryptocurrencies.
Ramaswamy chose BitPay as the payment service for receiving Bitcoin donations, although BitPay also supports other cryptocurrencies. US citizens and permanent residents can donate up to $6,600 for Ramaswamy's campaign, and donors will receive a nonfungible token (NFT) as a reward.
Big Eyes Coin: To the Meow-n!
Big Eyes Coin is set to join the league of the best crypto projects of 2023 on June 15th, but until then, $BIG is being sold at a massive discount. The presale is in its 14th and final stage ending on June 3rd, but the token price has been lowered to $0.00017, which was the price during stage 3, in gratitude for the community's support.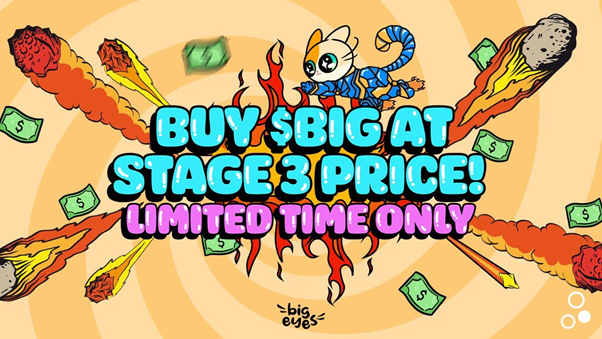 Big Eyes Coin will evolve after launch to become a fully fleshed ecosystem, with the BIG Casino coming later this August and the NFT collection becoming available after the launch. The Casino will host over 4000 games for players to choose from, and many of these games will be Play-To-Earn games that will enable players to use their $BIG tokens to earn more.
Big Eyes Coin is a community-driven meme coin, first and foremost, and that entails giving the community decision-making power through its DAO, as well as rewarding them with good karma. Furthermore, 5% of $BIG is allocated to a charity wallet that donates to charities saving the ocean around the world, meaning you can save the oceans by investing in Big Eyes Coin!
Monero's Mordinals Face Criticism
Mordinals, also known as Monero Ordinals, allow users to include additional information within the Monero blockchain alongside transactions. While Ordinals gained popularity on the Bitcoin network, their introduction to the Monero blockchain has received mixed reactions.
Critics argue that flooding blocks with Mordinals could compromise the anonymity of Monero transactions. These are the same concerns raised about Bitcoin's ordinals but with an added emphasis on privacy implications, as well as the storage demands of expanding block sizes and the potential impact on decentralization. And while some believe these risks can be addressed through updates, others caution against potential privacy and decentralization issues.
Ripple Continues To Battle The SEO
The court case between the Securities and Exchange Commission (SEC) and Ripple Labs has been ongoing for almost two and a half years, and a summary judgment ruling is expected soon. Ripple, which launched in 2012, created the XRP Ledger and the cryptocurrency XRP to enable faster and more affordable cross-border transfers.
In December 2020, the SEC sued Ripple, alleging that selling XRP constituted an unregistered securities offering. Ripple chose to fight the charges rather than settle, and now, the case hinges on whether XRP meets the Howey test for determining if it is a security.
The Final Word
As the summer approaches, it's almost time to choose our picks for the best crypto projects of 2023. It's a tough battle this year, though, with new projects coming out, old projects reinventing themselves and adding features, as well as more mainstream adoption of crypto, as Vivec Ramaswamy announces that he will accept crypto donations. Our pick of best newcomer this year would have to be Big Eyes Coin, though; with its amazing features and strong community, we think that it's definitely the horse to bet on this season. And with the end of the presale so soon on the horizon, there's no time like the present to invest in $BIG!
Big Eyes Coin (BIG)
Presale: https://buy.bigeyes.space/
Website: https://bigeyes.space/
Telegram: https://t.me/BIGEYESOFFICIAL
Instagram: https://www.instagram.com/BigEyesCoin/
Twitter: https://twitter.com/BigEyesCoin
Disclaimer: This is a paid release. The statements, views and opinions expressed in this column are solely those of the content provider and do not necessarily represent those of Bitcoinist. Bitcoinist does not guarantee the accuracy or timeliness of information available in such content. Do your research and invest at your own risk.