Does the crypto market have what it takes to survive the crash triggered by FTX bankruptcy? This is what top industry experts (and Elon Musk) think.
We've Been Set Back a Few Years
Binance CEO Changpeng "CZ" Zhao points out that the FTX fall has shaken consumer confidence.
"I think basically we've been set back a few years now. Regulators rightfully will scrutinize this industry much, much harder, which is probably a good thing, to be honest," he said at the Indonesia Fintech Summit 2022.
Although the tightening regulations will be painful for retail investors in the short term, the FTX collapse will act as a wake-up call to build a healthier industry.
8 billion people will use crypto in a few years.

— CZ 🔶 Binance (@cz_binance) November 15, 2022
Brighter Days Ahead for BTC
According to CryptoQuant author and Twitter influencer On-Chain College, brighter days are awaiting BTC.
"If you remove Bitcoin that hasn't moved in 10+ years, the percent of the supply in profit has recently reached all-time lows. 32.73% of the supply is sitting in profit, lower than all prior bear markets. If bottoms occur during max pain, we are certainly there/close to it," he noted in a recent tweet.
2022 has been a rough year.

It might not feel like it now, but brighter days are ahead on the other side of this #bitcoin bear market. pic.twitter.com/GXmehUdFQQ

— On-Chain College (@OnChainCollege) November 18, 2022
Crypto Heading for the Cretaceous Period?
Will Clemente, the co-founder of digital asset research firm Reflexivity Research, warns that the crypto market might be heading for the Cretaceous period. The tweet is accompanied by a chart explaining the psychology of the market.
But at the rate things are going this year, feels like we're heading for the cretaceous period pic.twitter.com/rUI1FZofiO

— Will Clemente (@WClementeIII) November 15, 2022
He seems to be more optimistic in a recent tweet, however: "I remember when I first bought Bitcoin in June of 2020. Working at target at the time I became worried I'd never reach my BTC accumulation goals as I watched it run to 20K. Now the market has blessed me with another opportunity to reach those goals".
It Might be a Long Winter, But BTC Will Make It
SpaceX CEO Elon Musk weighed in with his opinion on the recent crypto crash in a Twitter debate. Although Musk may not fit the exact definition of a crypto expert, he has a reputation for redirecting the course of the market overnight with his tweets.
BTC will make it, but might be a long winter

— Elon Musk (@elonmusk) November 14, 2022
History will Repeat
The FTX collapse has been a black swan event, notes Twitter trading influencer Stockmoney Lizards: "We have indeed seen a real black swan event, the #FTX bankruptcy. The history of #BTC is lined with such events and the market will recover from it as it did in the past".
2015 / 2022 both had a black swan event dragging $BTC down to a new low.

Market conditions and sentiment now seem even worse which is reflected in the historic low of monthly RSI (never been at ~40 in BTC history before)

BTC will, however, recover, like always before! pic.twitter.com/70xwOSUijh

— Stockmoney Lizards ⚡️ (@StockmoneyL) November 17, 2022
Can Presales Save Investors?
Investors are betting big on presales to recover the losses from the long-drawn crypto winter, as proven by the fast-paced sellout of TARO, RIA, and D2T tokens. Here's a closer look at these three presales and whether the hype is well-founded.
RobotEra (TARO) – Sandbox-Inspired Metaverse Builder Game
Sandbox is one of the many projects that have played a key role in introducing Web3 to more users. That's the power of engaging play-to-earn games. Over the last two years, they have introduced concepts like cryptocurrencies and NFTs to the non-tech-savvy masses. So it doesn't come as a surprise that both investors and gamers are currently stocking up on TARO tokens.
TARO is the native crypto of RobotEra, a Sandbox-inspired builder game set in a robotic metaverse. You enter RobotEra as a robot, of course, and build games and experiences in exchange for attractive rewards. You don't need any coding skills to build games here. The platform provides all the resources. You just need to explore your imagination and create unique experiences, in turn, building the RobotEra metaverse.
The key assets on RobotEra are virtual plots of land. You can build infrastructure on top of the land and monetize them through diverse gamified business models. More interestingly, you can build virtual robot companions to join your journey in RobotEra.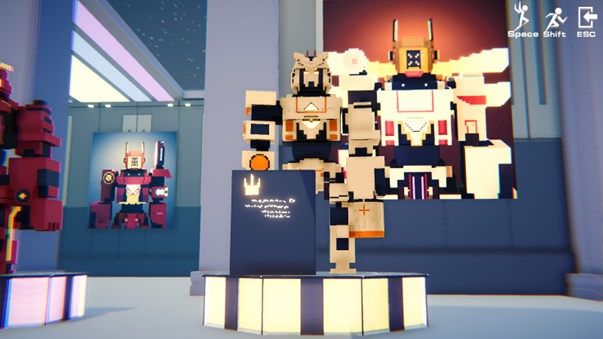 Both NFTs and TARO tokens make excellent digital asset investments, factoring in the huge growth potential of the platform. If the roadmap unfolds as planned, RobotEra will host concerts, museums, nightclubs, casinos, and salons in the metaverse, fuelling consistent engagement. The steady influx of users to the platform will create demand for the tokens and sustain the value of RobotEra NFTs and crypto tokens.
If the price of virtual real estate is any hint, multifold returns are awaiting early RobotEra investors. That explains the meteoric presale of TARO tokens, currently in the first stage. It offers the cheapest way into the project, as the token price will increase with the presale moving to the higher stages. Another factor that makes TARO tokens a compelling buy in the bear market is its relatively low market cap.
🔥 Don't miss a chance to fill your bags!

🙌 #RobotEra provides unlimited opportunities to line your pockets!

😎💰We're thrilled to announce that you'll be able to earn by operating player continents or independent continents

Join #RobotEra now ➡️ https://t.co/Sg49djUM7x pic.twitter.com/9kF1wFIeHd

— RobotEra (@robotera_io) November 17, 2022
The growing interest in the game suggests that the project will enter the $1B club by the end of next year or early 2024. The user base will pick up as the project rolls out the game with promised features and functionalities.
Calvaria (RIA) – Fierce NFT Battle Card Game
The success of Gods Unchained and Alien Worlds went on to prove the potential of simple, unfussy NFT card games that don't compromise on gameplay. Seems like they will have to step up the 'game'. Calvaria is predicted to outperform these legendary projects with a gripping play-to-earn game centered around the afterlife, which opens up a lot of creative possibilities. From what we can gather from the white paper, the storyline and gameplay justify the theme.
However, what would position Calvaria among the top five NFT games next year is its lower entry barrier. We're talking about both financial and technical entry barriers here. The blockchain industry has a way of scaring away enthusiastic gamers with its complex narratives. It hampers the growth of play-to-earn platforms in the long run, as investors hold an unfairly large amount of in-game assets.
Calvaria aims to change this by offering both play-to-earn and free-to-play versions of the card game. This way, it will gain a foothold among crypto and traditional gamers, while converting the latter along the way. Users need not buy in-game assets until they decide to monetize their gaming skills and time. The alpha version of Duels of Eternity, the primary game from Calvaria, is scheduled for release next year. The launch will trigger a bull run for RIA tokens and the ecosystem NFTs.  RIA is the native token of Calvaria.
The demand for RIA tokens is expected to grow as the game acquires more users. The best time to buy RIA tokens is now, in one of the best new crypto launches. The price of the token will steadily increase as the presale moves to the next stages. The ongoing presale, already closing in on the fifth stage, is seeing wide traction from the community. At this pace, it will sell out ahead of schedule.
Dash 2 Trade (D2T) – Crypto Analytics and Intelligence Dashboard
The third presale token predicted to explode is D2T, the native token of crypto analytics and intelligence platform Dash 2 Trade. Utility-driven projects have a history of weathering bear markets. A good example is Trust Wallet Token, which is currently witnessing an increasing demand as a result of investors fleeing exchanges.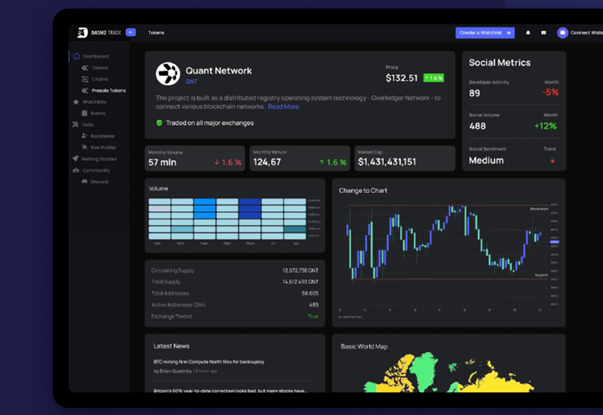 Dash 2 Trade dashboard
The recent crash also reminds us of the importance of technically accessible crypto analytic platforms. Investors believe that Dash 2 Trade is bridging a wide gap in the market with its advanced trading dashboard dedicated to a large spectrum of users, from seasoned investors to crypto novices.
!!💲1️⃣5️⃣0️⃣K !!

CORRECT – $150k #giveaway is waiting for you!

Join now for a chance to win ⬇️https://t.co/I6RJVjmQst #giveaway #gleamgiveaway #cryptogiveaway #gleam pic.twitter.com/ynVnYv6vBl

— Dash 2 Trade (@dash2_trade) November 18, 2022
Dash 2 Trade helps users get actionable insights into the market with multiple tools and functionalities. While some of them are basic, some are novel and creative. What binds them together is the real impact they can bring to a portfolio.
Unique social indicators
Strategy builder and back-tester
Custom-made scoring system for presales and ICOs
Independent technical indicators
Auto trading API
Risk profiler
Presale listing alerts
On-chain analytics
Social trading
D2T is available for purchase at a discounted price at the ongoing presale, which is nearing the end of the third stage.