Decentralized exchanges have grown in tandem with decentralized finance which has recorded an explosive year in 2021. The phenomenal growth has led to massive returns on the part of investors, while also propelling DEX platforms into the limelight. Compared to 2020, decentralized exchanges have done incredibly well this year, each month's trading volume surpassing that of the previous year.
As the year draws to a close, we take a look at how these decentralized exchanges have done volume-wise. Decentralized exchanges consistently saw trading volumes above $50 billion each month and touched above $1 trillion total trading volume before the close of the year.
Related Reading | DEX In 2021: Reviewing A Rollercoaster Year For Decentralized Exchanges
Record Volumes For 2021
The Block Research recently released its 2022 Digital Asset Outlook Report which touched on parts of the crypto industry and explored their growth. The report noted that these exchanges have had one of the most successful years as trading volume grew exponentially. In total, decentralized exchanges saw over $1 trillion dollars in trading volume for the year.
Compare to last year's figures of $115 billion, decentralized exchanges have seen incredible growth. To put this in perspective, DEX trading volumes had reached a record monthly trading volume of $162.6 billion in May of this year, meaning that a month's worth of trading volume in 2021 was more than the total trading volumes of decentralized exchanges in 2020.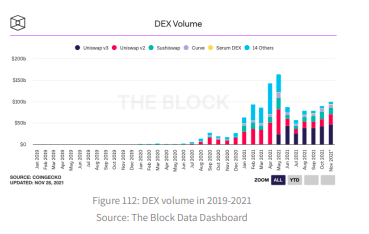 DEX volumes grow 858% in 2021 | Source: The Block Research
The highest month-over-month gain for DEX trading volumes was in January with a 137.3% gain. For the whole of the year, decentralized exchanges trading volumes have grown 858% as of December 23rd. However, volume is down significantly compared to the May peak after the crash and the exchanges have unsuccessfully struggled to get back up to these volumes.
Decentralized Exchanges Leading The Charge
Like much of any new space, there are still a few that continue to dominate among their peers. Decentralized exchanges have been no different as one exchange still maintains about 75% of all volumes. Other exchanges have seen much success in the market but Uniswap v3 takes the lead as being both a market leader and a preferred platform of trading for investors.
Curve leads in total TVL | Source: The Block Research
As for total value locked in decentralized exchanges (DEXs), Curve holds the title for the largest DEX by value locked. According to the report, the DEX holds $16.8 billion in TVL and makes up 6.8% of all of the DEX volume.
Related Reading | The Kintsugi Testnet And Why It's Important To Ethereum 2.0
Uniswap v2 saw a total of about $12 billion locked, making it the second-largest DEX by total value locked. Others like SushiSwap have failed to keep up with its competitors with only $5 billion in TVL and 15% of market value.
Total DeFi market cap at $175 billion | Source: Crypto Total DeFi Market Cap on TradingView.com
Featured image from Decrypt, charts from The Block and TradingView.com