The British online gamblers have become familiar with GamStop mainly since it has become compulsory in the UK-based gambling industry on 31 March 2020. When they feel that gambling is getting out of control, they register at this self-exclusion programme to be banned from having access to all the licensed gambling sites in the UK.
This largest gambling blocker covers the online gambling websites under the regulation of the UK Gambling Commission namely sports betting, casinos, lotteries, horse racing, bingo sites, and more. Since cryptocurrency has defeated its position as the most popular mode of payment used in the online gambling industry, does GamStop also cover the crypto gambling platforms? The answer is no. GamStop doesn't cover crypto exchanges and non-GamStop casinos accepting UK customers as they're not regulated by the United Kingdom Gambling Commission. In our sections below, we'll describe the best blockers for crypto fans and the type of sites covered by GamStop exclusion.
Top Crypto Blockers
NetNanny
NetNanny is a blocking tool specialising in the prevention of gambling addiction among kids and adults. The paid blocking software has been around since 2018 and has become a helpful tool for parents to control their children's internet activities.
Using this blocking and filtering software is easy allowing the parents to control and detect their kids' content that can be dangerous to them. As for the punters, after installing the tool, they will be prohibited from the gambling sites of their choice.
ColdTurkey
ColdTurkey was initially created to block social networks like Facebook and YouTube. However, as it was proven an effective tool, this app has become vital to blocking online gambling websites.
The well-appreciated site blocking software is free of charge permitting the users to choose the duration of their ban which evidently depends on their needs. In fact, those who escape excessive betting are required to install ColdTurkey, and then choose the gambling sites they want to quit temporarily.
Gamban
Created in 2015, Gamban is one of the trustworthy gambling blockers that has been used by thousands of betting platforms and apps. This self-exclusion tool was launched by the renowned not-for-profit gambling organisation called GambleAware.
With this paid app, those who want to quit gambling are required to install it on their computers or mobile devices, and once it is installed, they will immediately no longer have access to gambling websites. Apart from being renowned software for blocking gambling sites and applications, Gamban also provides support and assistance to addicted gamblers.
Sites Affected by GamStop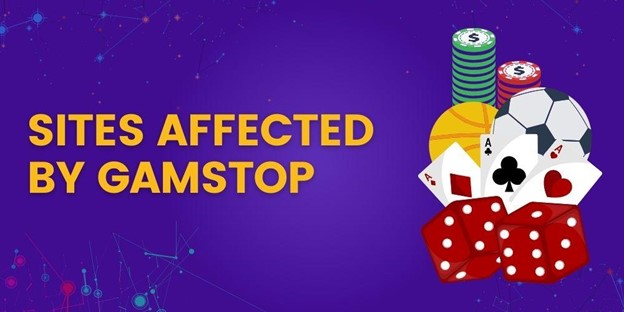 Casino Sites
Visiting an online casino has become a part of the Brits' culture with hundreds of sites available there. As the competition among the web-based casino operators is fierce, a wide range of casino games supplied by the leading software has become the first requirement of the players.
The websites that are packed with safe and renowned payment systems are also seductive since they provide smooth and trustworthy transaction procedures. With a massive array of exciting features in online casinos, some aficionados cannot control their gambling behaviour leading to gambling-related problems. GamStop is omnipresent in casino sites to help those who want to stay away from gambling.
Betting Sites
Sports betting has been around for a long time and since its transportation to the internet, it has become the main recreational activity there. The UK has the largest betting sites in the world with the greatest licensed bookmakers that offer a thrilling betting experience through their various features.
They also encourage the problem gamblers to subscribe at GamStop and ban themselves on their chosen betting sites for 6 months, one year, or five years. Horseracing and sports have been the best-loved activities for more than three centuries but other practices are also winning the hearts of the punters.
Lottery Sites
The GamStop free self-exclusion service also covers the lottery sites because, with their constant growth, some bettors are struggling with gambling addiction related to the lottery. Despite the large selection of gambling activities there, the lottery has remained widely popular with more than 70% of British playing it regularly.
The lotto game is by far the most crowded lottery played there because it is available online too enabling the punters to have fun without moving to purchase tickets. The best lottery websites come with a wide variety of lotteries that are bundled with various options to increase their chance of winning.
Conclusion
As the British gambling watchdog has maintained first and foremost high standards for players to enjoy gambling in a safe environment, this policy has led the regulatory body to establish Gamstop. Becoming an official gambling self-exclusion scheme, GamStop is the first doctor for those who feel developed a gambling addiction.
Added to this national self-ban programme, other blocking tools have also broadened their reputation in the gambling market. These apps also cover crypto businesses to help punters control their online gambling behaviour. Therefore, their choice depends on their needs but one thing is for sure, they have a large choice regarding the gambling blocking tools.