Bitcoin bull and highly cited cryptocurrency proponent Mike Novogratz called "bottom" this week on Twitter. On Friday, Bitcoin's market performance and key market reversal indicated a possible turning point. What will Monday bring? Is the market still too bearish?
---
Bitcoin Could Have Oversold
According to a Friday report from Bloomberg, a key market sign — the Williams %R Indicator — is showing that the market for Bitcoin (BTC) [coin_price] has "oversold."
This may portend that the great Bitcoin selloff is finally over. The Williams %R Indicator moves between a level of 0 and -100, showing an overbought or oversold market.
According to Bloomberg's chart below, that measure is sitting at -83. This equates to an oversold market. The last time this level was reached Bitcoin price subsequently rose 22%, says Bloomberg.
Novogratz Forecasts Bottom and Rebound to Equal 2017 Boom
On September 13, 2018, Mike Novogratz referred to the Bloomberg Galaxy Crypto Index Chart, asserted a low, and likened market performance to "the point of acceleration that led to the massive rally/bubble." He finished his tweet with the hashtag #callingabottom.
Pre-Weekend Rally… What will Monday Bring?
On the day of Novogratz' tweet, Bitcoin's value began at $6337.46 before rising to $6589.32. Over the weekend the price has fallen back, but not too far —$6495.18at the time of writing. Monday and next week's trading will likely prove or disprove Novogratz and Bloomberg's theories.
As per Bitcoinist's analysis today, we could be looking at a slow and steady recovery towards $7000 or it could be an "oversold" bounce. We predict Bitcoin is "well situated" for short-term gains, but could still be victim to a bearish market.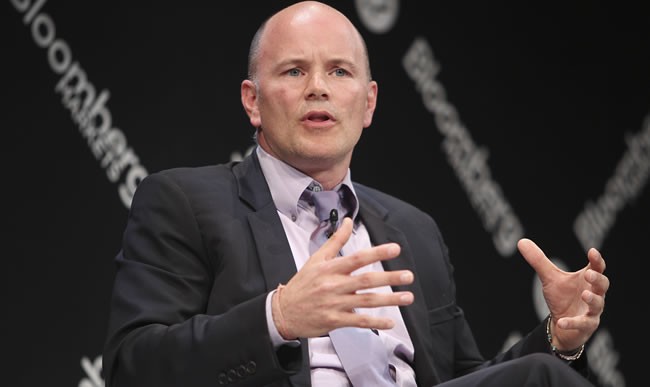 Novogratz isn't the only confident bull. Tim Draper, speaking at a DealStreetAsia summit in Singapore last week predicted the total market capitalization for cryptocurrencies will reach a whopping $80 trillion by 2023. As of today, Bitcoin is still dominating the cryptocurrency markets, with 55% of the total market capitalization invested in Bitcoin alone.
Bullish or Bearish? Where are your sentiments today? What do you think next week will bring?
---
Images courtesy of Bloomberg, Shutterstock.