What is Dogecoin?
Dogecoin (DOGE), issued in 2013, is a parody cryptocurrency based on a viral internet meme of a Shiba Inu dog. At first, the crypto project was created purely as a mockery of other cryptocurrency projects that were being launched at the time.
From these aspects, DOGE has been abandoned
Comparison with Bitcoin price the second half of this year
Dogecoin price fell by 43% in the six months from June 1 to December 1 this year, while Bitcoin price rose by 54% in the same time. The cryptocurrency market continues to rise in general, with the majority of assets trading in the green while DOGE showed a downward trend on the whole.
The "Emotional Recharge" of DOGE trading driven by Musk has faded
At the beginning of this year, Dogecoin started to be vigorously promoted by Tesla CEO Elon Musk, which aroused an enthusiastic community.
On February 4, Musk sent multiple tweets to support DOGE, followed by the result that Dogecoin rose by 50%. Afterward, influenced by Musk's continuous call for orders and participation of individual investors, DOGE once set a strong record of over 900% in a single day. In May of this year, DOGE hit an all-time high of $0.73.
However, judging from the overall trend of Dogecoin this year, the large fluctuations are staggering. After hitting the highest price in history, DOGE failed to continue its upward trend and turned sharply downward. It fell to the lowest point of $0.17 within two months, which was 76% lower than the highest point. Based on the Dogecoin price today of $0.21, the price of DOGE has fallen by more than 60% compared to the highest point. Different from the "community enthusiasm" half a year ago, most people regard Elon Musk's decisions as a "joke" now.
DOGE sinks in market competition
Under Musk's crazy propaganda, Shiba Inu, the biggest competitor as well as the "copycat" of DOGE, has madly copied the soaring road of DOGE. In October this year, Shiba Inu price soared from the opening $0.000007 to the highest $0.000086, with a maximum increase of nearly 1130%. By the end of November this year, SHIB had more than 1 million holders, which contains lots of DOGE' s original users. DOGE has become an "outdated influencer".
DOGE are easy to be manipulated
According to Coindesk, The top-ten Dogecoin holders carried about 41.35% of all circulating Dogecoin, which means that a small number of DOGE investors can easily control the price of DOGE. It also directly leads to the reduction of DOGE's market liquidity and easily brings about extreme markets.
How to buy Dogecoin?
Since the market value of Dogecoin is very low now, it is difficult to obtain high profits through ordinary spot trading and is even likely to lose money in the current falling market. Meanwhile, the market is still volatile with a fluctuation of about 5% within one day. Confronting such a fluctuating market, have you ever thought about how to get profits?
Don't worry, let me introduce one of the most popular investment methods at present: 100 times leverage futures trading, which can enlarge your profit by 100 times. With the help of this tool, even small fluctuations in a short period can bring about very considerable profits. More importantly, you can either buy up (go long) or sell down (go short), which means that you can take profits whether the market rises or falls.
How does 100x Leverage work?
Now, Bexplus exchange provides 100 times leverage for all investors to trade DOGE and other cryptocurrencies. If we use 10000 Dogecoin to open a short contract on Bexplus at the price of $0.22 and close it when Dogecoin is trading at $0.21, our profit will be ($0.22 – $0.21) * 10000 DOGE * 100x / $0.21 = 50000 DOGE, making the ROI of 500%.
100% Deposits Bonus: double your profits
Do you know there is one more way to double your ROI? Bexplus offers a 100% bonus for every deposit, with which you can open bigger positions and gain more profits. Deposit 1 BTC and you will get 2 BTC credited to your account. (Bonuses are not withdrawable, the profit obtained with the bonus can be withdrawn.)
Know more about Bexplus
Bexplus is a leading crypto derivatives trading platform offering 100x leverage futures trading on various trading pairs: BTC, ETH, ADA, DOGE, XRP, etc. It is popular among over 800k traders from over 200 countries/regions. In addition, it is safe for being accredited by MSB (Money Services Business). Furthermore, It also boasts of the following features:
Bitcoin wallet with an annualized interest rate of up to 21%.
Demo account with 10 BTC for traders to get familiar with leverage trading.
No KYC requirement, registration with Email verification within a few minutes.
Intuitive and full-featured App on Apple App Store and Google Play.
7/24 hours one-to-one service to solve your problems at any time.
Fast withdrawal without any time limit, and no deposit fee.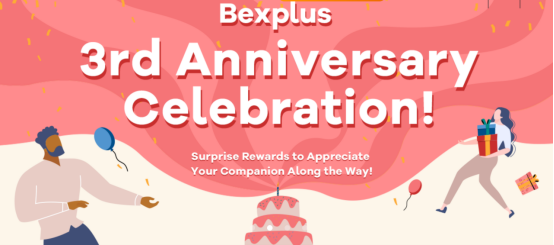 Bexplus is holding a 3rd-anniversary giveaway event. Registered users have a chance to split a super cash pool of up to $500,000 and win Apple's 2021 new products like the iPhone 13 Pro.
Register on Bexplus and get a 100% deposit bonus immediately.