Dogecoin has been pumping in the days following Elon Musk's $44 billion acquisition of Twitter.
Trading at around $0.14, the meme coin has been as high as $0.16 – a 162% increase in the last seven days with investors rushing back to DOGE after months of poor performance.
However, crypto presale project Dash 2 Trade could represent a much stronger alternative for investors, given its low entry point and huge potential for returns.
Why is DOGE Pumping?
DOGE is enjoying an incredible week because investors and crypto industry players are speculating that the world's richest man, Elon Musk, will introduce DOGE onto Twitter.
What form that takes is not yet known – but many investors believe that users could earn DOGE as a form of tipping or use it to pay subscription fees.
Leading crypto exchange Binance spent $500 million to help Musk buy the social media site and will use blockchain technology to battle bots and spam on the site.
Binance CEO Changpeng Zhao also added that crypto could "very easily" be used to pay for subscriptions.
With Musk a known holder and lover of DOGE, investors have long believed that his takeover of Twitter would prove a crucial use case in the coin's long-term future.
Dogecoin Price Prediction
In the medium term, any positive news from Musk with regards to DOGE will see the coin pump – potentially above its previous all-time high.
As long as there is no outright negative news, the price of DOGE should continue to grow in the coming weeks and months as investors and analysts speculate on Musk's next move.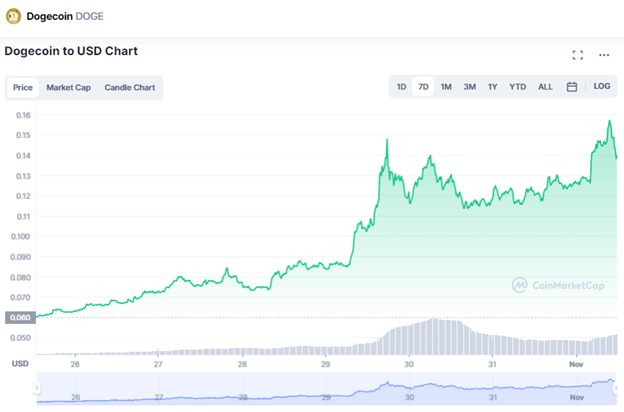 Negative news will likely see the coin crater, due to its limited use case as a peer-to-peer currency and the long-held belief that Twitter will be its top platform.
In the short-term, DOGE is in 'overbought' territory on the 4hr Relative Strength Index (RSI) chart, with a score of 75.
A meeting from the Federal Reserve on November 2, with rates expected to rise again, could also negatively affect the price, with riskier assets usually the first to be sold off.
DOGE has key support at $0.12 and if it breaks that could dip to $0.08. Alternatively, its next lines of resistance are at $0.18 and $0.21.
Dogecoin Alternative – Dash 2 Trade
Although DOGE is currently pumping a rise to $1 seems unlikely given the huge volume and market cap it would need to get there.
Furthermore, a pump to $1 would represent a 6x return – certainly a noteworthy gain but not as high as the best crypto presale projects offer.
They offer much lower entry points, more robust tokenomics, and better prospects for high returns on investment.
Dash 2 Trade is one such project that offers higher potential than DOGE in the coming weeks and months.
Visit Dash 2 Trade Presale Now
Dash 2 Trade – Crypto Intelligence and Trading Platform
Dash 2 Trade is a new fast-growing crypto analytics platform that sold out the first phase of its presale in just three days and has now secured more than $3.75 million in a week.
The platform aims to help its users by offering a range of tools, analytics, and insights to help them make more well-informed decisions.
The dashboard will offer trading signals for buying and selling opportunities and highlight trends by analyzing on-chain data and tracking social media sentiment.
There are a range of tools traders can utilize to improve their strategies, with automated APIs and a back-tester to test strategies in real time without the risk of losing capital.
Dash 2 Trade is developing a scoreboard for other presales, giving them a score out of 100 on a range of parameters to ensure investor confidence. There will also be alerts on new coin listings.
In stage 2 of 9, the presale is gathering huge attention from investors, with tokens currently on sale for $0.05. By the final stage, tokens will sell for $0.0662, a 39% increase from the stage 1 price.
More information on the project is available in the Dash 2 Trade whitepaper and Telegram.