Polygon (MATIC) – the consummate platform for Ethereum scaling
Rank: 10th
Capitalization: $9.44 billion
Price: $0.945
Volume: $1.18 billion
Polygon is a top ten token and provides token holders with plenty of options. For starters, Polygon is built as an adaptable and user-friendly platform meant for Ethereum scaling and development. The project's key component is Polygon SDK, a flexible framework for the facilitation of numerous applications. The platform enables users to create standalone chains, ZK rollup chains, optimistic rollup chains, or any other infrastructure.
The benefit of Polygon is that it effectively converts Ethereum into an Internet of Blockchains. This multi-chain system is similar to the ones adopted by Avalanche, Cosmos, and Polkadot (which we'll discuss later). Polygon gives the advantage of Ethereum's extraordinary ecosystem, transparency, and safety.
The native token, MATIC, consolidates the system and gives governance rights to token holders. Users can vote to accept or reject proposals put forth by developers. Once known as Matic Network (now it's token's moniker), Polygon is a layer two platform supported by Binance and Coinbase. The team orchestrating the project believes Polygon will accelerate the adoption of cryptocurrencies by enhancing scalability. One of Polygon's key elements is the Plasma Framework, which was recommended by Vitalik Buterin, the co-creator of Ethereum because it gives convenience for the execution of smart contracts.
Additionally, Polygon uses a proof-of-stake system at its core. Furthermore, Polygon finalizes a maximum of 65,000 transactions every second on a single-sided chain, combined with a block validation time of under two seconds. Users can create globally accessible decentralized applications (dApps).
Polkadot (Dot) – A Metaprotocol With Parachains
Rank: 11th
Capitalization: $7.15 billion
Price: $5.71
Volume: $335.4 million
Ranking a place below Polygon is Polkadot, a sharded multi-chain platform connecting specialized blockchains for the cross-chain movement of data and assets. In simpler words, Polkadot empowers blockchains to be interoperable. Polkadot was established as a foundation for Web 3.0, a decentralized internet of blockchains. The platform is recognized as a layer zero metaprotocol primarily because it describes a layer one format called parachains (short for parallel chains).
Polkadot updates its codebase through governance in an autonomous and forkless manner. Governance involves token holders, who cast their votes to determine the outcome of each proposal.
Another advantage the project gives is that it connects public chains, private chains, permissionless networks, future technologies, oracles, and much more. The result is that independent blockchains can disseminate details via the Polkadot Relay Chain. DOT, the native token, is employed for staking and security, network governance, and bonding of tokens for parallel chains.
Dogeliens Token (Doget) – A New Puppy Has Joined The Dog Meme Token Family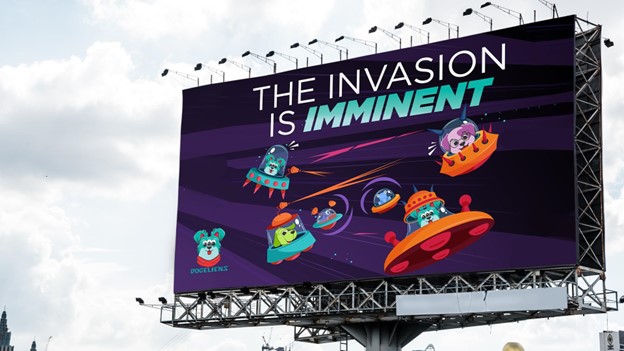 Within the vast cryptocurrency, the category of meme tokens is always expanding. Ever since Dogecoin emerged in 2013, there has been no shortage of meme cryptocurrencies. The latest addition is Dogeliens Token (DOGET).
The project will focus on the community, which is why users will be granted governance rights. If you possess DOGET tokens, you can vote on all matters concerning the platform. Dogeliens Token has a charitable aspect since 3% of each transaction will be attributed to beneficiaries determined by users.
DOGET is connected to the Metaverse, meaning token holders can play games on the platform. If you're new to cryptocurrencies or blockchains, there's no need to fret because Dogeliens Token has a couple of resources. The University of Barkington is an educational pivot for blockchain, while Dogeliens Academy is a virtual classroom.
Tokenomics
Total: 25,000,000,000
P2E game: 35%
Presale: 30%
Liquidity: 20%
University of Barkington: 15%
How to buy
The way to purchase Dogeliens Token is to create a wallet and fill it with Binance Smart Chain. The next step involves using PancakeSwap, where token holders can trade BSC for DOGET.
Bonuses
If you enter stage one of DOGET's presale, it will give you a 10% bonus. If you spend $1000, you'll get an 18% reward.
 For more information about Dogeliens (DOGET), please visit the following links:
Presale: https://ufo.dogeliens.io
Website: http://dogeliens.io/
Telegram: https://t.me/DogeliensOfficial
Disclaimer: This is a paid release. The statements, views and opinions expressed in this column are solely those of the content provider and do not necessarily represent those of Bitcoinist. Bitcoinist does not guarantee the accuracy or timeliness of information available in such content. Do your research and invest at your own risk.