It goes without saying Polygon (MATIC) and Dogecoin (DOGE) are two of the most widely used cryptocurrencies in the market.
But many investors are questioning if it is still a profitable business to invest in MATIC and DOGE. Let's discover whether both coins are the best investment to fatten your crypto wallets.
And we'll cover one unique coin that we've spotted in recent weeks, whales are slowly building big positions in it from on-chain data. The coin you ask? The Hideaways (HDWY).
Can Polygon Shoot Up To $1?
Within the last 24 hours, Polygon (MATIC) has recovered remarkably. The coin's price has fluctuated between $0.87 and $0.88 , demonstrating a significant rise in volatility.
Even though Polygon (MATIC) has lost 3.3% over the previous week, if the current buying pressure continues, the token may be able to make up for these losses. If the general market support continues, the current upward trend for MATIC will persist.
If MATIC falls to the support level of $0.85, the present bullish trend will turn around. However, the bulls will stay away  if the price falls below $0.80.
Luckily, MATIC increased by 1.4% over the last 24 hours reaching a stable price of $0.87. If this momentum continues the coin might reach $1, and enter 2023 with a higher rank in terms of market cap.
Dogecoin Attempt To Break $0.082
DOGE was trading at $0.0828, up 0.79% at the time of publication. After a bumpy start to the day, DOGE climbed to a high of $0.0834 before falling to an intraday low of $0.0805.
Despite breaking the $0.080 barrier, DOGE is still having trouble reaching $0.900. Analysts are keen to point out that the meme coin might stay between $0.075 and $0.080 in the remaining days of 2022.
So if you're looking for a coin to boost your Christmas earnings, DOGE might not be the best choice.
The Hideaways Expects To Trade $1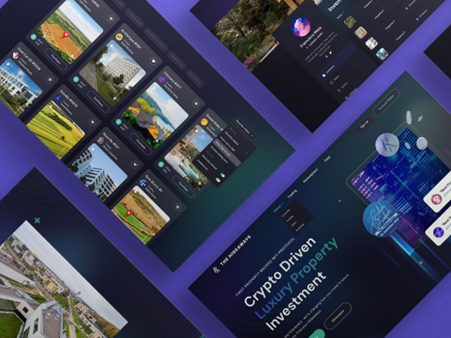 Owners of cryptocurrencies are thrilled to get exclusive blockchain projects like The Hideaways (HDWY), which mixes fractionalized NFTs with upscale real estate holdings.
You will only run out of money if you invest in new tokens like HDWY. By producing NFTs with practical utility, The Hideaways can catapult your real estate investing career.
Are you interested in making a $23 trillion luxury investment? Get a 10x return on investment when you buy HDWY tokens right now for a super small price.
By switching to The Hideaways, you can also gain access to the Club Hideaways, which provides first HDWY holders with special luxury advantages.
HDWY investors are provided with the means to start with just $100 and begin investing in your ideal home. Invest in the crypto market and become a member of a special community of like-minded people.
Buckle up and invest in your dream property by buying HDWY tokens!
Website: https://www.thehideaways.io/
Presale: https://ticket.thehideaways.io/register
Telegram: https://t.me/thehideawayscrypto
Twitter: https://twitter.com/hdwycrypto
Disclaimer: This is a paid release. The statements, views and opinions expressed in this column are solely those of the content provider and do not necessarily represent those of Bitcoinist. Bitcoinist does not guarantee the accuracy or timeliness of information available in such content. Do your research and invest at your own risk.