Paycent is mobile payment platform that functions as a dual e-wallet that can be funded by both digital currencies and fiat currency. It also allows conversion from digital to fiat and vice-versa, in real time and from within the wallet.
---
Digital Currency to Fiat with Paycent
One of the major problems that many digital currency users face is the challenge of converting digital currencies to fiat money. Currently, only a few retailers are accepting digital currencies as a payment method. Users are forced to sell their digital currencies for fiat through exchanges, which often have very high fees and can take 2 to 3 days before the money is deposited on the user's bank account.
Paycent is aiming to tackle this problem. Started by Singapore-based payments solution provider Texcent, the main idea behind the Paycent platform is to offer a service for both buyers and sellers to accept mobile and cashless payments with the power of blockchain technology. Digital currency users can pay for goods and services with their favorite digital assets through a Paycent debit card worldwide with extremely low fees.
Paycent has fully launched in Singapore and the Philippines and planning to further expand into Indonesia, Hong Kong, Pakistan, Malaysia, Nepal, Bangladesh, India and the United Arab Emirates (UAE). The Paycent team is hoping to not only help digital currency users with their platform but to also help people around the world that do not have a bank account to be able to make payments with their smartphones in a cheap, fast and cashless way.
Paycent Debit Card
According to the Paycent website, the platform is planning to begin pre-registration for the Paycent debit card on January 15 and deliver the first 20,000 cards in late February. Users will be able to enjoy easy and fast conversion of digital currency to fiat for a very low fee. The proposed transaction fees would be just 1.5% in PYN tokens. Paycent has already partnered with 3 different card network providers in order to ensure liquidity for global transactions. Users will be able to register their new cards directly on the Paycent website and be able to directly use it in over 130 countries.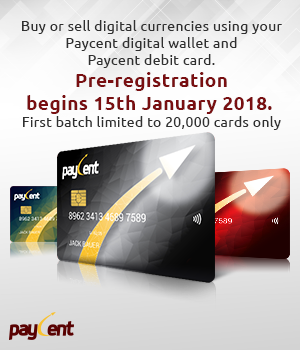 Paycent ICO
The Paycent ICO is split into 8 stages, with the first round, which was launched on November 2, 2017, having already reached its completion. To date, the ICO has had over 14,000 contributors from 80 different countries and has sold close to 80% of the total token supply
What makes the Paycent ICO different is the fact that the team is working closely with government regulators and financial institutions. Singaporean regulators have already approved the official license for the Paycent platform. The team is currently hard at work completing their next major milestone, which is the hybrid wallet. The hybrid wallet will not only let users load their debit cards, but also quickly and seamlessly convert their digital currency to fiat currency without having to rely on a third-party exchange, and use it at the same time with the Paycent debit card.
For more information about Paycent please visit the company's website. You can also download the project whitepaper and learn more about their ongoing ICO.
Do you think that Paycent will be able to offer a fast and efficient way for digital currency users to spend their coins? Let us know in the comments below!
---
Images courtesy of Paycent