The Central Bank of the Argentine Republic (BCRA) has this month eased regulations regarding automatic teller machines in the country. The (perhaps unexpected) upshot of this has been a plan to install 4000 new crypto-enabled ATMs.
---
Rules, Rules, Rules
The new regulations do not contain any direct reference to bitcoin or cryptocurrency. Rather, they allow the installation of ATMs in non-banking establishments, such as supermarkets, shopping centers, and cinemas.
In addition, the regulations allow independent players into the market. Until now there have only been operating licenses for the local Banelco and international Link networks. And all of the ATMs belonging to these two networks have been on banking premises.
The Central Bank has provided a framework of rules by which independent and third-party tellers can integrate into the existing payment system.
So… Cryptocurrency How?
One of the first major players to take advantage of the new rules is Odyssey Group. CEO Sebastian Ponceliz explains:
We have pre-agreements to install 4,000 ATMs… but that is only a small part of the Central Bank's expected 30,000 new machines throughout the country.
The new ATMs will be the company's Octagon models. Odyssey installed over 200 of these machines across Argentina last year. At the time, those machines could not access the wider banking network. They were purely crypto ATMs allowing the two-way exchange of bitcoin, ethereum and litecoin.
With the relaxing of regulation, however, these machines open up a whole new range of possibilities as a convenient gateway between fiat and crypto.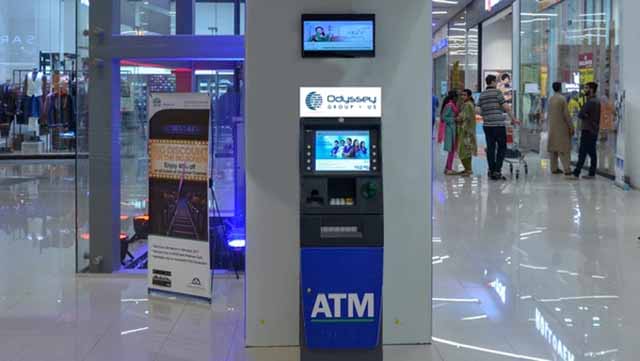 Gimme, Gimme, Gimme
A machine will cost $8000 plus an installation fee of between $1000 and $1500. And the owner will have to keep it stocked with money. Odyssey describes their ATMs as "really just a vending machine that dispenses cash instead of snacks or soda."
Owners receive payment for each transaction placed through the machine and Odyssey suggests that initial costs should be made back within five or six months. The average number of transactions per month at existing teller machines is 10,000. So a well-placed machine not constrained by being in a bank, could receive decent footfall and do very well.
But before you rush down to your local installer, there is a mobile app to see where nearby (rival) machines are placed. You can even see whether there is any money inside – which might be perfectly reasonable in Argentina, but where I grew up that's just asking to be stolen.
Have you ever used a Bitcoin ATM? Do they make entry into crypto easier for newcomers? Let us know what you think in the comments below.
---
Images courtesy of Infobae, Pixabay, Banco Central/DyN