Bitcoin has plunged after breaking seriously higher on Monday to $12,400.
As of this article's writing, BTC changes hands for $11,900. This is above a level assigned much importance by analysts but still below $12,000.
According to a fractal that predicted the ongoing Bitcoin correction, the asset will consolidate for another two weeks before breaking higher.
A fractal, in technical analysis, is when an asset's price action is repeated/echoed over another time frame and/or for a different asset.
Bitcoin Could Spend Weeks Consolidating Prior to Another Breakout
On August 14th, cryptocurrency trader Jonny Moe shared the chart seen below to his Twitter feed.
It depicts a potential fractal, whereas Bitcoin's price action over recent weeks looks much like that seen from late April to early June. Both periods have a run-up marked by a vertical run-up into consolidation, a strong correction, and a secondary rally to revisit the highs.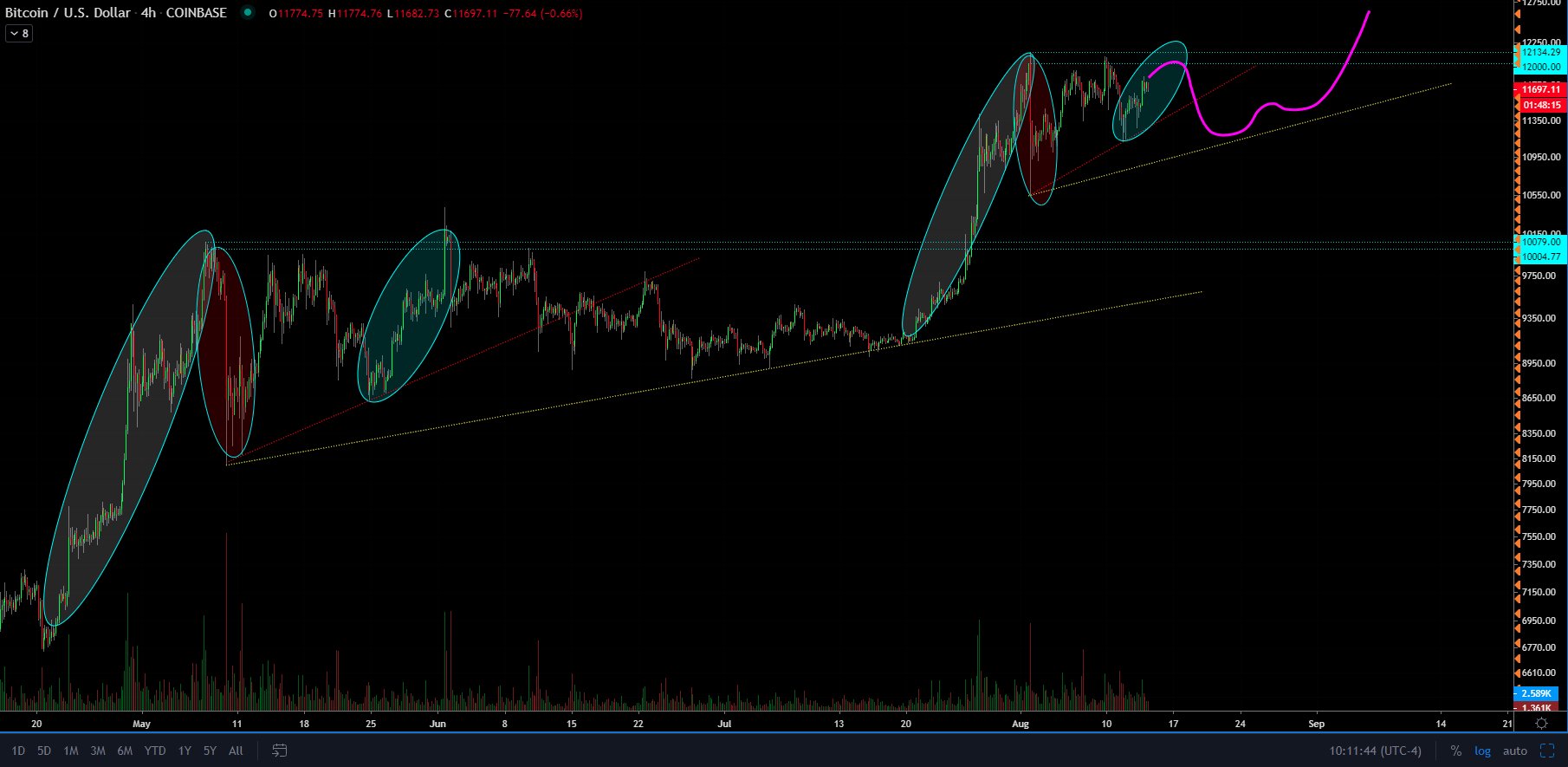 Chart of potential BTC fractal by trader Jonny Moe (@Jonnymoetrades on Twitter). Chart from TradingView.com
The fractal has continued to prove its accuracy over the past two days. In this time period, Bitcoin has done exactly what the fractal predicted: breaking to new local highs ($12,400) before correcting to pre-rally levels ($11,800).
Should this pattern play out in full, BTC will correct towards the low-$11,000s in the coming two weeks.
This period of low volatility consolidation should set Bitcoin up for an explosive breakout once the market establishes a convincing direction.
All Eyes on Gold's Price Action
While the fractal did technically predict the ongoing price action, Bitcoin's movements are seemingly a byproduct of the price of gold.
The aforementioned correction in which BTC plunged from $12,400 to $11,800 was actually triggered when the leading precious metal slipped. If you line up the charts during the drop of BTC and the gold spot market, you can see the two assets trade in tandem.
This suggests that should gold seriously break higher or break lower, Bitcoin may end the expected two weeks of consolidation early.
Fortunately for Bitcoin bulls, gold is expected to move higher as the U.S. dollar and other foreign currencies continue to slip in value.
First and foremost, Warren Buffett through Berkshire Hathaway revealed a large stake in gold miner Barrick Gold last week. This comes after he explained that he doesn't see much investment value in gold because it doesn't generate dividends or anything along those lines.
Secondly, many analysts see gold heading much higher than it is now due to monetary stimulus and other trends.
Gold moving higher could add as a boon for the Bitcoin market as value will be captured in scarce assets if fiat money continues its trend of debasement.
Photo by Cristofer Jeschke on Unsplash
Price tags: xbtusd, btcusd, btcusdt
Charts from TradingView.com
This Eerie Fractal Predicts Bitcoin Will Consolidate For Another 2 Weeks