Weekly deposits of the Ethereum 2.0 staking contract have been going down recently due to the plunging price of ETH, and are now at the lowest value ever.
Ethereum 2.0 Contract Is Now Observing Only 122 32-ETH Deposits Per Day
As per a report from analytics firm Glassnode, the ETH 2.0 average deposits have sharply dropped off recently as the crypto's price has been in freefall.
The "ETH 2.0 staking contract" is a smart contract where users can lock in their Ethereum to become a validator on the proof of stake network and earn rewards for it.
However, a minimum of 32 ETH must be deposited to the contract in order to stake on the network. Nonetheless, staking pools exist where users with less than the amount can collectively stake with others.
During 2020 and 2021, many found the contract lucrative as the weekly average 32-ETH deposits usually stayed around 500 to 1000 per day. This has changed recently, however.
The below chart shows the trend in the Ethereum 2.0 staking contract since the January of 2021.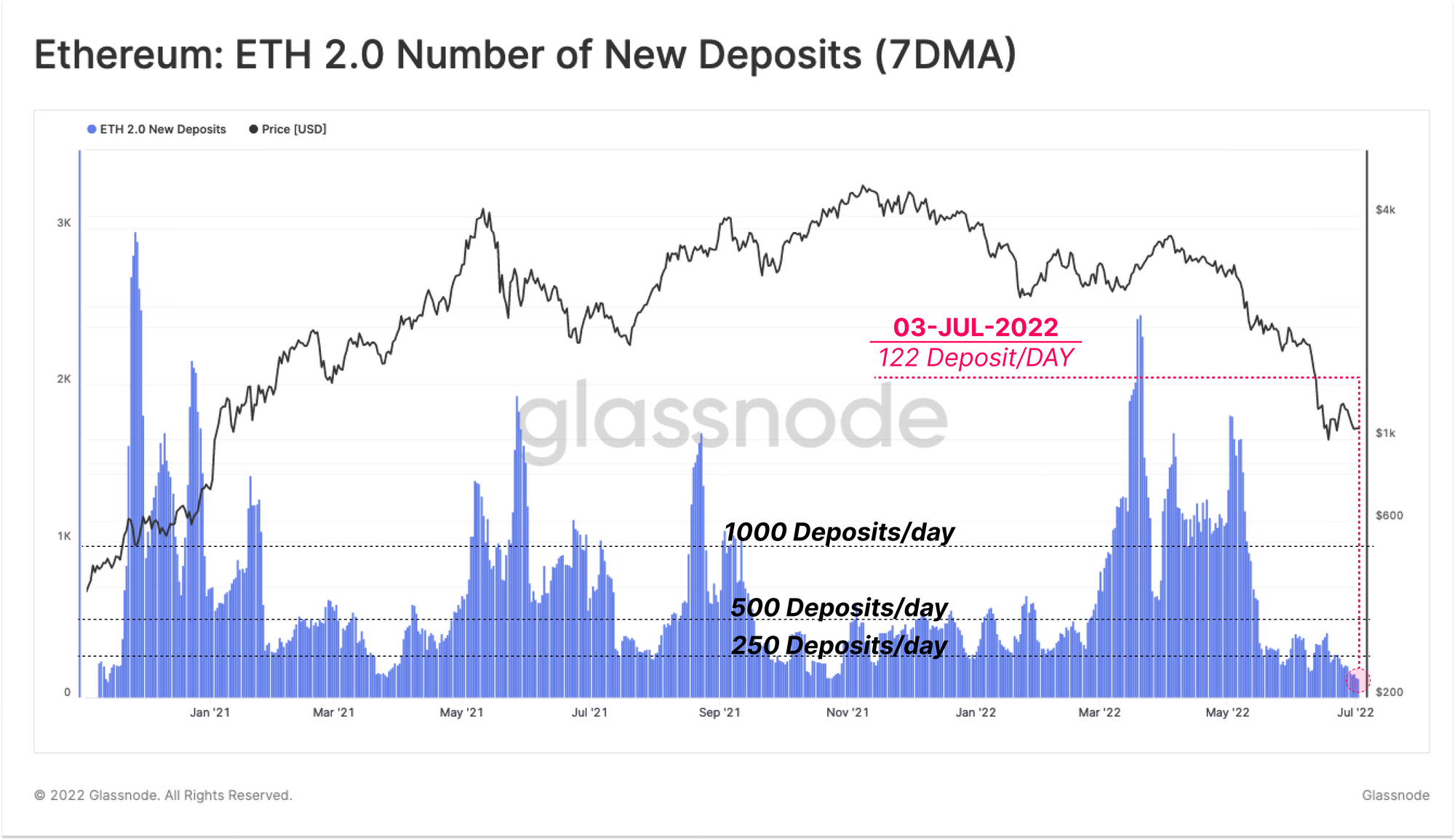 The value of the metric seems to have been quite low in recent days | Source: Glassnode
As you can see in the graph, the number of Ethereum 2.0 deposits per day (7-day average) has been going down in recent weeks.
The value of the metric on the 3rd of this month was just 122, which is the lowest ever in the history of the ETH 2.0 staking contract.
Related Reading | With Gains Of Over 60%, Gnox (GNOX) Is Striding Ahead Of Cryptos Like Ethereum (ETH) And Shiba Inu (SHIB)
The report suggests that this recent slowdown in the indicator is because of the falling ETH price, which has now gone below even the 2018 all-time high.
Here is a chart that shows how much of the ETH 2.0 deposited supply has been in profit recently: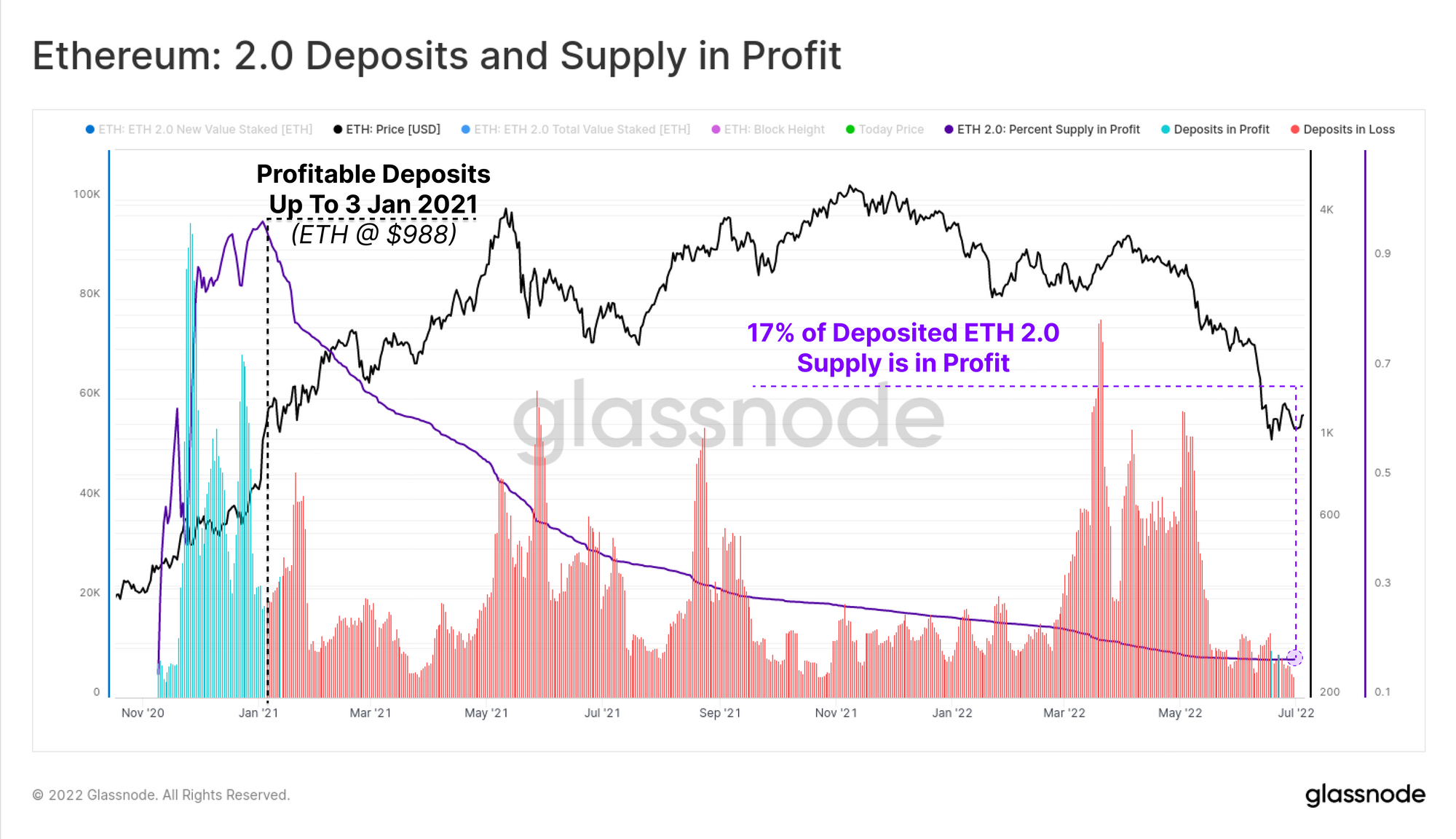 Looks like most of the supply in profit was staked back in January 2021 and earlier | Source: Glassnode
The ETH 2.0 supply in profit has been trending down since the start of 2021, and today only 17% of the total deposited supply is in profit.
Related Reading | U.S. Bank Will Connect With Ethereum's MakerDAO To Borrow $100 Million
Much of the supply that's in profit at the moment was deposited at the start of 2021 or earlier, when the price of the crypto was less than $1k.
83% of the supply being underwater probably explains why the Ethereum 2.0 contract deposits have been very low in recent weeks.
ETH Price
At the time of writing, Ethereum's price floats around $1.1k, up 4% in the past week. Over the last month, the crypto has lost 32% in value.
Below is a chart that shows the trend in the ETH price over the last five days.
The value of the crypto has been going down over the last few days | Source: ETHUSD on TradingView
Featured image from Jievani Weerasinghe on Unsplash.com, charts from TradingView.com, Glassnode.com