Caught in a landslide, no escape from the reality of the bear market. 
---
One of the Ethereum dev teams currently building the decentralized future wasn't looking for sympathy but did announce that they are poor.
Bismillah! Their prayers were answered by Vitalik Buterin the creator of Ethereum himself.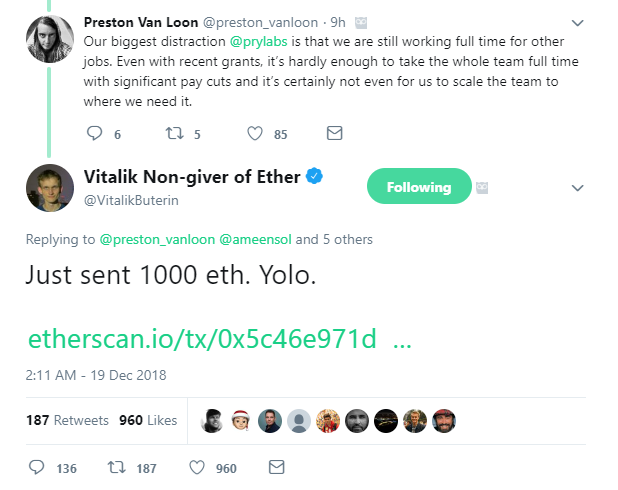 This sparked quite a reaction from Vitalik's followers who were apt to point out Vitalik's nickname… "Non-giver of Ether."
Thanks to the transparent nature of Ethereum, we can trace the transaction back to one of Vitalik's wallets and see a little silhouette of his presence on the network. YOLO!!
Perhaps most notable are his holdings in Maker, Kyber, and OMG. His Spank balance is near empty but he does have one digital kitten…
All jokes aside, the 1000 ETH sent were certainly not a giveaway at all. It was a strategic investment in the network to support the much-needed efforts to scale the Ethereum blockchain.
Let's hope the Rhapsody pays off.
eToro, Senior Market Analyst
Today's Daily Market Update pays tribute to the most streamed song from the 20th century: https://youtu.be/ fJ9rUzIMcZQ
Today's Highlights
Carry on, Carry On
Galileo Figaro Magnifico
Face the Truth
Please note: All data, figures & graphs are valid as of December 19th. All trading carries risk. Only risk capital you can afford to lose.
Traditional Markets
Too late. The Fed's time has come. Monetary tightening sends shivers down my spine. The economy is aching all the time. Goodbye quantitative easing. ZIRP has got to go. Gotta leave the President and the markets behind and face the truth.
Mama… this is the way the wind blows…
Today the US Federal Reserve is expected to raise their benchmark interest rate by 0.25%. Markets have been on edge since early October in anticipation of rising interest rates but at this point, it's simply too late to back down. Anything but a full delivery of what economists are expecting would project weakness. Certainly, they'd prefer to spare us from this monstrosity.
Now for some perspective here's a graph of the S&P500 over the last 50 years where each candle is three months. That last one was probably put aside by Beelzebub.
Leave it all Behind & Face The Truth
I don't wanna die, and neither does the crypto market apparently. The price action over the last few days is clear evidence of that. There are two news stories, which people are pointing to that might be helping drive the positive sentiment.
Number one is this article from Bloomberg, who have done the research and found that Tether does indeed have the reserves promised.
The second is an update from ICE, who seems to be all set for their launch on January 24th (pending regulatory approval). The update is from a week ago, but the timing and dates in the note seem to line up with the market movements quite nicely.
Galileo Figaro Magnifico
Though Galileo loved to look at the moon, he also studied gravity. After all, market action is nothing more than practical physics.
Figaro managed to enter a legal contract of marriage despite harsh authoritative oversight.
And isn't it magnifico how the crypto markets are moving lately?!
For those wondering why we're seeing this awesome push from the floor, the only explanation I can give is that this rally is all about short covering.
Especially after the short squeeze, we saw on Monday, today's action is simply a continuation of that. Markets are made of people and it's likely that most people will be looking to reduce their exposure before the holidays.
Over the last few weeks, there have been a lot of high leveraged short positions building up and when those sell positions are closed, it creates upward pressure on market prices.
The evidence of this can be found hiding in plain sight.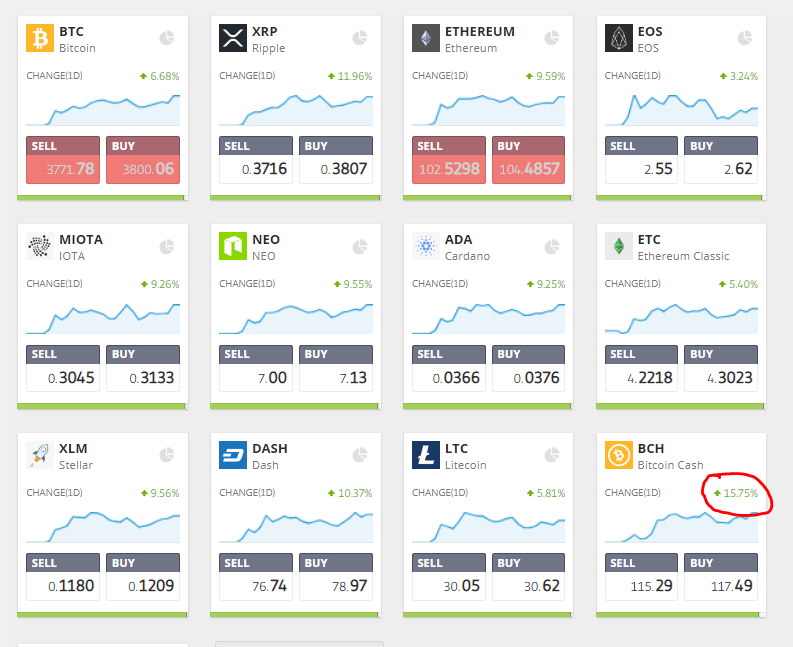 Take a look at how Bitcoin Cash, which has probably been the most controversial of coins and many have blamed for the recent slide, is up about double of what the rest of the market has done today.
This is the real life, so have a fantastic day!
---
This content is provided for information and educational purposes only and should not be considered to be investment advice or recommendation.
Past performance is not an indication of future results. All trading involves risk; only risk capital you are prepared to lose.
The outlook presented is a personal opinion of the analyst and does not represent an official position of eToro.
eToro is a multi-asset platform which offers both investing in stocks and cryptocurrencies, as well as trading CFD assets. 
Please note that CFDs are complex instruments and come with a high risk of losing money rapidly due to leverage. 65% of retail investor accounts lose money when trading CFDs with this provider. You should consider whether you understand how CFDs work and whether you can afford to take the high risk of losing your money.
Cryptocurrencies can widely fluctuate in prices and are not appropriate for all investors. Trading cryptocurrencies is not supervised by any EU regulatory framework.